By
for on May 15th, 2021
AMC's 'The Beast Must Die' To Arrive in July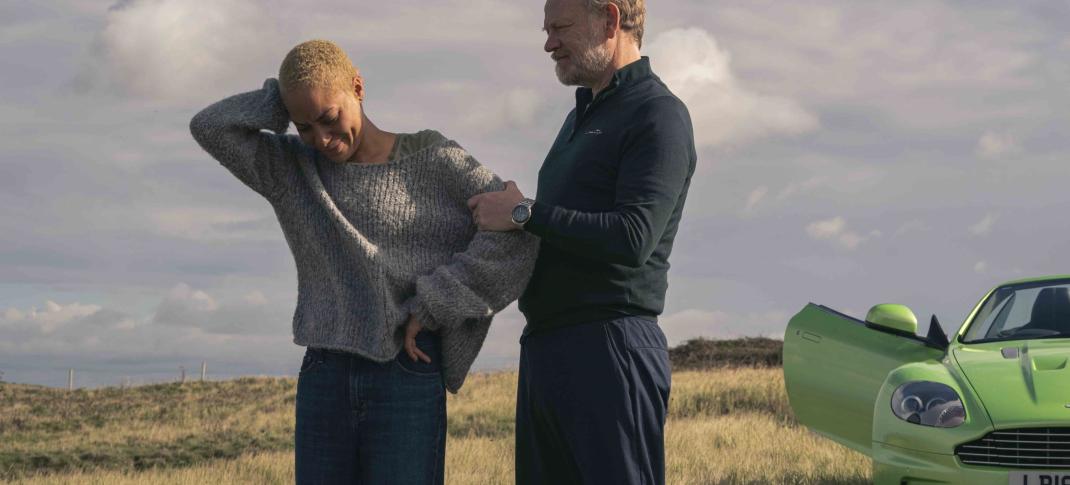 Fans of cold noir mysteries on hot summer nights have a new title to add to their must-watch list this year. The Beast Must Die, commissioned initially as one of BritBox UK's first original series, is heading to the US to air on AMC and its corresponding streamer, AMC+, this July. The series stars BAFTA Award-winning actor Jared Harris (Chernobyl), Cush Jumbo (Deadwater Fell), and Billy Howle (​The Serpent). It's a reimagined version of the 1938 novel by Nicholas Blake (pseudonym of Poet Laureate Cecil Day-Lewis) is a revenge thriller about the parent of a child killed in a hit and run attempt to exact revenge on the person believed to be behind the wheel.
The Beast Must Die is the latest in a string of British series AMC has invested in in the last five years. Since buying up the majority stake in BBC America in 2014, the network, known for early prestige TV hits like Mad Men and Breaking Bad, has been making a slow pivot to importing and co-producing Brit-based fare. That has only sped up since its 2018 acquisition of Acorn TV, which is now part of its network of niche streamers, including Sundance Now, IFC Films, Allblk, and flagship streaming service AMC+. (The company, it should be noted, also has a minority stake in BritBox via its deal with BBCA.)
The series will run six episodes, with weekly Monday releases on both AMC+, followed by a reairing on the linear AMC cable channel for those who don't subscribe. Check out the official trailer: 
Here's the synopsis:
After learning the police investigation into the fatal hit and run of her young son Martie has been dropped, Frances Cairnes (Jumbo) takes matters into her own hands. Posing as a novelist researching a new murder mystery, Frances ingratiates herself with the family of George Rattery (Harris), the man she suspects is responsible and sets a plan in action to kill him. She's tracked by detective Nigel Strangeways (Howle), who has reason to believe his department covered up George's involvement in the incident. Suffering from PTSD following the recent death of his partner, Strangeways throws himself into pursuing justice for Martie. But when he discovers an "undercover" Frances living with George and his family, Strangeways finds himself working to both prove George's guilt and head off Frances's plans for revenge before anyone else dies.
The series also co-stars several faces familiar to the PBS crowd, including Geraldine James (Downton Abbey), Nathaniel Parker (The Inspector Lynley Mysteries), Maeve Dermody (Marcella), Douggie McMeekin (Harlots), Mia Tomlinson (The Lost Pirate Kingdom), and newcomer Barney Sayburn.
Though one might think The Beast Must Die would be a better fit for Acorn TV or BBCA, the fact that the two main lead stars are well-known on this side of the pond for American series has made this a flagship channel affair. (Harris had a prominent role in AMC's Mad Men for multiple seasons.) That being said, it is notable that this is being primarily launched as a streaming series, with the show premiering weekly on AMC+ first. Episodes will then run on the linear AMC channel one week behind their debut on the streaming service. Shows usually have to finish their run on streaming before moving to linear and vice versa, making this an unusual experiment is not-quite-simultaneous airings worth keeping an eye on.
The first episode of The Beast Must Die will first premiere on AMC+ on Monday, July 5, with once-a-week episodes to follow. The series will then begin airing weekly on AMC on Monday, July 12, at 10 p.m. ET.
---
By
for on May 15th, 2021