By
for on April 16th, 2012
Amazing Internet Things: Jimmy Fallon Presents "Downton Sixbey"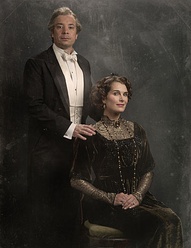 Honestly, can there ever be too many Downton Abbey interent parodies? Of course not! And just when you thought nothing could be as good as the "Downton Arby's" send-up from a couple of weeks ago, here comes late night host Jimmy Fallon, doing his best to change your mind with his spoof on the popular British costume drama called "Downton Sixbey."
The series' title is a reference to Studio 6B, where Fallon tapes Late Night, and the clip chronicles the behind-the-scenes lives of those who put on the talk show, which bears a striking resemblance to a certain Edwardian great house.
Plus, Brooke Shields shows up. It's hilarious. Click through and have a look for yourself.
This clip is listed as "Episode 1," so we can only hope we'll be seeing more of "Downton Sixbey" this summer, much like Fallon's other long-running sketches such as "Jersey Floor" and "The Real Housewives of Late Night." Fingers crossed!
---
By
for on April 16th, 2012