By
for on November 1st, 2011
All Things Sherlock: Series 1 Rebroadcast and Series 2 Gossip
All of you who've been wondering what the big deal is about Steven Moffat and Mark Gatiss' modern retelling of the famous Sherlock Holmes story are going to get another chance to see what all the fuss is about.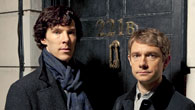 Starting a week from today, we'll be re-broadcasting the entire first series of my current obsession Sherlock, every Tuesday night for three weeks. Starring Benedict Cumberbatch (♥) and Martin Freeman, Sherlock is a 21st century version of the world's most famous detective (thankfully, minus deerstalker thus far), set in an exceptionally nice-to-look-at modern London.  The first episode "A Study in Pink," a retelling (mostly) of the story "A Study in Scarlet," will re-air next Tuesday, November 8, at 8pm.
And, as I am always looking for an excuse to watch the trailer again, have a look at the Series 1 promo and get in the mood for a trip back to 221B Baker Street.   
If that's not enough Sherlock for you, click through and after the jump we've got some casting tidbits and Series 2 gossip that those of you seeking to remain entirely spoiler-free for the new episodes might want to avoid.
The second series of Sherlock will be taking on some of the most famous of Sir Arthur Conan Doyle's mysteries ("A Scandal in Bohemia," "The Hound of the Baskervilles," and "The Final Problem"), so some other rather well known-characters are bound to pop up.
Russell Tovey, whose acting credits include Being Human, Doctor Who and Him & Her, will be playing Sir Henry Knight in Series 2's second episode, "The Hounds of Baskerville." Tovey told Cult Box in a recent interview that Conan Doyle's original 1902 novel has been given "completely, a completely modern twist" and calls the story "big time scary."  
Lara Pulver, who has appeared in Robin Hood, MI-5, and probably most recognizably to American audiences, as Claudine the fairy on True Blood, will be playing the infamous Irene Adler in the Series 2 opener, "A Scandal in Belgravia." In an interview with Digital Spy at the Crime Thriller Awards, Pulver 'fessed up that Sherlock will "play mind games" with her character and may develop a "kind of infatuation." Whether this translates to "love interest" in this version of the story, as it has in the recent Guy Ritchie Sherlock Holmes film adaptation, remains to be seen, and everyone involved on-screen and off appears to be dancing quite enthusiastically around that particular point.
Seriously, can it be May now?
---
By
for on November 1st, 2011
More to Love from Telly Visions