By
for on January 3rd, 2023
Everything to Remember About 'All Creatures Great & Small' Season 2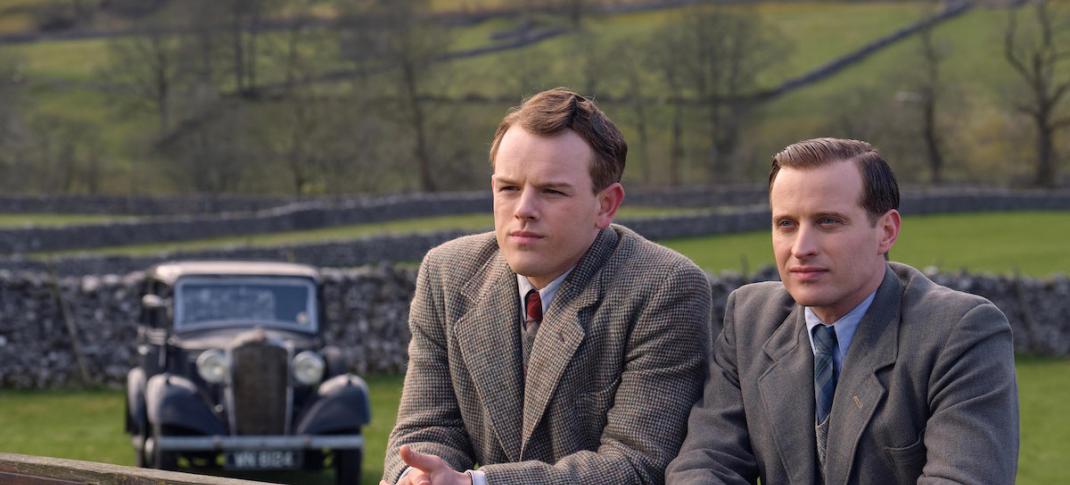 It was peak timing when the All Creatures Great and Small reboot debuted its first season in the winter of 2021. The first miserable lockdown of winter required the bright and sunny dales of Yorkshire and the notes of comfort and hope the show provided. James Herriot (Nicholas Ralph) was an avatar perfect for introducing the world of England's northern farm country that existed in the space between the end of the industrial age and the beginning of the technological one, and the show was a perfect escape for U.K. and U.S. viewers alike. However, it also meant the already-commissioned Season 2 had a tough act to follow.
One unique aspect of this All Creatures' first season was how much slower it moved the story than its predecessor, keeping the James and Helen (Rachel Shenton) romance a slow burn that didn't culminate until the end of Season 2. It also added an extra wrinkle in Herriot's story that didn't exist in the original series, where he meets and marries Helen within the first eight episodes of Season 1: The opportunity to leave Yorkshire if he wanted. The series ran with that in Season 2, giving viewers a season-long "will he or won't he" for James that wasn't about his love for Helen but his love for the place he'd found himself.
It also allowed the show to open Season 2 with an echo of Season 1, with Herriot back in Glasgow, now just as big a jolt to the senses as his initial journey to Yorkshire was in the series premiere. The offer of a job and the ability to come back home hung heavy over the next six episodes, with James waffling, not wanting to disappoint his family in Scotland but also not wanting to disappoint those he had grown to consider family in Yorkshire, knowing whichever choice he made, someone would be hurt.
Though the season focused on James trying to wait for Helen while she recovered socially from jilting Hugh Hulton (Matthew Lewis) at the altar, their romance wasn't the only one, especially since viewers knew it was only a matter of time before James admitted he wouldn't return to Glasgow and proposed to Helen. (Though three proposals in one episode was a touch over the top.) Mrs. Hall (Anna Madeley) also found a gentleman caller in Gerald Hammond (Will Thorp), while Seigfried (Samuel West) found himself the object of divorcee Diana Brompton's (Dorothy Atkinson) attentions. Only Tristan (Callum Woodhouse) failed to make headway in his romance with Maggie (Mollie Winnard).
And, of course, there were lots of animals. The passing of the late Dame Diana Rigg meant Mrs. Pumphrey was recast with Patricia Hodge, but Derek the Dog remained the perfect Tricki-Woo. We had deliveries of lambs, calves, piglets, and chicks. James, Tristan, and Seigfried saw to pigs with boils, elderly birds, cows with respiratory issues, bulls as gifts, and pups with dinged paws while also living through harrowing hen escapades and Tricki Woo falling head over heels for the dog next door. Plus, everyone stopped and played cricket for an episode because that happens sometimes. Also, Tristan finally passed his exams. Thank heavens, it's a Christmas miracle.
The Season 2 Christmas episode, which was a special in the U.K. but served as the finale here, ended with everyone happy together around the fire playing festive games. Despite having her thing with Gerald and him having his thing with Diana, Mrs. Hall and Seigfried still have awkward chemistry under the mistletoe, hinting that the two could be endgame if they chose. Despite threats to make everyone cry by killing off Tricki, the show was merciful and let the pup survive for another season. Helen and James agree they should live at the practice, a move that becomes smarter by the moment, as Helen has long-standing relationships with the farmers that James does not.
And then, as everyone is cozy and happy by the tree, Mrs. Hall looks out and sees a pair of bomber planes flying overhead, heralding the start of World War II. It is Christmas 1938, after all, only six weeks since Kristallnacht and in the U.K., Kindertransport (which allowed 10,000 unaccompanied Jewish children into Britain) is already underway. It will be nine months before the U.K. formally declares war in September, but as All Creatures returns, the signs of the conflict will be around every corner, even as the wedding of James and Helen takes center stage.
All Creatures Great and Small Season 3 debuts on most PBS Stations on Sunday, January 8, 2023, at 9 p.m. ET; all episodes will be available to stream on PBS Passport the same day. Seasons 1 and 2 are available now. As always, check your local listings.
Stream Now
All Creatures Great And Small
James Herriot's adventures as a veterinarian in 1930's Yorkshire get a new TV adaptation.
Image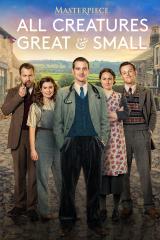 ---
By
for on January 3rd, 2023
More to Love from Telly Visions