By
for on February 14th, 2021
'All Creatures Great and Small' Episode 6 Recap
Stream the entire series now on WETA Passport.
The penultimate episode of All Creatures Great and Small's first season opens with James driving through ravishing Yorkshire scenery. While we'd be happy to instruct him to just keep going, he's on his way to the Aldersons' farm, arriving as the abattoir truck leaves with Clive the bull aboard. It's a grim reminder that the loss of a valuable animal can jeopardize a farmer's livelihood. A lot happens in this episode, and it's a bumpy ride.
Helen is generous enough to express her thanks to James; although James's diagnosis came as a shock, the Aldersons' reputation would have been ruined if they had sold Clive. James further endears himself to us all by presenting Helen's sister Jenny with a tiny kitten that's been rejected by its mother.
Spoiling this lovely scene … our least favorite character Hugh shows up with a basket of foodstuffs for the Aldersons. Cook over-ordered again, apparently. Helen greets him with a kiss and it's obvious that the relationship is on again. He wins Jenny's approval by presenting her with a bar of chocolate and then he apologizes to James again for the unpleasantness at the Darrowby Show. He makes a point of telling James that he is grateful because the whole episode brought them closer. Is Hugh really as clueless, or malicious, as he seems?
Back at Skeldale House, Siegfried has flu. He's insisting that he has to work, and looks nothing like his normal dapper self. Mrs. Hall, exasperated with him, insists that he go to bed and take medication. Tristan is supposed to be taking practice examinations but is mostly lounging around, doodling on the back of the examination sheets. A parcel arrives, addressed to James, and when Jess the dog chews at it, Mrs. Hall and Tristan discover it's a gift. It must be James's birthday! Mrs. Hall looks up his records, and sure enough, they start planning a celebration and she starts on a cake she has to hide every time James comes into the kitchen.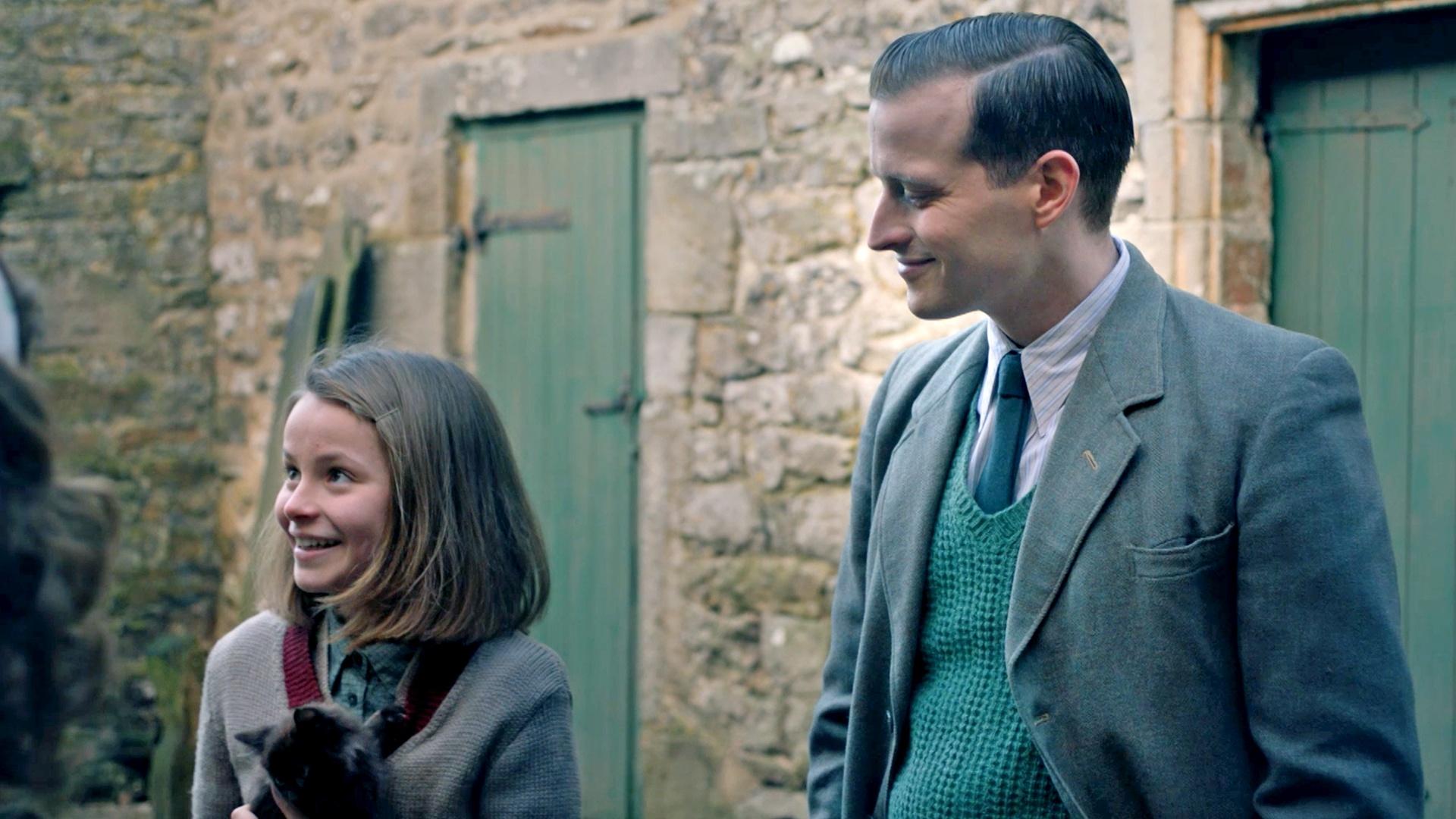 James comes back home, depressed by Helen and Hugh's reunion, and Tristan attempts to cheer him up. Tristan is dating a nurse apparently a profession that, like barmaids, exists purely for his entertainment, and she has a friend he offers to set James up with. James, thoroughly demoralized, accepts.
James is called out to view a cow belonging to the Rudd family; it's the beautiful heifer he advised Mr. Rudd (Alexis Platt) to buy to increase his herd. Clearly one of the family now, Strawberry has developed an abscess in her respiratory tract. There's a danger that she could choke if it grows. In these days before antibiotics, James has a limited arsenal of medications, but injects the animal and leaves a pot of salve. The Rudd children, led by eldest daughter Edith (Roxanne Morgan), present him with a home-made pie as he leaves, generous despite the bad news he's given them.
At Skeldale House, Mrs. Hall discovers that Siegfried, who insisted on taking surgery, has gone inside and not returned, leaving a full waiting room. She finds him asleep, croaking that he's dying, and she forces medication into him and sends him upstairs to rest. There's a full waiting room of owners and pets, including a woman with a chicken in a basket, and Mrs. Hall sends Tristan in to treat them.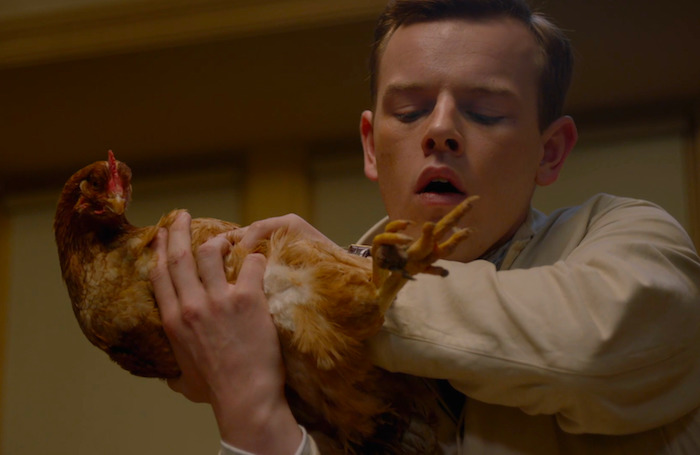 Tristan rises to the challenge. We see him examine the chicken and announce that he needs some special equipment from the next room, where he hurriedly leafs through reference books scattered on the table. From the number of books, it looks as though he's done this with every sort of animal he's seen. Returning with a scalpel, he announces the chicken has Bumblefoot. (It's a real thing; look it up!). He nonchalantly cuts off a loose thread on his collar with the scalpel.
James comes home, downcast after his experience with the Rudds' cow. He admits to Mrs. Hall there is a possibility he will not be able to treat the abscess. If it grows, and he has no real way of stopping it, the Rudds will lose the cow they had such hopes for. They're not rich people; this could be a financial disaster.
When James visits the Rudds early the next day, it's to find that Mr. Rudd and Edith have worked all night massaging Strawberry's throat with the salve. They won't give up on her, but she's no better.
Meanwhile, Tristan has revved up the outsize brain he's reputed to possess and, with a series of overlays and tracing, has been studying the intricacies of a cow's throat to get a three-dimensional view. Could there possibly be a surgical solution, despite the major blood vessels in the way? Siegfried comes in to criticize his work and tells Tristan and James there will be no surgery. They should not raise false hopes or allow the cow to suffer. It looks like another valuable animal may be on its way to the abattoir.
James feels terrible that he encouraged Mr. Rudd to buy the cow. On his next visit to the Rudds, Strawberry is no better. If anything, her breathing is worse. It's the end of the road. The camera slowly pans away as the Rudds take in the bad news.
James returns to Skeldale House to find a surprise party with lots of friends and clients in attendance. Despite the house being a hotbed of influenza, and James himself possibly going down with it, he blows out the candles. (I can guarantee you will shudder too.) The gift from his parents turns out to be a wonderful knitted scarf and a somewhat silly hat, and this would be a good opportunity to mention the excellent quality of knitwear in this series. Tristan, in particular, rocks maybe more than one Fairisle pullover vest.
Tristan is there with two women, Connie (reserved for James) and Brenda. There are giggly introductions. Tristan introduces James as the Don Juan of the Dales or something equally ridiculous (it doesn't help that he's wearing the hat, which is beautifully knitted, but …). The two women disappear for some mysterious freshening up.
James receives more presents, a copy of a book Siegfried describes as "the veterinarian's Bible," inscribed with the words "Always attend;" and a small copy of the St. Nicholas statue that stands by the front door from Mrs. Hall.
Hugh and Helen arrive to take Jenny and her kitten home. Helen gives James a gift of Scottish shortbread, assuring him that she didn't bake it (you have to wonder how the Aldersons ever get a square meal, given both daughters' antipathy to the domestic arts). She almost immediately senses that James is unhappy, and he tells her about his dilemma with the Rudds' heifer. She advises him to establish his independence from Siegfried, a bit awkward since he's the boss, but James is coming to that conclusion himself.
There's an awkward moment when Maggie from the pub arrives with a crate of beer. Apparently, Tristan has been mulling over what she said to him when they broke up. Is he really a lightweight? Does everyone think of him that way? She's angry, and tells him he's "good for a giggle and not much else."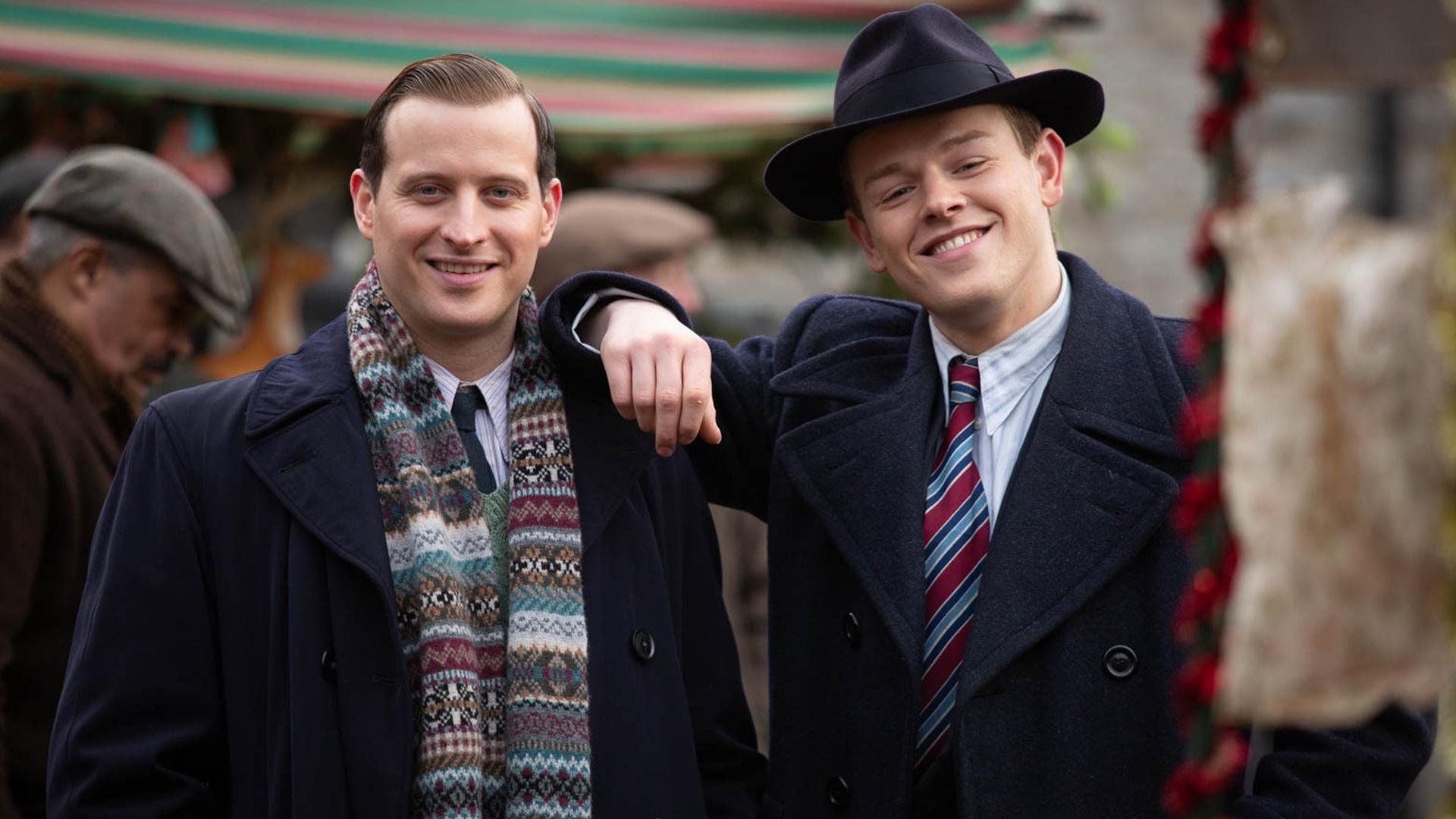 By this time, both James and Tristan are determined to do surgery on the Rudds' cow, even though Siegfried has forbidden it. James finds a precedent for this sort of surgery in his new Veterinarian's Bible and turns down the page to mark it. They both leave, and Connie and Brenda return from their mysterious female ritual to find themselves abandoned.
James and Tristan arrive at the Rudds' farm and tell Mr. Rudd they want to operate on Strawberry. She's in the barn, and they turn the car headlights on for extra light. It's not ideal conditions for delicate surgery, but time is running out. They're ready to start when Siegfried arrives with Mrs. Hall, having investigated the marked page in James's book. Mrs. Hall has somehow not murdered Siegfried on the drive there—she takes the wheel since he's full of whiskey, and barely tolerates his mansplaining during the journey. He must be getting better because he goes on the offensive immediately they arrive: It's his practice and he has forbidden James to operate. But Mr. Rudd steps in: It's his cow.
Siegfried defers. "Your patient, Herriot." His gracious defeat is ruined by an enormous sneeze. The surgery is more explicit than any we've seen in the series; there is blood and, brace yourself—throbbing things that must be avoided at all costs, and (warning) major pus. It's a tense scene. But the surgery is a success, and Mr. Rudd's hopes for a pedigree dairy herd are restored.
As they head to the pub to celebrate, Connie and Brenda pass them on their bicycles, returning home. The pub is crowded, Helen and Hugh are there, and Mr. Rudd boasts to anyone who'll listen about Strawberry's miraculous surgery.
Siegfried attempts an apology:
Siegfried: I wasn't completely in the right.
Mrs. Hall: As close as he'll get to admitting he were wrong.
Siegfried: Yes, this is me showing my soft underbelly. There's no need to stick the knife in. I should have listened to you the first time.
Siegfried continues with warm praise and offers James a promotion to Senior Veterinarian:
… I'm proud of you. In anyone else's hands that animal would have died. Perhaps I should recognize that other people can do this too … I've watched you. You've turned into a fine practitioner and perhaps it's a good thing that the responsibility of the practice doesn't rest entirely on my shoulders.
James asks if he'll get a pay raise. "Absolutely not," Siegfried responds, back to his usual acerbic self. "Do you think I'm made of money?" Siegfried even acknowledges Tristan's solo flight in the surgery and buys him a glass of the good whiskey.
As James talks to Helen, a customer interrupts with "Congrats, love."
"Thanks … love," James responds, with his usual good nature, before he realizes that there's tremendous excitement in the pub. Hugh is buying a round of drinks because he's just announced his engagement to Helen. He just couldn't wait to tell everyone, she tells James with some embarrassment.
Siegfried looks concerned as James leaves the pub, and he, Tristan, and Mrs. Hall follow him outside. No one says anything. They don't need to. Tristan pats James's shoulder, and they walk back to Skeldale House under a starry, moonlit sky.
We still don't know why Helen accepted Hugh's proposal. Is it for financial security for her family? What will happen now? Do you think the next episode, the Christmas special, will resolve matters? And how?
---
By
for on February 14th, 2021
More to Love from Telly Visions