By
for on March 19th, 2019
'After Life' Will Pull at Your Heartstrings if You Let It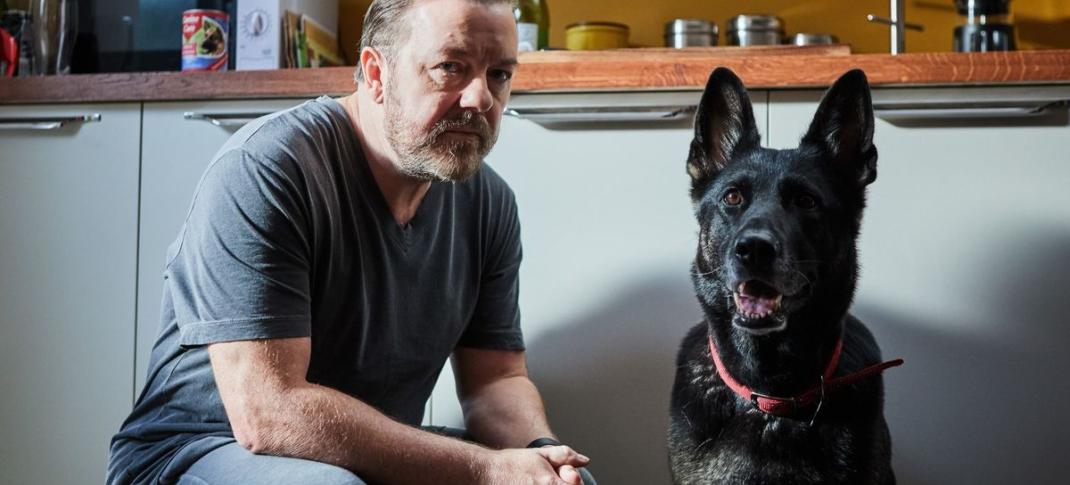 I had day off from work last week and so decided to spend three hours of that precious "me" time watching the latest Netflix offering by Ricky Gervais, After Life. My intial pronouncement about this dramedy series is that it's legitimately bingeworthy and, I contend, entirely worthwhile - but only if you get past the misery-laden beginning.
As is customary for Mr. Gervais, he wrote, directed and stars in his newest venture. After Life tells the sad tale of Tony, a features journalist working for a local newspaper, who has recently lost his beloved wife Lisa (Kerry Godliman) to breast cancer.
Depressed and bitter, Tony desperately holds onto the memory of his late wife through a series of videos she's left behind to help him cope without her and by making daily pilgrimages to her grave accompanied by the couple's exceptionally devoted dog, Brandy.
(Side note: For those who were scarred by THAT scene in the vet's office in another Gervais series, Derek, don't freak out. Brandy makes it through After Life alive and well.)
Tony decides if he's going to hang around, he'll do it on his terms. This means saying and doing whatever he wants to people who annoy him (e.g., his lazy postman, an overzealous charity worker, a playground bully). He considers this brutal honesty his superpower and reckons when he's finally had enough, he'll end it all.
Sounds cheery, I know, but I found After Life ultimately uplifting. Gervais assembles a varied collection of memorable characters (not to mention, an outstanding cast) for Tony to interact with and learn from. Some of these people have a genuine concern for the grieving widower such as his brother-in-law and boss Matt (Tom Basden) and Anne (Penelope Wilton) an empathetic widow whose husband's grave neighbors Lisa's.
Others seem to be sent to confront Tony's perceptions. A few of these challenges arrive in the form of Julian (Tim Plester) a homeless drug addict, sex worker Roxy (Roisin Conaty) and a no-nonsense nurse (Ashley Jensen) at the care home where Tony's dad (David Bradley) is being treated for dementia. Thus our embittered, broken protagonist is brought face-to-face with the pain and strength of others.
Still more individuals, mainly Tony's co-workers and the quirky townsfolk he's sent out to interview for human interest pieces, are subject to the sharp sarcasm or unexpected kindness of a man who is slowly but surely finding his way back from an agonizing loss.
I guess to sum it all up, After Life made me feel stuff – despair, laughter and uplifting joy. Admittedly, Gervais serves up a heaping helping of strong emotions and, for some, it may not be to their taste. In fact, some on social media have described After Life as mawkish and manipulative. But I'd argue that when dealing with a portrayal of grief, rage and depression, rock bottom is the logical and uncomfortable place to begin.
I'm not a reviewer by training. If anything, I'm an enthusiast. When I embrace the message of After Life, that we are here for other people and we need to live our one-and-only life with passion, my emotions aren't being exploited. I'm merely reminded that in the real world, I can speak the truth and treat other human beings with empathy and compassion.
Have you watched After Life yet? If so, what was your take? If not, do you think you'll be giving it go?
---
By
for on March 19th, 2019
More to Love from Telly Visions