By
for on August 7th, 2021
Acorn TV's 'The Big Bread Experiment' Proves That Baking Can Bring a Community Together
Over ten years ago, Church of England Curate Cath Vickers (do you see the pun there?) was concerned that her small, Darrowby-like town of Bedale, Yorkshire, was losing its sense of community. People no longer had real contact with their neighbors, and she yearned for the days when a common purpose drew people together. So she started a baking group. The original group consisted of a motley band of women—including a teacher, motorcycle enthusiast, midwife, and physiotherapist, as well as older women who'd never had careers outside the home. Their enthusiasm for getting their hands in dough triumphed over their hilarious incompetence. The wine helped, too. It was a roaring, mostly edible, success. But it planted the idea that maybe their skills could improve, and other people might enjoy, eat, and even pay for the bread. And thus, The Big Bread Experiment was born. 
A couple of artisan bakers, Duncan Glendinning and Patrick Ryan, who run a successful business in Bath (250 miles away, and that's a long drive in England) are persuaded to help and to introduce them to the real world of baking. The two professionals gracefully accept the slapdash approach of the group, barely blinking when a question about how long a batch of dough had been rising is answered with "About two glasses of wine." They do, however, suggest that a "dollop" is not a valid food measurement. But Patrick and Duncan sense that underneath the silliness and jokes, the women are becoming passionate about breadmaking.
Plans are made to develop several recipes that can be presented, not for sale, but to be tasted, at a nearby food festival. It's a great success, giving the women, or the Kneady Girls, as they've named themselves, another boost of confidence.
Meanwhile, a mile or so away, the owners of an ancient watermill have the dream of restoring it to working order. Crakehall Watermill had been operational until the 1930s, standing on a site that had held a mill for a thousand years, and used to grind wheat and possibly cotton at one point. The mill restoration also becomes a (mostly male) community effort.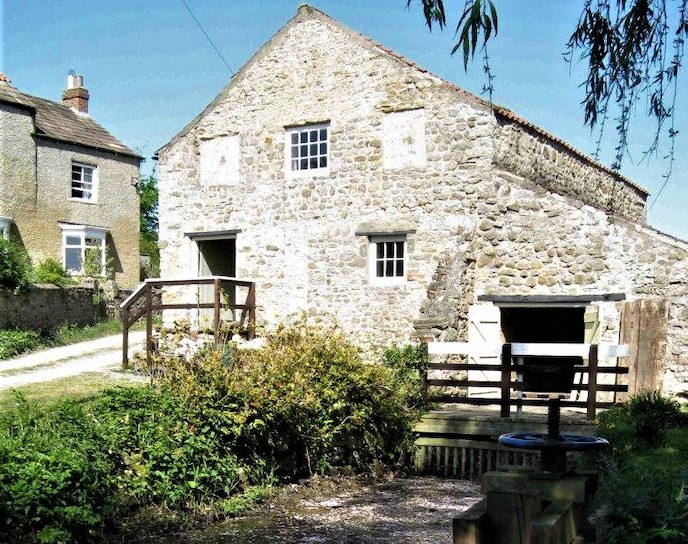 However, the Kneady Girls have to take a food hygiene course to be able to sell bread. Poor Valerie, the oldest member of the group, hates taking examinations, the result of being told for years that she wasn't good enough, the odd one out of her family. While the series does not dwell on personal growth stories, it's touching to see her confidence boosted, and watch Valerie change from a lonely and aging woman to one of the hotshots of the group.
When the group goes to Bath for a week-long course, they agree that now is the time to get serious with Duncan and Patrick. Sure enough, there is more science, and both dollops and wine are banned. On their return to Bedale, the bakers have a stall booked for at the town market in a matter of weeks, but the dynamics of the group change, and all but three drop out.
To add to this disaster, in the second episode we learn the Church has sent Cath, the mainstay of the group, to another position down south. Cath returns to Bedale for a recruitment drive and rounds up fourteen new recruits, who have just one week to train with Duncan and Patrick before the market debut. The group also gets serious about marketing. Now established as a non-profit, they name themselves Bread…Actually! and sell out at the market.
By contrast, the mill restoration has been forging ahead, with a team of volunteers cleaning, testing, and removing invasive plants from the waterway. It's an exciting moment when the wheel turns for the first time (and nothing breaks). The women of Bread…Actually! attend the official opening to see the first lot of locally-grown wheat milled.
But all the time it seems the odds are stacked against the women. People may enjoy their bread—although some grumble it's too fancy and turn down free samples—but they live in a town where the local baker has all but given up. He invites the women to set up a popup store one day a week on his premises, and they sell out, despite his warnings that if it's not white, square, and sliced, people won't buy it.
By the third and final episode, Bread…Actually!, now Bedale Community Bakery, has researched buildings suitable for a bakery, leasing the town's former railway station (built-in 1859), and has hired their first paid employee. After a week's intensive training in Patrick and Duncan's commercial kitchen, Susie will now have to run her own, making 170 loaves a day, four days a week, getting up at 4:30 am on baking days. She's the daughter of Vicar Cath who is thrilled that she was selected, and surprised since her own baking skills were fairly abysmal. (The other women also claimed that Vicar Cath, in addition to being the worst baker, was also the noisiest of the group.)
Surprisingly all goes fairly smoothly, or not if you count having to demolish part of a wall to get the huge oven inside, and the Bakery opens with much rejoicing and baked goods. On opening day, a special flour delivery is made using a vintage diesel train—another community restoration effort—making the two-mile run from the mill to the bakery.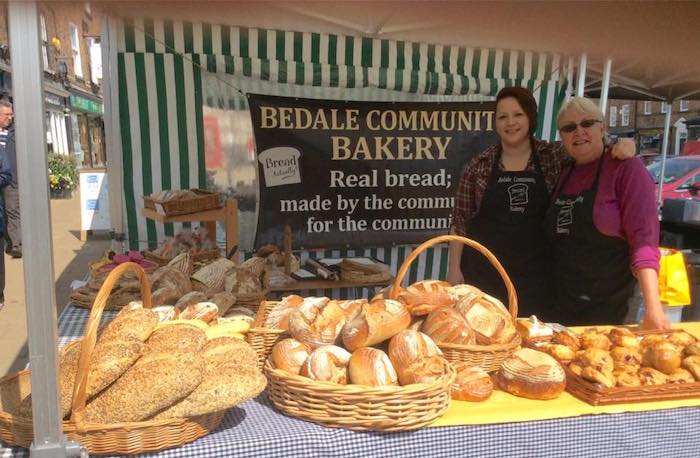 The Big Bread Experiment first aired in 2011, so the big question is what has happened in the meantime? How were the mill and the bakery affected by the last tumultuous decade in England? Did they survive Brexit and the COVID-19 pandemic? Happily, yes.
The community which Vicar Cath dreamed of creating survived and thrived. Bedale Community Bakery was commended for their community service, particularly to the elderly and lonely, in the town during the lockdown, and they now have a restaurant on site. Crakehall Watermill welcomes holiday visitors to restored cottages and a campground in addition to grinding local grain. Patrick and Duncan's Thoughtful Bread Company in Bath thrives.
Whether you enjoy baking or watching experts do so, or are planning your dream holiday in Britain, you'll enjoy this series. There are only three episodes, just enough time to produce a simple loaf or two while watching.
---
By
for on August 7th, 2021
More to Love from Telly Visions