By
for on October 1st, 2021
8 British Shows To Stream October 2021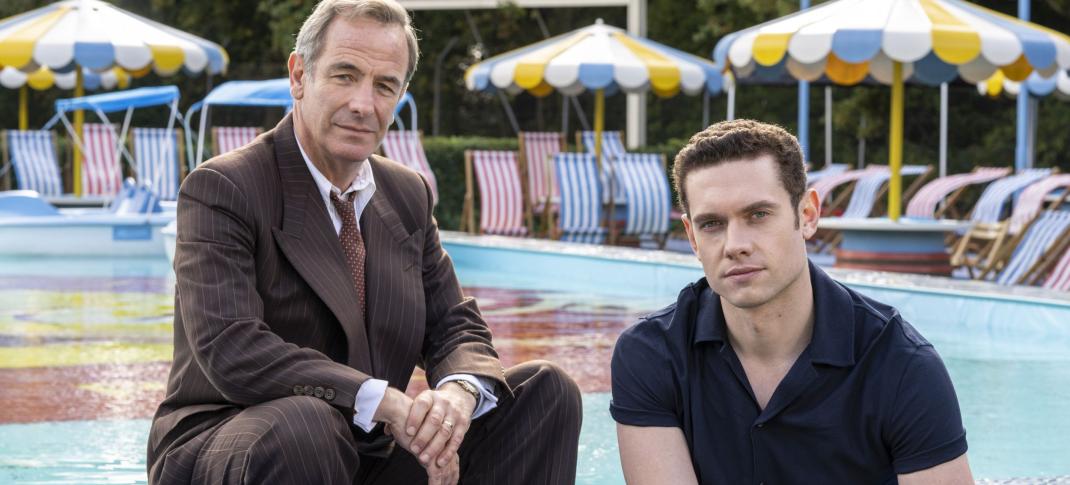 It's fall! The apples are bobbing, the spooky season is trending, and on streaming, everything emphasizes horror movies or Christmas. But for those looking for British TV, the best place this month is PBS, which has not one, not two, but three fan favorites arriving this month after a long pandemic-deprived wait.
So, what's coming to the U.S. in British TV this October? Let's run down the biggest titles arriving this month.
PBS Passport
Call The Midwife Season 10 
Call The Midwife continues dropping weekly episodes every Friday an entire month ahead of their linear airings. Oct. 1 brings Episode 5, and the series will finish out on Passport by month's end on Oct. 22.
Grantchester Season 6
Everyone's favorite priest and detective team are back for another season in Grantchester. This season sees the show reach 1958 and let Will Davenport (Tom Brittany) settle into his role as the vicar next to DI Geordie Keating (Robson Green) after a season and a half of allowing the audience to adjust from Sidney Chambers. But as always, death is right around the corner. All episodes of Season 6 will arrive on Oct. 3
Baptiste Season 2
Baptiste will give the old detective one last ride in the second and final season of The Missing spinoff. Once again, Baptiste (Tchéky Karyo) will take up the call to help find missing children lost somewhere on the European continent with the help of their distressed British parents, played by A-list guest stars. This year, it's Fiona Shaw (Killing Eve), whose twin sons are nowhere to be found. All six episodes arrive on Oct. 17.
AcornTV
Manhunt: The Night Stalker Season 2
Manhunt: The Night Stalker was a significant hit in the waning months of the pre-pandemic times of 2019, so of course, there's more. Martin Clunes (Doc Martin) returns as DCI Colin Sutton. Based on the diaries of the real-life crime-solving Sutton, this season will focus on the quest to bring down a notorious burglar and rapist whose 17-year crime spree was finally ended by Sutton's team. Weekly episodes of the four-part series start dropping on Monday, Oct. 18.
Also, note that both Midsomer Murders Season 22, Part 2, and My Life Is Murder Season 2 continue this month with weekly episode releases every Monday.
BritBox
Brideshead Revisited (Remastered)
The original 1980s era Brideshead Revisited is finally coming to streaming. Starring Jeremy Irons and Anthony Andrews, this adaptation of Evelyn Waugh's 1945 novel is considered the gold standard of literary adaptations and was a defining title of Masterpiece Theater. For its 40th anniversary, it's been completely remastered, and all 11 episodes will be available starting Tuesday, Oct. 12.
House of Cards 
BritBox's other major get is the original House of Cards trilogy written by Andrew Davies. Starring the incomparable Ian Richardson as the original Francis Urquhart, the man who smiled his way up the ladder to Number 10 while stabbing everyone in the back, this series has also been unavailable on streaming for the past few years, and its return is welcome. All episodes arrive Friday, Oct. 15.
HBO/HBO Max
Succession Season 3
The Brian Cox tour-de-force Succession is the Americanized take on the News of the World scandal that brought viewers Press a few years back. A family drama loosely based on the Murdoch clan, this sleeper hit on HBO has been off the air for two years, but trust me, you want to get caught back up and tune in when it arrives. Weekly episodes start airing on HBO Sunday, Oct. 17, with simultaneous streaming arrival on HBO Max.
Netflix
Sexy Beasts Season 2
Listen, Netflix marks this show "U.K." in all the monthly debut paperwork. If we get to claim the good of Succession and Brideshead, then we must accept the terrible dreck that comes with that. Feel free to argue among yourselves in the comments on whether or not you concur, but I think we can all agree that Sexy Beasts Season 1 was a massive disappointment and that chances are Season 2 will too. All episodes, such as they are, arrive on Oct. 7.
---
By
for on October 1st, 2021
More to Love from Telly Visions