By
for on June 3rd, 2020
12 British Shows To Stream In June 2020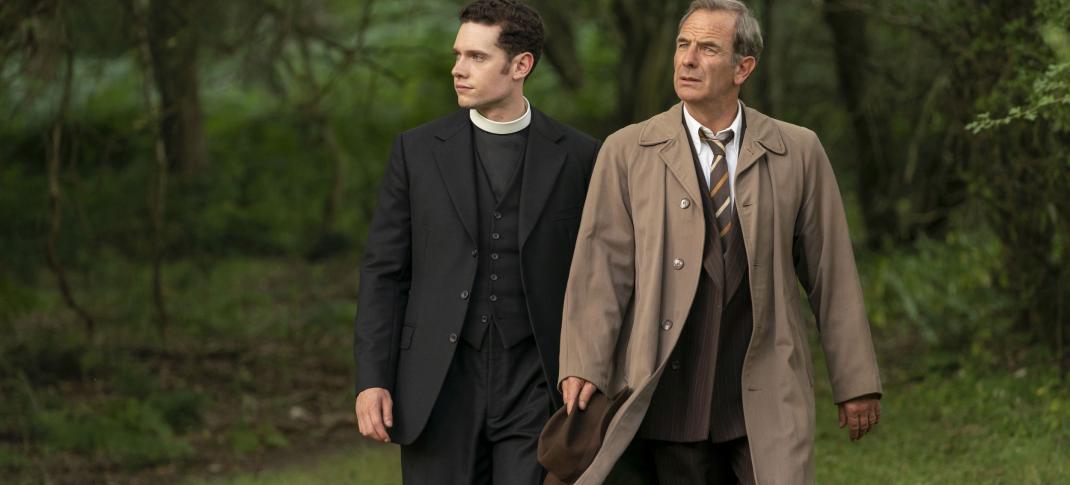 There was a significant change in the TV landscape at the end of May, as HBO Max arrived on the scene. The third of four streaming services to debut nationwide since November of last year, HBO Max is notable for British TV lovers everywhere due to its deal with BBC America to stream all its content from Doctor Who to Killing Eve. It also made a deal with the BBC and Channel 4 to be third-party content providers, meaning the streamer will have brand new U.K. content on the regular, starting now.
So, what's coming to the U.S. in British TV in June? Let's run down the biggest titles arriving this month.
PBS Passport
Grantchester Season 5
PBS Masterpiece's summer of mysteries kicks off with the newest season of Grantchester on Sunday, June 14. The first full season with Tom Brittany in the lead role settles back to a return to the norm after Season 4's transitional period.
For those who can't wait to see how it goes, all six episodes will be available for PBS Passport members on premiere day, but as always, we'll be recapping weekly.
Professor T Season 2
The latest of the "Walter's Choice" selections, Professor T is a Belgian crime drama that arrives June 18 with 13 episodes. The Flemish-language show is often compared to Monk and House, with Walter's Choice curator Walter Iuzzolino calling the titular character (played by Koen de Bouw) "TV's rudest crime fighter."  (A British remake of the series, starring Death in Paradise alum Ben Miller, is in the works.)
Netflix
The Queen
Netflix finally gets The Queen from 2006. For those who need to be completionist about their The Crown viewing, the award-winning Helen Mirren portrayal of Elizabeth II is available as of June 1. Hopefully, it sticks around long enough for viewers to watch Claire Foy, Olivia Colman, Imelda Staunton, and Mirren in a row.
Marcella Season 3
ITV's British "Nordic"-noir detective series starring Anna Friel as the memory-loss plagued detective Marcella comes to Netflix on June 14. Season 3 aired over in the U.K. in autumn of 2019. All eight episodes of the new series will join the first two seasons on Netflix for a 24 episode binge-watch, perfect for summer.
HBO Max
Trigonometry
The launch of streaming newcomer HBO Max brings with it four new shows, all of which technically debuted on May 27, in tandem with the service's launch. The first one, Trigonometry, is co-production between HBO Max and BBC Two. The synopsis boasts it's a "love story about three people made for each other." It stars up-and-comers Gary Carr, Thalissa Teixeira, and Ariane Labed, with eight episodes all told, and all available now.
Ghosts
The BBC One sitcom Ghosts, which aired in the U.K. last year, is one of three imports HBO Max can call an exclusive debut stateside.
The show features a host of ghosts, all from different historical periods, who haunt a country house as a pack, all while sharing it with new, very alive, occupants. Charlotte Ritchie and Kiell Smith-Bynoe play the living; Martha Howe-Douglas, Mathew Baynton, Simon Farnaby, Laurence Rickard (all from Horrible Histories) are among those playing the dead.
Home
From Channel 4, Home is a comedy-drama where a middle-class family from Dorking discover they've accidentally brought home Sami, a Syrian immigrant (Youssef Kerkour) in the boot of their car, and proceed to act like they meant to do that. All six episodes are available now.
Stath Lets Flats
Another Channel 4 comedy, Stath Lets Flats, is written and created by Jamie Demetriou. He stars in it as Stath, a socially inept Greek-Cypriot letting agent in London, "who only has his job because his father is the owner and manager of the company." There are two seasons of this already, and HBO Max has both.
Acorn TV
Hidden Season 2
Once Dead Still concludes on June 15,  a new series will crop up to take its place. Hidden is a BBC Welsh psychological thriller, with Season 2 beginning nine months after the conclusion of the first series. (Season 1 is also available on Acorn, conveniently enough.) 
A new murder leads DCI Cadi John (Siân Reese-Williams) and DS Owen Vaughan (Siôn Alun Davies) back into the shadow of Blaenau Ffestiniog in North Wales. The series is in both English and Welsh with subtitles. All six episodes drop at once.
The Sommerdahl Murders
Acorn TV's other big exclusive, The Sommerdahl Murders, arrives at the end of the month. This Danish series (with subtitles) lands June 29 with eight episodes, set in the Danish coastal town of Helsingør.
Detective Chief inspector Dan Sommerdahl (Peter Mygind) and his wife Chief Criminal Technician, Marianne Sommerdahl (Laura Drasbæk), try to solve a case with Detective Flemming Torp (André Babikian) while their marriage crumbles.
BritBox
Van der Valk 
The new reboot of the 1970s classic mystery Van der Valk will eventually make its way to PBS. But first, it will be on Britbox, starting June 10. Marc Warren stars as the new version of the Dutch detective, Commissaris Simon "Piet" van der Valk, taking on crime on the streets of Amsterdam.
Mum Season 3
BritBox's other exclusive debut this month is the final season of Mum on June 20. The series stars Lesley Manville as Cathy, the widowed "mum" of the title, who decamps with Michael (Peter Mullan), now a couple after the Season 2 finale, to the English countryside to celebrate her brother Derek's (Ross Boatman) birthday. 
---
By
for on June 3rd, 2020
More to Love from Telly Visions