By
for on May 1st, 2022
12 British Shows & Movies to Stream in May 2022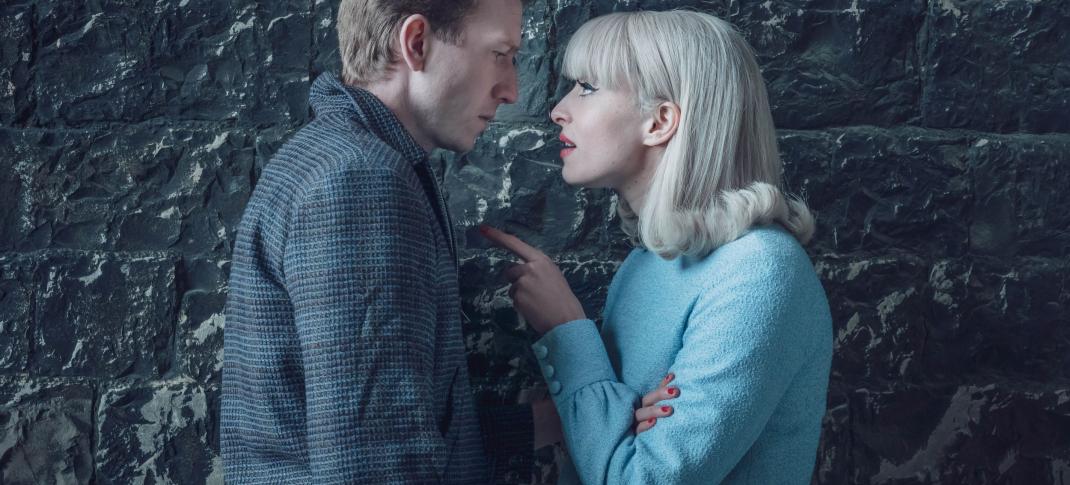 The Emmys are coming, or at least the submittal deadline is. Any show wanting to be considered for the 2021-2022 TV season must have at least premiered by May 31, which means this is the month where the big guns come out. Just about every streamer on this list has at least one series or film on the roster making an awards play, and that means the schedule for this month is just packed.
So, what's coming to the U.S. in British TV this May? Let's run down the biggest titles arriving this month.
PBS Passport
Ridley Road
Ridley Road is a fictionalized story of the Nationalist Socialist Movement uprising in the U.K. in the mid-1960s, and the Jewish "62 Group" who worked to take them down begins airing on linear on the first of the month.
This period piece thriller is a must-see: a stunning debut by newcomer Agnes O'Casey as Vivien Epstein, a nice Jewish girl from Manchester who goes undercover to seduce U.K. nazi leader Colin Jordan (Rory Kinnear). All episodes land on PBS Passport for members to stream on Sunday, May 1.
Il Cacciatore (The Hunter) Seasons 1-3 
This month's Walter's Choice title is Il Cacciatore (The Hunter). The hit Italian drama aired over three seasons on Rai 2 from 2018 to 2020, and is based on Alfonso Sabella's autobiography, Cacciatore di Mafiosi. 
Francesco Montanari stars as Saverio Barone, a fictionalized version of Sabella, who, as a young prosecutor in the early 1990s, fought to take down the Mafia once and for all. All three seasons (28 episodes in all) arrive Thursday, May 12, in Italian with subtitles.
Acorn TV
Signora Volpe
Acorn TV's big original drama for May is Signora Volpe, starring Emilia Fox (Silent Witness) as British spy Sylvia Fox. She falls in love with the town of Panicale, Italy, and relocates there after a trip to see her niece get married turns into an extended stay to solve a murder and locate the disappeared groom-to-be. T
Teaming up with local cop Giovanni Riva (Giovanni Cirfiera), the two spend the rest of the season solving mysteries of the week. The three-episode series premieres Monday, May 2, and follows a weekly release schedule.
AMC+
The Twin
This month's AMC+ day and date release on both streaming and in theaters, The Twin is a Scandi-noir film with horror overtones. It stars Teresa Palmer (A Discovery of Witches) as Rachel and Steven Cree (COBRA) as her husband Anthony, who relocate to Scandinavia with their surviving son after his twin dies in what looks like a freak accident. The film arrives in select theaters and is on streaming starting Friday, May 6. The Twin will be released on both flagship service AMC+ and the horror-leaning Shudder.
The Ipcress File
The Ipcress File is the new reimagined adaptation of the famous 1960s Harry Palmer spy series. Starring Joe Cole in the role originated by Michael Caine, with Lucy Boynton as his now-equal in spying and love, the series attempts to revive the series that stood as a working-class answer to James Bond's posh lifestyle.
The six-episode series premieres Thursday, May 19, and will air on a weekly release schedule on both AMC+ and Sundance Now.
Apple TV+
The Essex Serpent
Apple TV+ ups its foray into British originals with The Essex Serpent. The series was initially envisioned with Keira Knightly as the lead, Cora Seaborne, who, after losing her husband, relocates to Essex to research a mythical serpent. But when Knightly left due to scheduling conflicts, the role wound up going to American Claire Danes. Tom Hiddleston co-stars as the local Hot Vicar love interest. The six-episode series premieres Friday, May 13, with two installments, followed by one a week thereafter.
BritBox
The Responder
The Responder was a massive hit when it debuted on the far side of the pond in January. The BBC has already renewed this Martin Freeman-starring police procedural inspired by the real-life experiences of the former police officer and writer Tony Schumacher for a second season.
Though the series initially aired as five episodes, it was recut into six installments for the Australian broadcast, which is the edit BritBox is bringing to the U.S. All episodes arrive Tuesday, May 24.
HBO/HBO Max
The Time Traveler's Wife
Though The Staircase has Colin Firth, the true-crime series on HBO Max is too American to make this list. However, despite being set in America, The Time Traveler's Wife has too much British talent not to be included, with Steven Moffat as showrunner and starring Rose Leslie and Theo James doing their best American accents in this adaptation of the best-selling romance novel. The series premieres on HBO and HBO Max starting Sunday, May 15, and follows a weekly release schedule.
Hulu
Conversations with Friends
It's not a sequel to 2020 hit Normal People, but the same team that brought that romance to BBC Three and Hulu has now adapted Sally Rooney's other hit novel, Conversations With Friends, for the small screen. The story of two BFFs who get their love lives entangled in an older couple's open relationship; it looks just as big a heartstring tugger as its predecessor — all 12 episodes land on Hulu on Sunday, May 15. 
Pistol
Based on Steve Jones' autobiography Lonely Boy: Tales from a Sex Pistol, director Danny Boyle's ambitious drama Pistol, is about the rise and fall of the Sex Pistols and how they changed the face of rock and roll forever. Originally meant as an FX on Hulu exclusive, the series is now simply an FX production, which happens to stream on Hulu and not air on the linear FX network. All six episodes of the limited series arrive on Tuesday, May 31. 
Netflix
Operation Mincemeat
An early Oscar-bait film that will arrive simultaneously in theaters and on streaming, Operation Mincemeat is the dramatization of the  true story of how the British Navy fooled the Nazis during World War II with a well-placed dead body and a whole lot of "truth is stranger than fiction." This is a do-not-miss, starring Colin Firth, Matthew Macfadyen, Kelly Macdonald, and Penelope Wilton. The film opens in limited release and streams on Netflix starting Tuesday, May 10.
Peacock
Eurovision 2022
The 66th annual country vs. country reality competition series Eurovision created the genre decades before "Reality TV" was even a phrase heading to Turin, Italy for 2022. Peacock will stream the event live, starting with the two semi-final rounds on Tuesday, May 10, and Thursday, May 12. The Grand Final follows on Saturday, May 14. Sadly, Americans cannot vote, but you can familiarize yourself with the acts on YouTube ahead of time and thank me later.
---
By
for on May 1st, 2022
More to Love from Telly Visions