By
for on July 1st, 2022
11 British Shows To Stream In July 2022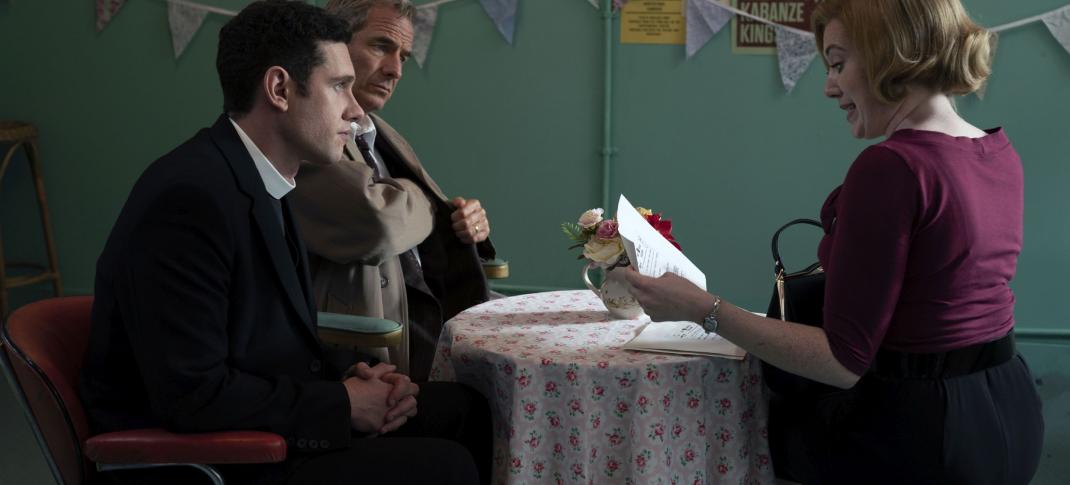 It may be the height of summer and a holiday weekend in the United States, but in the world of television, July is the beginning of the new year. Historically, the TV year ran from September to June, when broadcast programming started. But since television went year-round with the advent of cable and prestige TV and streaming, the first shows of the TV season now turn up in July. That means new titles and fresh seasons to binge from overseas as it gets too hot outside to function.
So, what's coming to the U.S. in British TV this July? Let's run down the biggest titles arriving this month.
PBS Passport
Grantchester Season 7
It hasn't been a year since Grantchester Season 6 aired over here, but PBS is pushing the further adventures of Rev. Will Davenport and Det Geordie Keating back to its usual summer berth after last year's delays. Season 7 will open with Will and Leonard in better places and Geordie on the road to divorce. The series airs weekly on linear, but PBS Passport members can binge all six episodes starting Sunday, July 10.
Thou Shalt Not Kill Season 4
This month's Walter's Choice offering is the popular Italian crime drama Thou Shalt Not Kill. Featuring  Miriam Leone as the stubborn Detective Valeria Ferro, Season 4 will bring new challenging puzzles to find the perpetrators of crimes motivated by jealousy, vendettas, and repressed anger to seek the truth and justice. All 12 episodes arrive on PBS Passport on Thursday, July 28.
Acorn TV
The Brokenwood Mysteries Season 8
New Zealand's long-running The Brokenwood Mysteries returns for another season with Neill Rea (Go Girls) and Fern Sutherland (The Almighty Johnsons) back as DSS Mike Shepherd and DC Kristin Simms solving crimes in the fictitious country town, population of 4,900 and steadily declining. Season 8 includes a murder at a music festival, the death of a cowgirl, and an athlete found dead in a fountain. The series starts Friday, July 1, with weekly installments to follow every Monday.
The Other One Season 2
Acorn TV's significant original this month is Season 2 of comedy The Other One, starring Ellie White (The Windsors) and Lauren Socha (Misfits) as Cathy Walcott and Cat Walcott. These two daughters shared a father and the same name, who didn't know of the other's existence until he died. Season 2 sees the two, who only just came to terms with the fact they are sisters, learning they have a brother, Callum, who Cathy had just made out with. All episodes arrive on Thursday, July 21.
AMC+/Sundance Now
Showtrial
The controversial BBC series Showtrial makes its way to this side of the pond via the AMC+ network of streamers. A murder mystery that also serves as a meditation on the way race, class, wealth, politics, and the media affect the justice system; the series is technically a Sundance Now exclusive by will also stream on flagship streaming service AMC+. All five episodes arrive on both services on Thursday, July 21.
Three Families
This month's other Sundance Now exclusive, Three Families, will also stream on AMC+. Sinéad Keenan (who also stars in Showtrial) and Genevieve O'Reilly (Tin Star) star in this two-part series based on real-life experiences of three families who, for various reasons, needed to terminate pregnancies in the years running up to the decriminalization of abortion in the U.K. Both installments arrive on Thursday, July 14.
Apple TV+
Trying Season 3
One of AppleTV+'s few British titles from its debut year, Trying is a heartwarming comedy starring Rafe Spall and Esther Smith as Nikki and Jason. After two seasons of struggling to have a child, they are thrown into the deep end as new parents in Season 3. The eight-episode season debuts on Friday, July 22, in the same summer berth the delayed Ted Lasso usually occupies and will stream episodes weekly every Friday.
BritBox
Mystery Month
Devoid of any BritBox originals, the streaming service will settle for focusing on British crime dramas. The "Mystery Month" highlights include Murder Case Seasons 1-2, which arrive Friday, July 8, followed by Silent Witness Season 25 on Tuesday, July 12. But the most significant get is Agatha Christie's Poirot Seasons 7-8, arriving Tuesday, July 19, which were the only two seasons BritBox was missing, putting the entire Agatha Christie ITV library streaming in one place for the first time in the US.
HBO/HBO Max
Wellington Paranormal Season 4
Following up on the arrival of Wellington Paranormal Season 3 on HBO Max in June, this month will add Season 4, catching the streamer up to date with all episodes that have aired in one place. The greenlighting of Taika Waititi's Our Flag Means Death for Season 2 puts both his brand of genre comedy in one easy place for audiences to find. All episodes arrive Thursday, July 28.
Peacock
Trigger Point 
Jed Mercutio's newest series, Trigger Point, takes the fast-paced Line of Duty thriller model and applies it the London's bomb squad diffusion team. The new series stars Vicky McClure, who LoD fans already know well, and follows the same one major story per season format. All episodes arrive on Peacock on Friday, July 8.
Showtime
We Hunt Together
The second season of cat-and-mouse crime thriller We Hunt Together introduces a new guest star (Merlin's Colin Morgan), a new serial killer (The Birdman), and a new twisty mystery that puts Season 1's Freddy Lane (Hermione Corfield) at the center of a case that DS Lola Franks (Eve Myles) and DI Jackson Mendy (Babou Ceesay) will have to solve. All episodes of Season 2 will be available to stream on Showtime beginning July 1 and the series will return on-air on July 3. 
---
By
for on July 1st, 2022