By
for on June 1st, 2022
16 British Shows & Movies to Stream in June 2022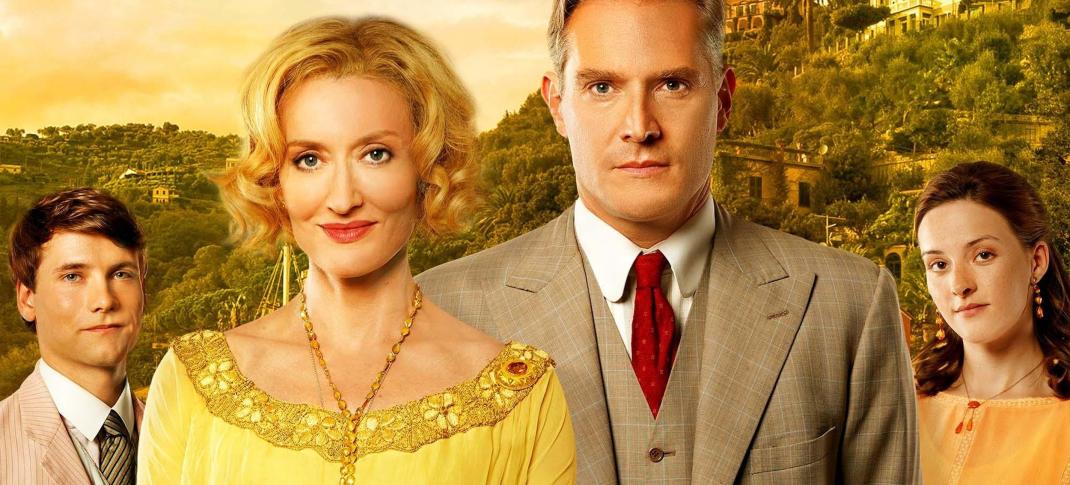 June wasn't always a busy time for TV, historically. The Emmy submissions cut off ends with may, and the frenzy to get the best shows out in front of voters as close to the deadline (without going over) usually meant June was clean up, weekly episodes of stuff that already premiered. But not this year. Between the Queen's Platinum Jubilee, Netflix and PBS schedules, and a few other goodies, June will be packed for those who are ready to laze around in their air-conditioned homes.
So, what's coming to the U.S. in British TV this June? Let's run down the biggest titles arriving this month.
PBS Passport
Jamaica Inn
Masterpiece has been experimenting with releasing shows on Passport before airing, and Jamaica Inn is the latest to get a run for subscribers before its linear debut. Originally broadcast on the BBC back in 2014, this adaptation of Daphne du Maurier's 1920S- set novel stars Jessica Brown Findlay (Downton Abbey) as Mary Yellan, who moves in with relatives to the titular hotel, only to discover its a front for a far deadlier enterprise. All installments of the three-episode series arrive on June 1.
The Jubilee Pudding: 70 Years in the Baking
The BBC may no longer be the home of The Great British Baking Show. However, it still can command The Jubilee Pudding: 70 Years in the Baking, a competition that feels remarkably similar to the hit series, going so far as to bring in Mary Berry as a judge. Contests for national dishes to celebrate Monarch milestones have produced the now-iconic Victoria Sponge; now, a new generation of five bakers will vie for dessert posterity. The one-hour special arrives on Passport on June 1.
Hotel Portofino
Hotel Portofino, a brand new period drama set in Italy, arrives on linear TV and Passport this month. The 1920-set series stars Natascha McElhone as Bella Ainsworth, the daughter of a wealthy industrialist. She relocates to Italy to set up a British Hotel in the town of Portofino and the shadow of Mussolini's growing fascist state. All six episodes are available to subscribers starting Sunday, June 19.
Endeavour Season 8
The second-to-last season of the Inspector Morse prequel spinoff Endeavour arrives with Season 8. The series picks up where it left off two years ago, in 1971, with Endeavour Morse grieving the murder of his girlfriend by her husband as he sinks further into alcoholism, with only crime-solving to keep him sober. All three episodes stream for members starting Sunday, June 19.
Acorn TV
London Kills Season 3
After a long lockdown-induced hiatus, London Kills is finally back with a third season. The cutting-edge documentary-style drama focusing on London's elite murder investigation squad stars Hugo Speer as Detective Inspector David Bradford. Season 3 opens with the fatal stabbing of a young man that quickly turns into a possible inside job. All five episodes arrive on Monday, June 6.
AMC+/Sundance Now
This Is Going To Hurt
Ben Whishaw stars in the hit adaptation of Adam Kay's award-winning memoir, This Is Going To Hurt, which aired on the BBC earlier this year. Based on TV writer Kay's original medical career, the series is a laugh-so-you-don't cry look at the highs and gut-wrenching lows of life on a gynecology and obstetrics ward. The six-episode series streams on a weekly release schedule beginning Thursday, June 2, on both AMC+ and Sundance Now.
BritBox
The Barking Murders
BritBox continues its slate of new murder mysteries with The Barking Murders. Despite the title, this (blessedly) is not an odd couple detective series of a vet and an animal rescue worker solving crimes. The true-crime drama series stars Stephen Merchant as real-life serial killer Stephen Port, who murdered four young gay men in London before he was finally caught. All three episodes arrive on Tuesday, June 7.
Redemption
From the producers of The Bay, BritBox's new original drama Redemption stars Paula Malcomson as DI Colette Cunningham. Her life running Liverpool's Serious Crime Squad is upended when the body of her daughter, Kate, who disappeared 20 years ago in Dublin, is finally found. Consumed by grief and guilt, Cunningham decides to stay and work with the Grada to solve the cold case. All six episodes debut Tuesday, June 14.
Grace Season 2
Grace, the adaptation of the Roy Grace series by Peter James and written by Russell Lewis (Endeavour), is back for another season. Starring John Simm as the titular DS Roy Grace, the new series picks up a few months after the end of Season 1's investigation. Grace and his team deal with the fallout as they work to solve a new case featuring the brutally murdered wife of a wealthy Brighton businessman. All three episodes arrive Tuesday, June 21.
HBO/HBO Max
Wellington Paranormal Season 3
HBO and HBO Max don't have a lot of British series for June, other than the continued weekly release of The Time Traveler's Wife. However, the streaming service is getting a new installment of Wellington Paranormal episodes as the New Zealand spinoff of the original What We Do In The Shadows rounds into Season 3. All six episodes stream on June 23.
Hulu/ABC
The Queen's Platinum Jubilee Concert: Platinum Party At The Palace
BritBox landed the horse and flower pageantry, and PBS nabbed the baking competition. However, Disney/ABC landed the crown jewel of the Jubilee weekend, the much-ballyhooed Platinum Party At The Palace. The concert includes performances by Ed Sheeran, Queen + Adam Lambert, Alicia Keys, Duran Duran, Diana Ross, and Sir Elton John, just to highlight a few. A one-hour special version of the three-hour concert airs on ABC on Saturday, June 4, and streams on Hulu starting the next day. 
Netflix
Peaky Blinders Season 6
It's the final season of Peaky Blinders, which begins with the series writing in the real-life passing of series star Helen McCrory. But the end of Prohibition upends the family's fortunes, as Tommy (series star Cillian Murphy) is forced to get in with the opium trade, working with his worst enemies. All six episodes of the show's final season debut Friday, June 10.
You Don't Know Me
Netflix's newest British-based series imported from BBC, You Don't Know Me, is based on the 2017 crime novel of the same name by Imran Mahmood. The series stars Samuel Adewunmi as Hero, who finds himself on trial with all the evidence pointing toward his guilt. In desperation, he uses his closing argument to recount his love affair with a mysterious woman—all four episodes debut on Friday, June 17.
Snowflake Mountain
Netflix's newest reality series Snowflake Mountain takes a bunch of clueless "kidults" (aka young Millennials). It drops them in a wilderness survival retreat to try and kickstart them into standing on their own two feet. The back-to-basics camp pretends it can make people who want to be reality TV stars grow up by forcing them to love with no running water, no parents to wait on them, and no Wi-Fi. All episodes arrive Wednesday, June 22.
Man Vs. Bee 
British comedian Rowan Atkinson takes his Mr. Bean schtick and adapts it into a new (almost) silent comedy series, Man Vs. Bee, about a house sitter's war with a bee. The series is notable as each of the series ten episodes are ten minutes in length, not a format that Netflix dabbles in very much. All of them arrive Friday, June 24.
STARZ
Becoming Elizabeth
The next in Starz's loosely connected historical dramas covering British royal history, Becoming Elizabeth, will focus on the teen years of Henry VIII's younger daughter, as played by Alicia von Rittberg. The not-exactly-a-series has thus far covered the War of the Roses in The White Queen, the Tudor ascension in The White Princess, and Henry VIII's rise in The Spanish Princess. The eight-episode series will stream on a weekly schedule starting Sunday, June 12.
---
By
for on June 1st, 2022