By
for on January 1st, 2022
13 British Shows To Stream In January 2022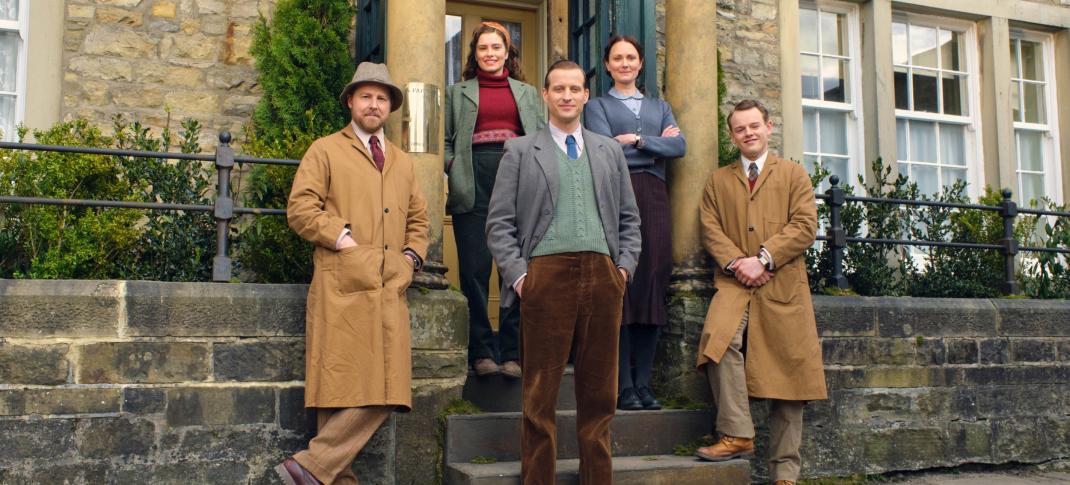 A new year, a new beginning for the streaming wars for our eyeballs. After two years of endless streaming services debuts, this is the first year where we might see the numbers dwindle as the mergers begin. But until that starts, there's a laundry list of places with British content for fans to watch.
So, what's coming to the U.S. in British TV this January? Let's run down the biggest titles arriving this month.
PBS Passport
All Creatures Great and Small Season 2
The return of comfort TV to the January doldrums cannot come soon enough. The follow-up to last year's surprise smash hit All Creatures Great and Small, starring Nicholas Ralph and Samuel West, takes fans back to the Yorkshire Dales with the promise of more cow surgery and a few more sheep than last time.
All seven episodes of Season 2 will be available for members to stream starting Sunday, Jan. 9. 
Vienna Blood Season 2
Vienna Blood is also back after a two-year hiatus. The series continues where it left off, starring Matthew Beard and Jürgen Maurer as odd-couple pairing Dr. Max Lieberman and Det. Oskar Rheinhardt. Season 2 covers Books 4-5 of the Liebermann novels by Frank Tallis: The Melancholy Countess, The Devil's Kiss, and Darkness Rising.
The on-air schedule runs as six 45 minute installments, but Passport members can watch the series as initially intended in three 90 minute installments starting Jan. 9.
Acorn TV
Queens of Mystery Season 2 
The Queens of Mystery, three crime-writing sisters, Beth, Cat, and Jane Stone, are back with niece, DS Mattie Stone, for a second season. Starring Sarah Woodward (The Pale Horse), Julie Graham (Shetland), and Siobhan Redmond (Unforgotten), the three use their knowledge of crime – both real-world and fictional – to solve murders in the picturesque Wildemarsh. The three-episode season debuts on a weekly schedule starting Monday, Jan. 10.
Help
Help is a Rose d'Or Award-winning pandemic-based film starring Jodie Comer (Killing Eve) and Stephen Graham (Line of Duty). The latter lives with young onset dementia and their relationship is tested when COVID-19 strikes. The movie is written by Jack Thorne (His Dark Materials) and also stars Ian Hart (The Terror) and Lesley Sharp (Scott & Bailey). It arrives Monday, Jan. 31.
AMC+/Sundance Now
Doctor Who New Year's Special
Though Doctor Who also streams on HBO Max, AMC+ would like you to forget its parent company made that deal and watch Jodie Whittaker's final New Year's Special as the 13th Doctor on its service on New Year's Day, Jan. 1. (To be fair, it will be a few weeks before it lands on HBO Max, which is why I'm listing it here and not there.)
A Discovery of Witches Season 3
A Discovery of Witches final season is triple debut on AMC+, Sundance Now, and horror streamer Shudder. (I have no idea why that last one. Vampires, I guess?) Anyway, the Teresa Palmer and Matthew Goode starring London-based fantasy takes its leave of the 1600s and returns to the present-day for its third and final installment. Episodes on all three streamers arrive on Saturday, Jan. 8.
Total Control Season 2
A Sundance Now only title, Total Control is an Australian title starring Deborah Mailman (Rabbit-Proof Fence) as fearless Indigenous senator Alex Irving. Season 1 saw her engineer a coup to land her position; Season 2 will face an even more significant challenge: convincing the public to vote her back into her office. Six episodes run on a weekly release schedule starting Thursday, Jan. 20.
Apple TV+
The Tragedy of Macbeth
The Tragedy of Macbeth stars Americans Denzel Washington and Frances McDormand. However, it has a who's who of British talent in the supporting cast, including Bertie Carvel as Banquo, Alex Hassell as Ross, Brendan Gleeson as Duncan, and Harry Melling as Malcolm. Besides, it's Shakespeare; what more do you want? The film streams on AppleTV+ starting Friday, Jan. 14.
BritBox
Vera Season 1-2
Vera is moving house! The latest series for BritBox to sweep in and steal out from under Acorn TV moves from one service to the other starting on New Year's Day, Jan. 1, with the first two seasons. This move comes ahead of Vera Season 11, which debuts on BritBox starting Sunday, Jan. 9. One assumes Season 3-10 will eventually also find their way over.
Discovery+
The Repair Shop Season 4
After Discovery+ came in and picked up the popular British reality series The Repair Shop after Netflix let it go fallow in December, Season 4 premieres on the streaming service starting Sunday, Jan. 2. All episodes will arrive in batch format, though the series is still debuting new installments on linear Discovery. Season 4 is the first BBC One season when the installments started getting longer (closer to 45 minutes), and the budget went up, don't blink from the startling change from Seasons 1-3. 
HBO/HBO Max
Harry Potter 20th Anniversary: Return To Hogwarts
The Harry Potter 20th anniversary was actually in November 2021. However, HBO Max is debuting Harry Potter 20th Anniversary: Return To Hogwarts on New Year's Day, Jan. 1, 2022, as the capper to a successful run at making the Harry Potter films (and TBS' Helen Mirren hosted gameshow) a holiday event. The feature-length reunion features actors Daniel Radcliffe, Emma Watson, and Rupert Grint back together on screen for the first time since 2011's final Deathly Hallows film.
The Gilded Age
Speaking of going back to the well to see if there's more, The Gilded Age is James Fellowes not-actually-a-prequel to Downton Abbey that's not-actually-on-PBS. Though there are a few British actors, it mainly stars Americans like Cynthia Nixon, Christine Baranski, and Carrie Coon. But if Ted Lasso counts, then this does too. The nine-episode season debuts on a weekly schedule on HBO starting Monday, Jan. 24, and streams directly following on HBO Max.
Netflix
After Life Season 3
The final season of Ricky Gervais' saccharine black comedy After Life is the only British offering in a month that's surprisingly thin on content for Netflix. While Gervais' Tony is no longer quite so aggressively cranky as he was in the first two seasons, he struggles to fill the void left behind by his late wife because we still have one more season to go. All six-episode episodes of this final season debut Friday, Jan. 14.
---
By
for on January 1st, 2022
More to Love from Telly Visions