By
for on September 1st, 2021
10 British Things To Stream In September 2021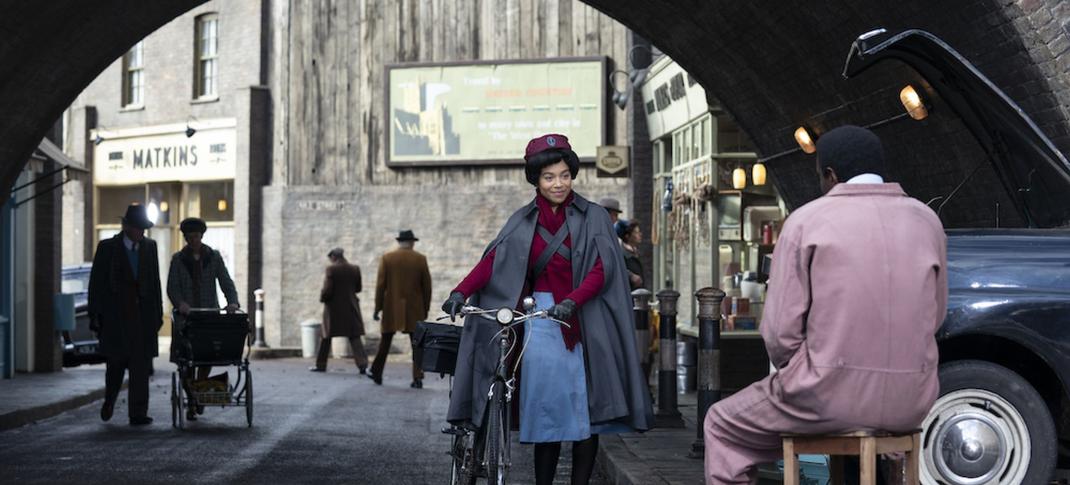 After several months of feast and famine due to pandemic schedules, the fall of 2021 settles into its regularly scheduled title deliveries, with shows from Passport, Netflix, Acorn TV, and BritBox, plus a few bonuses from other streaming services. This month, fans can expect everything from period pieces to gangland drama to sex romps. Also, there's possible reality TV on the horizon, but it remains to be seen exactly when it arrives. 
So, what's coming to the U.S. in British TV this September? Let's run down the biggest titles arriving this month.
PBS Passport
Call The Midwife Season 10
Call The Midwife's new season won't premiere until Oct. 3, but PBS Passport members are getting a special treat. Instead of the usual Passport binge drop the day of the premiere for members, Call the Midwife will be coming to Passport before it airs on linear and then leaving once episodes air.
That is primarily due to the show's streaming rights being complicated by also being tied up with Netflix, but for once, it works out in everyone's favor. The first episode arrives Sept. 3, with episodes following weekly, one month before airing.
Guilt Season 1
Masterpiece's big title for September is 2019's Guilt, a four-part black comedy from BBC Scotland. Starring Mark Bonnar and Jamie Sives as a pair of hapless idiots who commit a hit and run and then try to hide it, PBS is airing the series over two weekends starting over Labor Day. However, the whole thing will be available on PBS Passport beginning Sept. 5.
Acorn TV
My Life Is Murder Season 2
Acorn TV's big August premiere, My Life Is Murder, starring Lucy Lawless, continues with weekly episodes through to the end of September, with new arrivals every Monday.
Finding Alice 
Acorn TV's big September premiere is Finding Alice, a Keeley Hawes-led drama that she co-created with director Roger Goldby and Simon Nye, both of whom are from The Durrells in Corfu. The six-part series focuses on Alice (Hawes), who loses her husband Harry (Jason Merrells, Agatha Raisin) in a freak accident right after moving into their dream home. Joanna Lumley (Absolutely Fabulous) and Sharon Rooney (Dumbo) costar. All episodes arrive on Sept. 13
Midsomer Murders Series 22: Part 2
The release of Season 22 of the never-endingly popular Midsomer Murders was divided into parts due to pandemic lockdown-based interruptions in filming. Part 1 (which was just Episodes 1-2) arrived last spring, with Neil Dudgeon still in the leading role. Part 2 begins with Episode 3 and will run weekly for the rest of the planned season (through Episode 7) starting on Sept. 27.
Amazon
Everybody's Talking About Jamie 
The U.K.-based musical Everybody's Talking About Jamie (based on the 2011 television documentary Jamie: Drag Queen at 16) was a hit during its run in London's West End.
20th Century initially planned it as a full theatrical release but scrapped that in the wake of the pandemic. Now the film version based on the stage show is debuting on Amazon. Max Harwood stars in the title role alongside Sarah Lancashire as his mother and Richard E. Grant as Loco Chanelle, the former drag queen who takes Jamie under her wing. The film arrives on Sept. 17.
AMC+
Kin 
Gangster series are doing well on AMC+, with Gangs of London one of the new streaming service's most-watched programs of 2020. Though the service is finding American-based hits (looking at you, Kevin Can F*** Himself), it's still leaning hard into the hot U.K. actors with beards being tough guys.
Kin stars several: Charlie Cox, Aidan Gillen, and Ciarán Hinds. The premiere episode arrives Sept. 9, with weekly releases to follow on Thursdays.
BritBox
Vera Series 11: Part 1
Like Midsommer Murders, Vera's filming has been bifurcated, so its arrival on BritBox will come in parts. But despite the unusual schedule, Brenda Blethyn will still return as DCI Vera Stanhope, starting on Sept. 1. The show will debut weekly on Wednesdays with the first two episodes, and then the rest to come "at a later date."
Netflix
Jack Whitehall: Travels with My Father Season 5
Netflix can't announce if The Great British Baking Show will arrive at the end of September like it did last year until Channel 4 announces when it premieres over there. So instead, the list of British imports for this month starts with the newest installment of Jack Whitehall: Travels with My Father, in which comic Jack Whitehall and his stuffy father, Michael, bicker their ways through traveling abroad and getting someone to pay them to film it. All episodes arrive on Sept. 14.
Sex Education Season 3
In slightly better news, Sex Education is also back because sex-based British comedy romps starring hormonal teenagers really are one of the country's most valuable exports. Asa Butterfield returns as Otis, a year older and a year wiser and ready to advise the fellow student population on all matters of love. Well, maybe not wiser, but he tried to grow a mustache, does that count? Gillian Anderson will also be back as Otis' mum, who just had a new baby. All episodes premiere Sept. 17.
---
By
for on September 1st, 2021
More to Love from Telly Visions