By
for on March 2nd, 2021
10 British Shows To Stream In March of 2021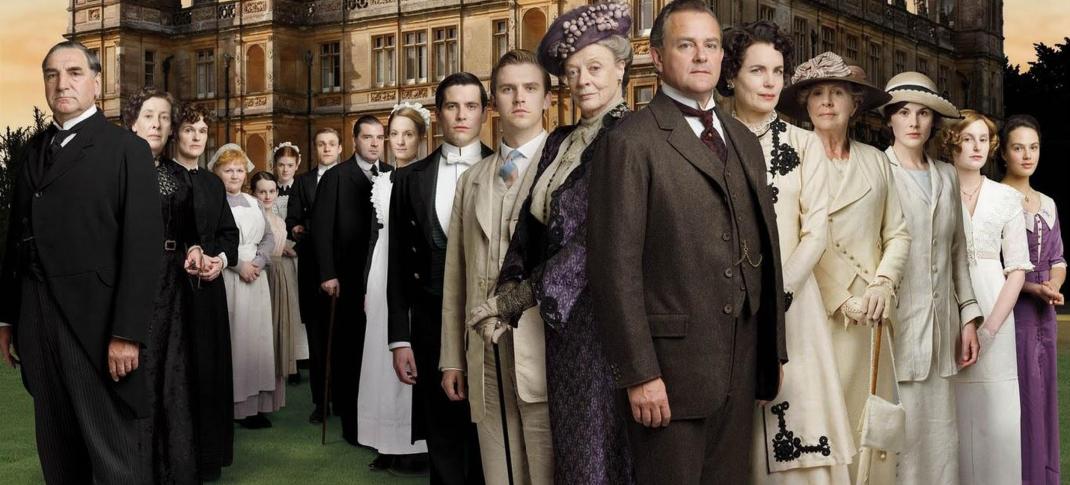 As the streaming wars in the U.S. heat up, the big beneficiaries are the viewers who love overseas shows. Content is king, and American studios can only make so many shows a year. That means several streamers are turning to British shows to fill the gaps; Netflix, for example, is starting to note which of its shows come from various countries in their premiere lists as the move to globalize our entertainment takes hold in earnest this decade.
So, what's coming to the U.S. in British TV this March? Let's run down the biggest titles arriving this month.
PBS
Downton Abbey
Nine months after Downton Abbey left Masterpiece to be exclusive to Peacock at launch, the series is back on PBS Passport.
The show's six seasons returned over the weekend ahead of March 1 and will remain on Passport for all your marathoning pleasure until 2023. Do note that Downton Abbey: The Movie is not part of this set, as it is a separately produced film via Focus Features. But for those who needed Maggie Smith demanding an explanation of weekends, this is perfectly timed.
Netflix
The One 
Netflix begins the month by bringing over the" 'soulmate science fiction" limited series The One. The eight-episode show was written by Howard Overman, creator of Misfits, and stars Hannah Ware (Betrayal) as Rebecca, the CEO of MatchDNA, which promises true love via DNA testing.
Unsurprisingly Rebecca winds up with two possible matches, her founding partner, played by Dimitri Leonidas (The Monuments Men), and her BFF, played by Amir El-Masry (Tom Clancy's Jack Ryan). All episodes land on March 12.
Zero Chill
Zero Chill is part of the "Netflix Family" titles, a teen-oriented sports drama on ice. This hockey-and ice skating-centric family drama is a British-Canadian import that hopes to grab the audience left disappointed by Spinning Out's flameout last year.
Grace Beedie plays Kaly, an ice skating hopeful whose life is upended when her parents move from Canada to the U.K. so her twin brother Mac (Dakota Taylor) can train for hockey glory. All ten episodes arrive on March 15.
The Irregulars
This is another in a series of reminders Sherlock Holmes is out of copyright and continues to be adapted in bizarre and fun ways. The latest, The Irregulars, is a teen supernatural thriller focusing its narrative on the orphan urchins known as Baker Street Irregulars, who help Holmes solve crimes.
Led by Thaddea Graham (The Letter To The King), these kids will wind up saving London when Watson (Henry-Lloyd Hughes) brings them from Holmes to take a darker turn. All eight episodes arrive on March 26.
Hulu
Staged Season 2
Starring David Tennant (Broadchurch) and Michael Sheen (Good Omens) as fictionalized versions of themselves, the first season of Staged focused on a rehearsal of Luigi Pirandello's Six Characters in Search of an Author via Zoom.
Season 2 ups the meta-ante by having the "real" Tennant and Sheen discover Staged has become a big hit during the pandemic. So, of course, an American remake ensues...starring other actors. All eight episodes arrive on March 16
AMC+
Cold Courage
AMC owns both BBC America and AcornTV, so, of course, their newest streaming service carries British and international programming. March's big debut is Cold Courage, a crime-drama series based on the Studio books by Pekka Hiltunen.
The series star Sofia Pekkari (The Sandhamn Murders) as Lia and Pihla Viitala (Arctic Circle) as Mari, two Finnish women living in London who find themselves the only ones determined to solve a gang-led murder of a young woman. The eight-episode series premieres on March 11.
Doctor Who: Fury From The Deep 
AMC+ is also picking up all the Doctor Who it can via BBC America, including the animated reconstruction of the Classic Who Season 5 Second Doctor serial, Fury From The Deep.
This project, which has been ongoing since the Doctor Who reboot, has concentrated on bringing back some of the more significant historical losses from the BBC Archives. Fury From The Deep, for instance, was the first episode featuring the Doctor's famous Sonic Screwdriver. All six episodes arrive on March 15.
AcornTV
Bloodlands
Speaking of AcornTV, the streamer's big premiere for March is Bloodlands, the latest crime-thriller from Line Of Duty's Jed Mercurio's company. Written by Chris Brandon and starring James Nesbitt (The Hobbit), the four-part series centers on a serial killer cold case where the murderer is an ex-IRA assassin known only as "Goliath." The show wraps on BBC One on March 14, and the first episode premieres on AcornTV on March 15.
The Attaché
AcornTV's other big exclusive premiere this month is a Hebrew/French drama called The Attaché. Though with a title like that, one might expect a James Bondian thriller, this is a family drama. Writer and director Eli Ben-David stars as Avshalom, an Israeli-Moroccan Jewish musician who relocates to Paris with his wife Annabelle (Héloïse Godet) when she lands a new job as the attaché at the Israeli embassy. The ten-part series premieres on March 22.
The Brokenwood Mysteries Series 7
AcornTV also has the latest series of The Brokenwood Mysteries, the popular New Zealand mystery series starring Neill Rea as Detective Senior Sergeant Mike Shepherd. For those looking for Midsomer Murders but with a New Zealand accent, this one's for you. The seven-episode series begins airing on March 29.
---
By
for on March 2nd, 2021
More to Love from Telly Visions