By
for on July 1st, 2020
10 British Shows To Stream In July 2020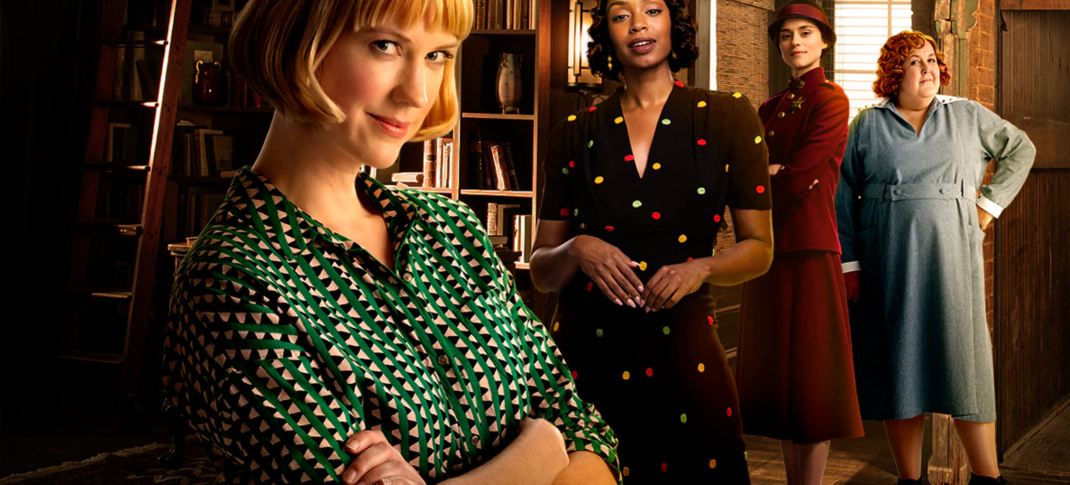 Last month, the tectonic shift in the landscape came via HBO Max, which upended streaming in British TV with its deal to provide BBC America an official streaming home. This month brings the counterpunch, as Comcast and NBCUniversal debut their streaming service, Peacock. Peacock has been in soft launch mode for Comcast subscribers only since April. On July 15, it will go nationwide and bring along not only brand new series from the BBC but become the new home of a PBS viewer favorite: Downton Abbey.
So, what's coming to the U.S. in British TV in July? Let's run down the biggest titles arriving this month.
PBS Passport
The Frankie Drake Mysteries Season 3
The Canadian period series, The Frankie Drake Mysteries is back for a third round of episodes. The series stars Lauren Lee Smith as the titular Frankie and Chantel Riley as her partner Trudy as they run their all-female private detective service in 1920s-era Toronto.
The Season 3 premiere includes a cameo from the always topical Agatha Christie (Honeysuckle Weeks) herself. All ten episodes arrive on PBS Passport on July 10.
Netflix
Stateless
Inspired by the real-life story of Cornelia Rau, Stateless is Netflix's big Australian debut on July 8, with a cast that includes Yvonne Strahovski (The Handmaid's Tale) and Academy Award winner Cate Blanchett. Rau was famously detained under the Australian Government's mandatory detention program. The series imagines a fictionalized scenario in which four detained strangers (an airline hostess, an Afghan refugee, a young Australian father, and a bureaucrat) are thrown together and struggle to stay sane.
Get Even Season 1
A British teen thriller, Get Even stars Mia McKenna-Bruce (The Witcher), alongside newcomers Kim Adis, Bethany Antonia, and Jessica Alexander as a group of schoolgirls who form a group to expose bullies at their school. The series guest stars several known faces as their teachers, including Shannon Murray (Class), Jack Derges (EastEnders), and Elaine Tan (Love, Death & Robots). All episodes arrive on July 31.
Peacock
The Capture
As part of the launch package on July 15, Peacock brings over The Capture, the hit series from BBC 3. The show stars Holliday Grainger (The Borgias) as DI Rachel Carey and Callum Turner (Fantastic Beasts franchise) as the accused Lance Corporal Shaun Emery.
It's a mystery thriller focused on the use of CCTV in case trials in the face of the new deepfake technology that can manipulate and create synthetic images. Ron Perlman (Hellboy) plays token evil American Frank Napier, who may or may not be behind the video that makes the Emery case such a slam dunk.
Downton Abbey 
Downton Abbey has finally left PBS a decade after it began. All six seasons of the series will henceforth be streaming on Peacock, alongside the 2019 movie starting on July 15.
HBO Max
The Dog House
The next infusion of British programming arrives on HBO Max on July 30 with The Dog House. It's a docuseries featuring a rural British dog rescue center that matches homeless dogs with new owners. The eight-episode series arrives all at once to tug those dog lovers' heartstrings.
Frayed
Also arriving at the end of July, Frayed comes from the creative mind of Australian comedian Sarah Kendall, who stars in this Sky TV/ABC copro. Set in the late 1980s, Kendall plays Samantha 'Sammy' Cooper, a wealthy London housewife, forced to return to her hometown of Newcastle in Australia, and face returning to a life and people who she realizes wish she would have stayed away.
Acorn TV
The Nest 
The Nest is Acorn TV's big summer original series arriving on July 13 with Episodes 1 and 2. It was BBC One's highest-rated new drama when it premiered earlier this year, and Acorn TV is hoping that US audiences will be just as enthralled by the five-part psychological thriller.
The series stars Martin Compston (Line of Duty) and Sophie Rundle (Bodyguard) as a couple who make a pact with 18-year-old Kaya (Mirren Mack, Sex Education) to be their surrogate when they can't conceive. After the double-episode premiere, the show will debut one episode a week hereafter.
BritBox
Miss Marple Remastered
BritBox has been slowly collecting the full complement of David Suchet Poirot episodes over the last month, a project it will complete in July. Along with that, the streamer will start on rounding up all the old Miss Marples.
On July 21, the streamer will bring all the Miss Marple episodes aboard, now newly remastered for 21st-century screens, starring Joan Hickson, who was Christie's pick to play the role for TV. This will be followed by more of the older Christie films, including The Murder of Roger Ackroyd, Evil Under The Sun (with Peter Ustinov as Poirot and Maggie Smith as heroine Jane Castle), and The Mirror Crack'd which stars Angela Lansbury as Miss Marple.
The Fall Season 1-3
For the more recent mystery series crowd, July 28 brings The Fall starring Gillian Anderson in her first leading detective role since The X-Files. Anderson plays Stella Gibson, a successful, highly driven homicide detective. Jamie Dornan (best known for Fifty Shades of Gray over here) is her primary foe, Paul Spector, the psychopathic killer she is trying to take down.
---
By
for on July 1st, 2020
More to Love from Telly Visions