By
for on August 8th, 2023
Yorkshire Ripper Drama 'The Long Shadow' Lands A-List Cast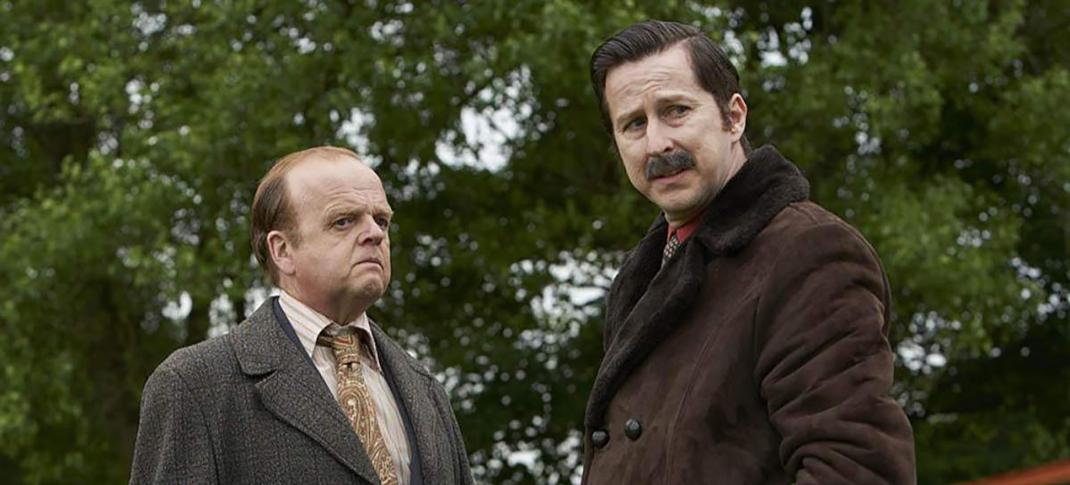 ITV has just announced a brand new series, The Long Shadow, which has already been cast, filmed, and completed, coming to its network and streaming on ITVX for autumn 2023. The true crime drama is based on the real story of the hunt for "The Yorkshire Ripper," serial killer Peter Sutcliffe, a five-year ordeal to identify and bring him to justice that finally ended with his arrest in 1981. During the period when he was active, from 1975-1980, Sutcliffe murdered 13 women and injured seven more in the areas of Manchester and North Yorkshire.
The Long Shadow is the latest in a slew of docudramas based on famous serial killers during the late 20th century that has dominated streaming services in both the U.K. and the U.S. Several of these have been deeply controversial, with critics accusing productions of sexualizing these psychopathic killers or treating their victims like so many refrigerated women. ITV's press release takes pains to spell out that this drama will not be one of them:
The Long Shadow is the definitive depiction of the desperate five-year hunt for serial killer Peter Sutcliffe, sensitively focussing on the lives of the victims who crossed his path and those of the officers at the heart of the police investigation. With the victims, their families and the survivors at the heart of this series, The Long Shadow brings a new perspective to a well-documented story.
Here's the seven-part series' official synopsis:
One murder has the power to cast a long shadow, and this case plunged a whole society into darkness. For every victim, there were friends and loved ones. For every police officer, there was the burden of failure - of near misses and guilt – and the knowledge that as they failed to find their man, more women continued to suffer. The impact on the lives of those who live on after the death of their loved ones remains to this day. Those who cannot escape what happened, who must sit with their incomprehensible trauma for decades after, enduring their own life sentences.

With people today holding to account the institutional foundations that foster misogyny, racism, and violence against women, The Long Shadow will speak to the societal issues of the past whilst highlighting alarming parallels between these terrible crimes and tragic events in our more recent history.
The cast of The Long Shadow is a bit of a who's who of British talent. Toby Jones (The Wonder) stars as DCS Dennis Hoban, who initially led the inquiry until his sudden death in 1978, with David Morrissey (The Missing) as DCS George Oldfield, who famously was blamed for mishandling the case in myriad ways. Lee Ingleby (The Serpent Queen) plays DCS Jim Hobson, who eventually took over the case from Oldfield. Liz White (Unforgotten) and Shaun Dooley (Grantchester) play lower-level cops PS Meg Winterburn and DCS Chris Gregg.  
Katherine Kelly (Mr. Selfridge) plays Emily Jackson, with Daniel Mays (Magpie Murders) as her husband, Sydney Jackson, and Shaun Thomas (Miss Peregrine's Home for Peculiar Children) as their son, Neil Jackson. Jill Halfpenny (The Drowning) plays Doreen Hill, with Daisy Waterstone (Dalgliesh) as her daughter, Jacqueline Hill. Jasmine Lee-Jones (Dead Pixels) plays Marcella Claxton, and Molly Wright (The A Word) is Donna Deangelo; the cast also includes Alexa Davies (COBRA), Chloe Harris (The Spanish Princess), Stephen Tompkinson (DCI Banks), Jack Deam (Father Brown), and Michael McElhatton (Game of Thrones).
Co-stars include Adam Long (Happy Valley), Ruth Madeley (Years & Years), Dorothy Atkinson (All Creatures Great & Small), Rob James-Collier (Downton Abbey), Charley Webb (Emmerdale), Steven Waddington (Slow Horses), and Kris Hitchen (Trigger Point). All seven episodes were penned by George Kay (Hijack), with director Lewis Arnold (Sherwood) helming all installments.
The Long Shadow is expected to arrive on ITV and ITVX in September 2023. There's no U.S. release date yet, but one is expected to be announced in due course.
---
By
for on August 8th, 2023
More to Love from Telly Visions