By
for on January 3rd, 2015
A Winter Delight: 'Grantchester' Comes to 'Masterpiece Mystery'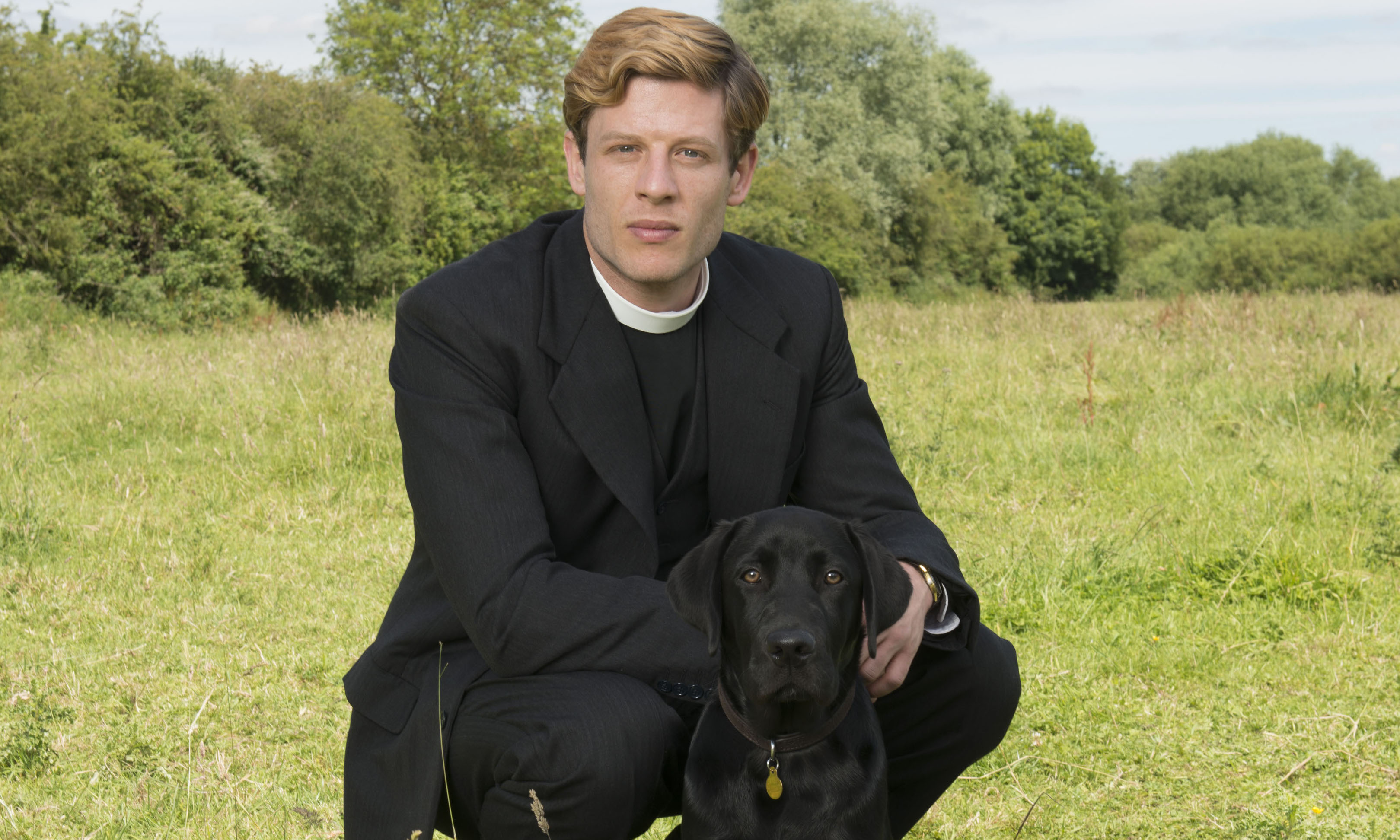 While I wouldn't consider myself a mystery genre aficionado, I do enjoy a good whodunit from time to time. My view is that without interesting characters and the corresponding relationships between them, one detective series is pretty much like another. So when I first heard about
Grantchester,
I thought we were in for another cozy mystery show in the manner of
Miss Marple
or
Midsomer Murders
. After all, the lead character is a rural vicar who for whom crime solving becomes something of an avocation. 
There have been crime-solving clergymen before, Father Brown being a prime example, but don't be fooled. Yes, Grantchester is a small country village near Cambridge with bucolic views and busybody parishioners. The classically handsome Rev. Sidney Chambers (James Norton) can be seen speeding here and there on his bike around a picturesque hamlet. He's an avid fan of jazz and backgammon. He also possesses a charisma that seems to affect just about every woman who sets eyes on him.
However, our young Vicar Chambers also has a dark side. Haunted by his time fighting in WWII, he suffers nightmares and drinks to excess in order to forget. He is also the victim of an unrequited love of sorts. He and upper crust childhood friend Amanda Kendall (Morven Christie) have reconnected as adults. Their class differences don't seem to matter when they're together and both are obviously quite smitten with one another. Unfortunately, Amanda's life has recently taken a more traditional turn which threatens to separate the would-be lovers.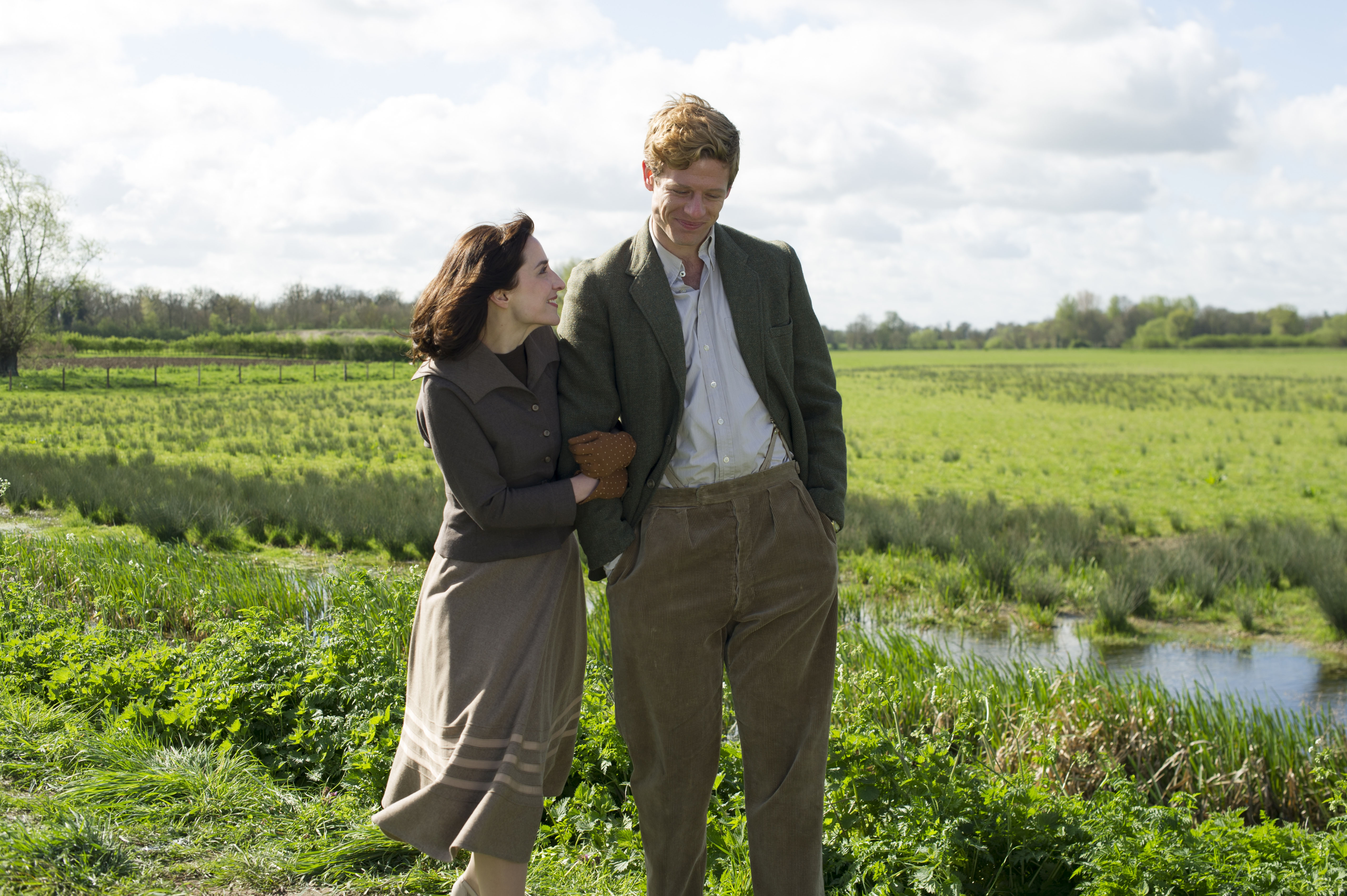 Probably my favorite element of Grantchester is dysfunctional family dynamic that can be found at the vicarage. Besides Sidney, its other residents include the new parish curate, Leonard Finch (Al Weaver). Timid and unsure about his calling, talents and I daresay a few other aspects of his inner-life, Leonard looks up to Sidney for advice and reassurance.
Less congenial is the vicarage housekeeper Mrs. Maguire (Tessa Peake-Jones). Plain speaking, protective and critical, she doesn't suffer fools lightly.  However once you've gained Mrs. Maguire's trust, you can't imagine a more loyal friend. She takes on an almost motherly tone with her charges. Best of all, her catchphrase "What the dickens!" ends up becoming the inspiration for Sidney's adorable new Labrador puppy.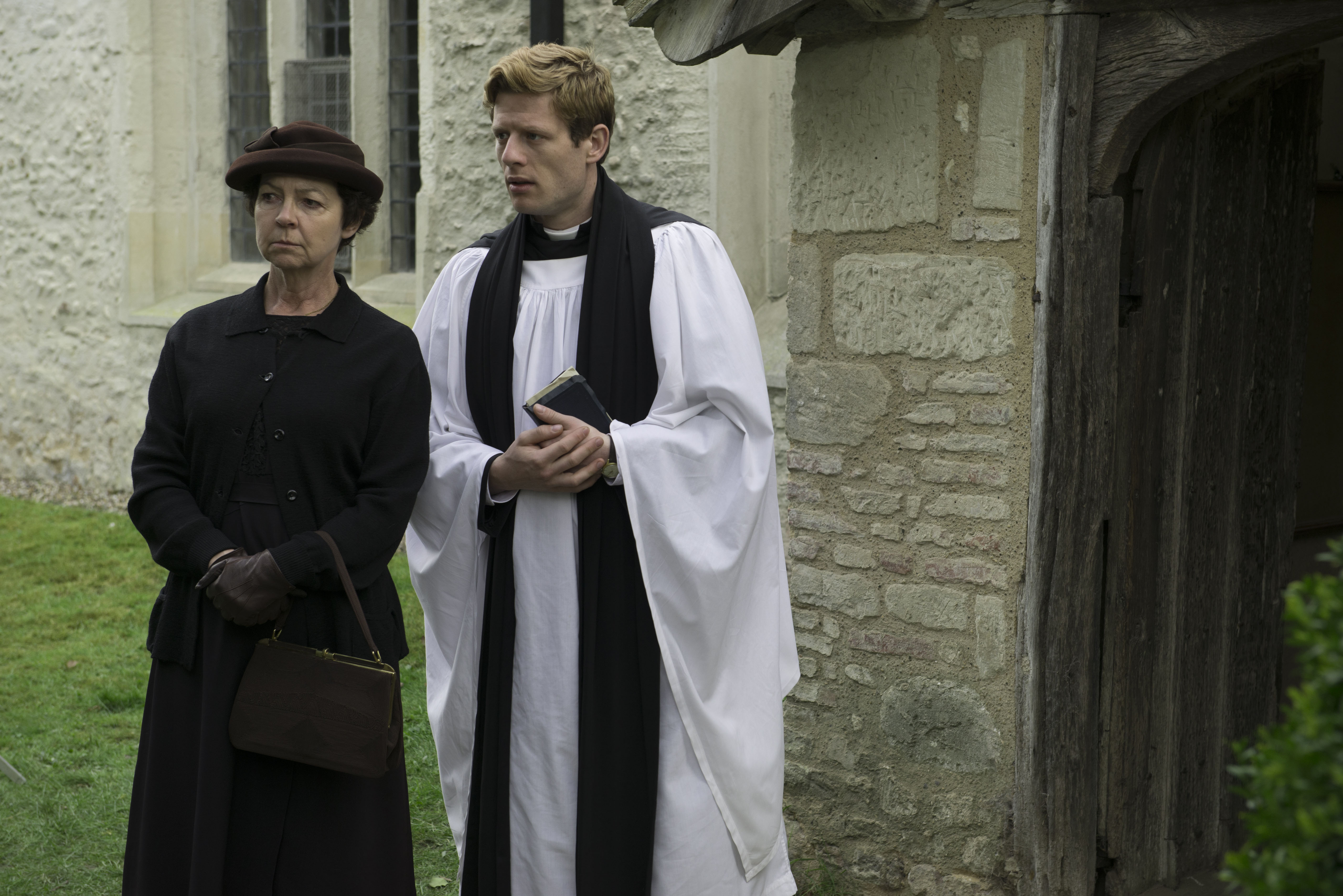 So where, you may well ask, is the mystery? In the first episode, Sidney officiates the funeral of an apparent suicide victim. Afterwards, a "friend" of the deceased approaches Sidney to express her doubts that the man took his own life and asks the vicar to look into it.
This request leads to a very fortuitous meeting between Chambers and DI Geordie Keating (Robson Green). After a rocky to and fro on the first case, the two men find that their disparate approaches compliment one anther very well; Keating being a veteran police officer who knows the ropes and Sidney an out-of-the-box, intuitive sort of thinker. Though very different in tastes and opinions, their continuing work relationship blooms into a true friendship bordering on bromance.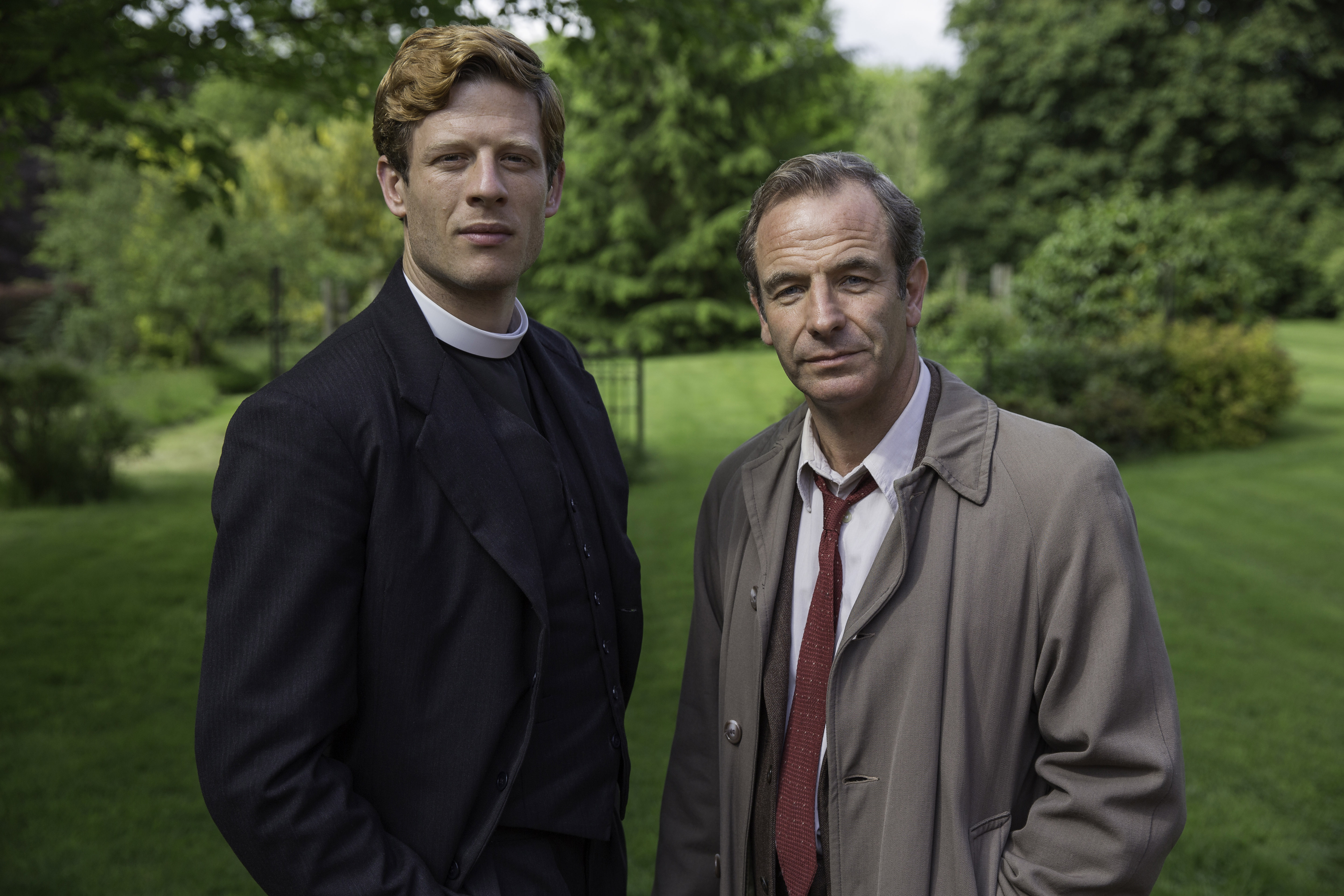 Reminiscent of Inspector George Gently, young Chambers is a distinctly non-judgmental clergyman especially considering the time period of the early 50's. In the course of the series, many social issues are touched upon which I won't enumerate here for fear of giving away important aspects of the individual mysteries. Most of the episodes end with a sermonette which underscores the life lesson to be gleaned from each particular installment. Needless to say, Sidney is an example of tolerance, mercy and humility to his co-workers and parish as a whole.
If you happened to catch the hit drama Happy Valley earlier this year, you may remember Norton as the sadistic kidnapper, Tommy Lee Royce. Just keep that in mind when you watch Grantchester since, as a character, Tommy Lee is the polar opposite of Sidney Chambers, a fact that only accentuates Norton's talent.
Grantchester, based on a book series by James Runcie, premieres on PBS' Masterpiece Mystery beginning Sunday, January 18th at 10 pm. Just to be safe check your local listings for the date and time in your area. Cozy or not, you'll want to curl up with a cup of tea and a biscuit while you watch this intriguing new series. 
[This video is no longer available.]
Are you planning to give this new mystery series a try? Let us know in the comments.  
---
By
for on January 3rd, 2015
More to Love from Telly Visions