By
for on December 15th, 2021
'Whitstable Pearl' Returning To AcornTV For Season 2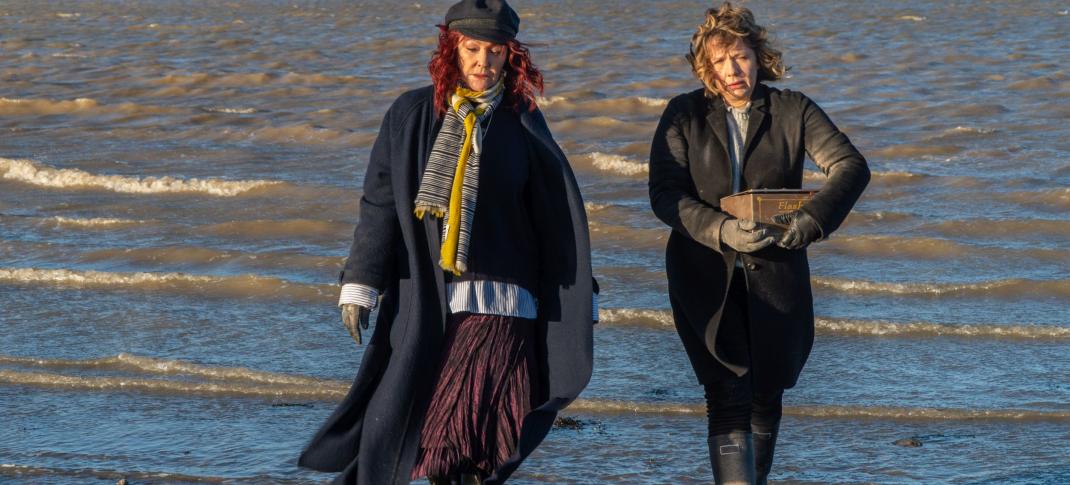 Whitstable Pearl, AcornTV's new seaside-set mystery series, is yet another entry into the growing pantheon of non-investigators playing detective in sleepy British towns. But the series, which stars Kerry Godliman (After Life) as Pearl Nolan, managed to bring in a few twists to separate itself from the pack, not just because the series is set in the gorgeous beachfront town of Whitstable. Based on Julie Wassmer's Whitstable Pearl Mysteries, Pearl Nolan is no dabbler but an ex-cop who had to quit her job to be a single mother and now spends her life running a restaurant with her mother, Dolly (Frances Barber), when she really wants to be solving crimes.
The twist on the formula helped propel the six-part series, and now Godliman will be returning for another batch of crime-solving in Season 2. She'll be rejoined by co-star Howard Charles (Shadow & Bone), who plays DCI Mike McGuire. McGuire is a recent London transplant who expected his time working as a detective in Whitstable to be punishingly dull. But when his world collides with Nolan's, he discovers the quiet hotbed of crimes in this sleepy seaside village where unsuspecting tourists come for boating and oysters. Though the series saw the two hook up, Pearl had announced she needed space by the end of Season 1 after discovering McGuire's workaholic nature.
The show is getting a second season on AcornTV because, though it is an exclusive for the streamer in the U.S., New Zealand, Australia, and the U.K., the international rights for the detective series have taken off. That almost guarantees a multiple-season run ahead for Godliman and Charles, should they decide to stay with the series long-term. Wassmer released the seventh novel in the series in 2021 and currently shows no signs of stopping. With Season 1 covering the debut novel, The Whitstable Pearl Mystery, and the more recent Book 5, Disappearance at Oare, there also looks to be plenty of stories to adapt should the show run for several years. 

 
Here's the synopsis for Season 2:
As word gets out about Pearl's new detective agency, townsfolk start coming to her with all types of cases. Pearl is beginning to transition from a restaurant owner who solves the occasional crime to a detective who happens to own a restaurant. Before too long, a mysterious new client shows up, demanding Pearl investigate an old family friend. Although she's conflicted, Pearl agrees to take the case because she believes she can help her friend. Before she can get started, though, his body is discovered. Labeled a tragic accident, Pearl knows it's far too big a coincidence.
Barber (Midsomer Murders) will return as Dolly, alongside Godliman and Charles. Rohan Nedd (Safe) is expected to reprise his role as Charlie Nolan, Pearl's son. Sophia Del Pizzo (Shelley) is also expected to return as Nikki Martel, McGuire's Detective Sargent, and Isobelle Molloy (Maleficent) as Ruby Williams, Pearl's employee at the restaurant. Guest stars have not been announced as yet. The new season will once again consist of six installments. Filming is expected to begin in February 2022 on location in Wassmer's hometown of Whitstable, U.K.
Whitstable Pearl Season 2 does not yet have a release date but probably won't arrive until at least late 2022, if not 2023. Season 1 is currently streaming on AcornTV.
---
By
for on December 15th, 2021
More to Love from Telly Visions