By
for on May 8th, 2012
White Heat Comes to the States on BBC America This Week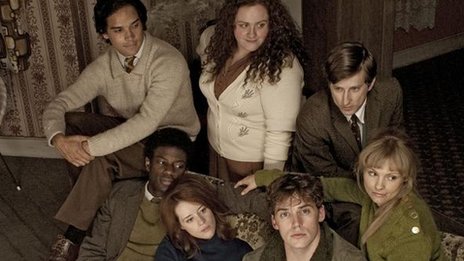 Starting this week on BBC America, you can catch BBC Two drama White Heat. This six-part series chronicles the lives of seven friends over the course of five decades, following the lives, loves and destinies shaped by the political and social events of each era, connecting the dots of relationships born and broken over time until they are reunited in the present day by the death of one of their own. 
Created by acclaimed British screenwriter Paula Milne (The Virgin Queen, I Dreamed of Africa), the drama follows the seven characters from 1965, when they share student housing, to Margaret Thatcher's election in 1979, to the end of her reign in 1990.  The series is apparently somewhat autobiographical for Milne and focuses heavily on the women's movement.
The cast of characters include the rebel with a cause Jack, played by Sam Claflin (Snow White and the Huntsman), the beautiful artist Lilly, played by MyAnna Buring (The Twilight Saga, The Descent) and the radiant and fierce Charlotte, played by Claire Foy (Upstairs Downstairs, Little Dorrit).
White Heat premieres tomorrow night (Wednesday, May 9) as part of BBC America's "Dramaville" block, but click through for a look at a trailer for the new series now.
I've heard wonderful things about this drama, so I'm looking forward to checking it out for myself. (And I always love stories like this that flash back and forward through time, it's a particular dramatic weakness of mine.) Anybody else planning on checking it out?
---
By
for on May 8th, 2012