By
for on March 21st, 2022
Where We Left Everyone After 'Bridgerton' Season 1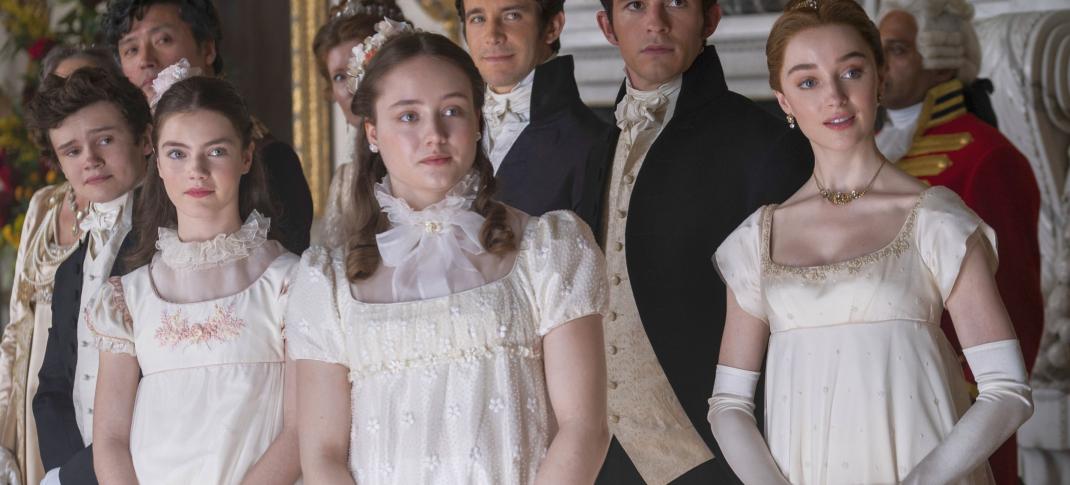 Genre TV series as lush prestige adaptations may not have started on Netflix, but they have become the streaming service's bread and butter in the last five years. Still, romance — especially period drama romance — was still considered the purview of the middle-to-highbrow TV world, your local PBS stations, or small-time cable channels like Ovation. Then came Bridgerton, turning everything TV producers thought they knew on its ear. Based on the most popular series of novels from Julia Quinn's interconnected regency universe, the series was one of the most-watched series on Netflix.
The Bridgerton TV series seems to be going in the same order as the books. Season 1 was based on the opening novel of the Bridgerton series, The Duke and I, which introduces the alphabetically-named titular family. Like the novels, the year is 1813, and eldest daughter Daphne (fourth born, since her name starts with "D") is making her debut into society. Her eldest brother, Anthony, the current Viscount Bridgerton since their father's untimely death a decade back, is determined to make her a good match. However, her mother, the Dowager Viscount Lady Violet, hopes her daughter will find love the same way she did.
With the second season arriving this weekend, nearly a year and a half since Season 1's remarkable debut, let's run down what you may have forgotten.
The Shonda Rhimes-produced series took what is essentially a series of one-on-one romance novels and turned it into a rollicking and extremely diverse ensemble piece. Though Season 1's main through-line is Daphne's story of meeting the Duke of Hastings and the two of them falling in love, just about every sibling has a story arc of their own, as do their neighbors across the road, the Featheringtons. Also given far more to do in the series: Lady Danbury, who in the novels is a bit character that appears in every one of Quinn's novels, and Queen Charlotte, a character wholly invented for the TV series.
For Daphne, the series stuck close to the book. Upon her debut, she is named the year's Diamond of the First Water. Unfortunately, her star falls quickly thanks to a combination of Lady Whistledown, the ton's new mysterious gossip, and Anthony's misguided meddling. To recover, she makes a pact with Anthony's BFF Simon Basset, Duke of Hastings, that they will pretend to be in love. That way, men will find her a more attractive proposition, and he will have a way to fend off the mamas of the ton hoping to engage him to their daughters. Her mother, Lady Violet, and Simon's aunt, Lady Danbury, see a match in the making and are aided by the youngest Bridgertions Hyacinth and Gregory while Francesca is off at school.
Pretending to be in love gives way to being in love, and when Daphne discovers her plan worked too well and she's snared the Queen's nephew, Prince Frederick, she panics. She and Simon are caught together kissing in the garden, and she agrees to marry him, even though he says he's infertile. He's not, but Daphne's innocence in the bedroom means the withdrawal method works (and the show makes sure there are a lot of opportunities for fans to see it working) until Daphne does the math. When she learns his desire not to have kids because he fears passing on his learning disabilities and his family's legacy of abuse, she convinces him that they can and will do better. The season ends with the birth of their first child. 
As for all the added stuff filling out Daphne's siblings' stories, there's a lot that seeds Season 2 and future installments, so here's the scoop:
Eldest Anthony falls in love with opera singer Sienna, who dumps him because he wants her to be something she's not. Second son Benedict follows his artistic passions and discovers the hidden LGBTQ+ regency scene, and winds up dating Genevieve, the ton's modiste. Third son Colin and second daughter Eloise are BFFs with the youngest Featherington, Penelope. Pen is in love with Colin; however, he falls in love with the Featheringtons' ward, Marina. They get engaged, but he breaks it off when Lady Whistledown reveals Marina's pregnancy by her soldier-lover. Colin leaves for the continent while Eloise hunts for the mysterious Lady Whistledown, promising Queen Charlotte she'll uncover the gossip's identity. 
Daphne discovers Marina's lover died and contacts his brother, Sir Phillip, who offers to marry Marina and take care of her in his brother's stead. Penelope's older sisters are desperate to marry, but Produce gets nowhere, while Phillipa meets a sweet guy who likes cheese. But all of their prospects are ruined when Lady Featherington uncovers that her husband has gambled their money away. He thinks he sees a way out by convincing Boxer Will Mondrich (Simon's BFF) to throw a match, but when the plot is uncovered, his creditors murder him, leaving the Featheringtons facing destitution. But one Featherington has a source of income: Penelope, who the series reveals in Season 1's final moments to be the woman behind Lady Whistledown.
Got all that? Good, because it will be another busy year when Bridgerton Season 2 premieres with the 1814 London season. The series returns on Friday, March 25, with eight episodes on Netflix. Season 1 is streaming now.
---
By
for on March 21st, 2022