By
for on May 26th, 2023
'The Wheel of Time' Sets A Season 2 Premiere For Fall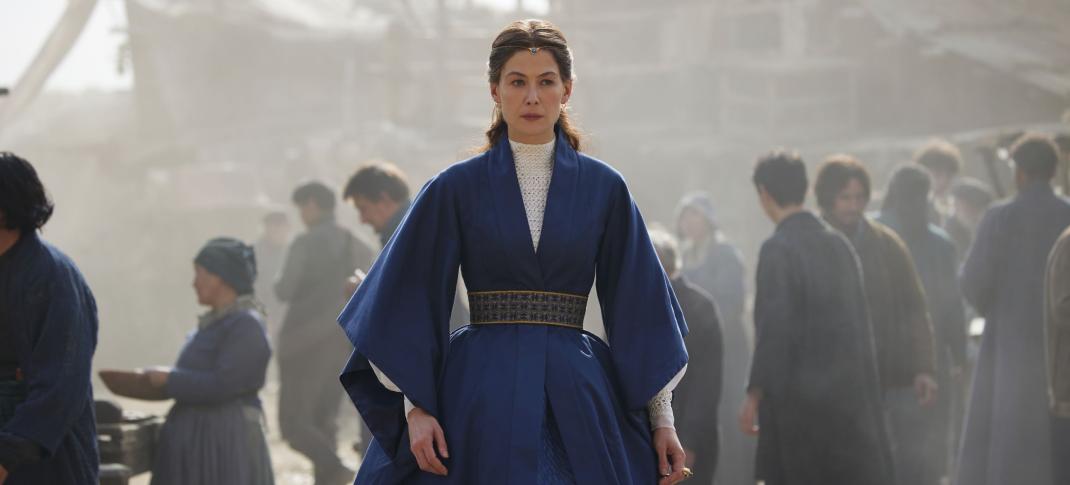 The Wheel of Time is turning again at Amazon's Prime Video. The series, based on Robert Jordan's 14-tome epic fantasy series, is the *other* significant property acquired by Amazon's Jeff Bezos for Prime Video to adapt back in the mid-aughts, right around the same time he paid the same amount as he did to buy The Washington Post for the right to make two seasons of The Lord of the Rings. The Wheel of Time made it to the finish line first, debuting during the pandemic to moderate viewership and critical shrugging. Season 2, which has seen at least one major recasting and far more condensing of Jordan's books into a manageable narrative, is finally dropping Season 2 this fall.
The return of The Wheel of Time, and new seasons of Lord of the Rings, House of the Dragon, and The Witcher, not to mention the greenlighting, sight unseen of ten seasons of a Harry Potter series, means it's time once more to talk about shows that aren't British, but look like it. These "transatlantic puddings," as BritBox Chief Creative Officer Diederick Santer so memorably called them, are typically based on American stories and/or funded/director/produced by American companies but film in Europe and star British actors. They are also generally big-budget fantasy series with massive marketing and devoted fan bases and can quickly push out actual British fare from the conversation.
Amazon's The Wheel of Time is one of many series that have dotted the landscape since Game of Thrones (the ground zero hit which started the wave of "British-ish" fantasy, written by American George RR Martin and produced by American company HBO). There's Outlander (written by American Diana Gabaldon, produced by American Ron Moore), Bridgerton (written by American Julia Quinn, produced by American Shonda Rhimes), not to mention Star Wars and Marvel shows which star major UK talent like Tom Hiddleston, Olivia Colman, David Tennant, Charlie Cox, Fiona Shaw, Anton Lesser, Andy Serkis, to name a few, but are wholly American creations.
Then there's the more muddled stuff, like The Sandman and Good Omens, written by British author Neil Gaiman, set in the U.K. but produced by American companies. The Lord of the Rings and Harry Potter are in this bucket. The Witcher is written by Polish author Andrzej Sapkowski, and Shadow and Bone, written by Israeli author Leigh Bardugo, are also produced by American streaming service Netflix. No wonder it's hard to know which a site like Telly Visions should cover and which we should not.
Ultimately, we here at Telly Visions go with our gut and how much the show recognizably adheres to classic British series. Bridgerton (and spinoffs) gets a pass because it wholly embraces the period costume drama; the same goes for Outlander. Good Omens' England is recognizably the one we know; The Sandman's is not, so we cover one more than the other. Sometimes we get lucky: His Dark Materials was written by British author Phillip Pullman, set in an England we know (and one we didn't), and produced by the BBC, so it checked all the boxes.
We generally try to cover casting for all since many of these shows wind up as ground zero for discovering new talent. The only exception to this has been The Witcher, which tends to cast already-knowns and whose "Continent" feels deeply Eastern European, and now sans Henry Cavill, feels even less relevant to our audience's interests, if it ever was. We did cover Shadow and Bone during the pandemic, but as noted at the time, that was as much due to the lack of programming during the lockdown as it was anything else — and the very Russo-centric world continues to feel like it's outside our purview.
However, we are fantasy geeks here, and we do love a good trailer, are suckers for gorgeous costumes, and tend to watch these series even if they're not British. So readers should now be surprised when the occasional first-look photos, release dates, and those trailers pop up here now and again, even if the show is tangential to our British TV by the Anglophiles for Anglophiles mantra.
As seen from these first-look photos, The Wheel of Time will provide that, as it does a cast of up-and-comers. A-list actor Rosamund Pike stars as the series' central figure, Moiraine Damodred, with American Daniel Henney as her Warder, Lan. The series also stars New Zealand actor Zoë Robins, Australian actor Madeleine Madden, Dutch actor Josha Stradowski, the British-born Marcus Rutherford and Hammed Animashaun, and Irish-born Dónal Finn replacing Barney Harris. Other actors, PBS viewers will recognize include Kate Fleetwood, Priyanka Bose, Sophie Okonedo, Kae Alexander, and Fares Fares.
Here's the series synopsis:
A humble farm boy, Rand al'Thor learns he is The Dragon Reborn — a dangerous figure from history destined to save the world … or break it. Desperate to protect him from the Dark One, an army of powerful sorceresses must reckon with his burgeoning power and encroaching madness. The Wheel of Time turns, and the Last Battle approaches. Though Rand thought he destroyed the Dark One, evil is not gone from the world. In Season Two, threats, new and very old, seek out the young friends from the Two Rivers, now scattered over the world. The woman who found and guided them is now powerless to help, and so they must find other sources of strength. In each other or themselves. In the Light ... or the Dark.
The Wheel of Time Season 1 is currently streaming with all eight episodes on Amazon's Prime Video and will also be available for free via Amazon's FAST service, FreeVee, starting July 14. Season 2 will premiere Friday, September 1, 2023, with the eight-episode season streaming weekly every Friday through October.
---
By
for on May 26th, 2023
More to Love from Telly Visions