By
for on January 31st, 2015
What I'll Be Watching on Super Bowl Sunday: 'The Great British Baking Show'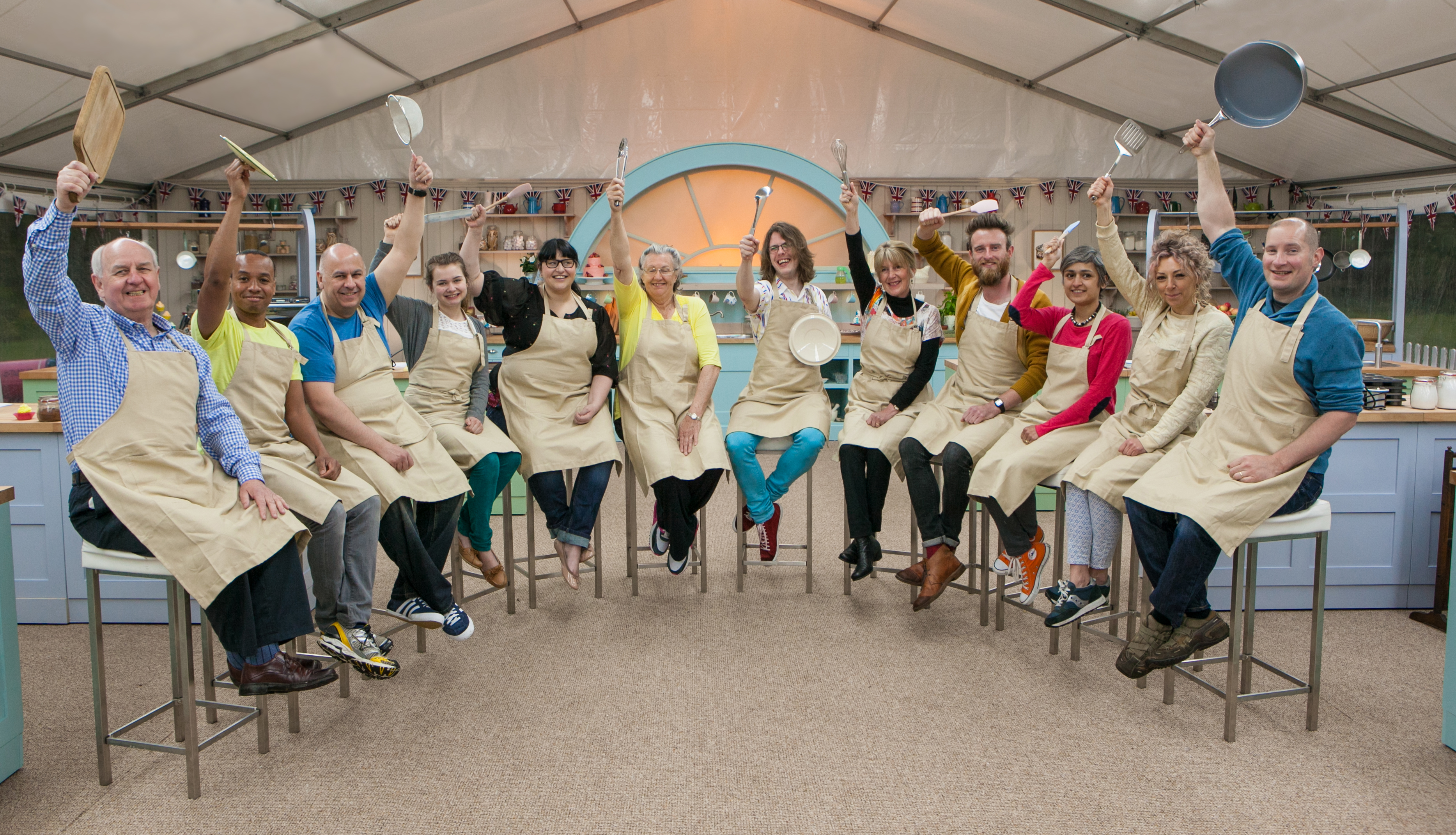 While many Americans are excited about the imminent Super Bowl extravaganza, I dare to suggest that not all of us plan to partake in the annual football classic. In fact, I have an alternative competition that just might have you on the edge of your seat rather than asleep in your recliner (if like me, the background drone of football games tend to lull you into a stupor, that is).
PBS' latest BBC hit acquisition The Great British Baking Show, a program that pits twelve amateur British bakers against one another for a series of culinary challenges, has become a topic of Monday morning water cooler conversation for many Yanks.  I propose it could well be the perfect viewing option for those looking for a compelling championship level event without all the big sweaty men. Well, there was that one episode where it was really hot in the bake-off tent, but I digress.
The following is my argument for watching The Great British Baking Show instead of the Super Bowl…
1. Who needs Al Michaels and Cris Collinsworth when you have the play-by-play and color commentary of witty Sue Perkins and Mel Giedroyc instead? They provide a layman's view into the baking processes as well as performing the rather delicate job of comfort counselor to the one unfortunate contender who falls short in each week's competition.
As if that wasn't enough, these ladies are a real bargain for the BBC producers because their entertaining antics serve as stress relief for tense bakers and the audience as well. Katy Perry who? 
2. The judges of this competition are celebrity bakers and cookbook authors, Mary Berry and Paul Hollywood (apparently that is his real surname). They serve as a combination of one part coach and two parts referee. Berry and Hollywood are straightforward yet polite in their comments. There's never any yelling nor coarse language used. And they always try to find something positive to say about the contestants' baking efforts whenever possible. Baking is a civilized sport after all.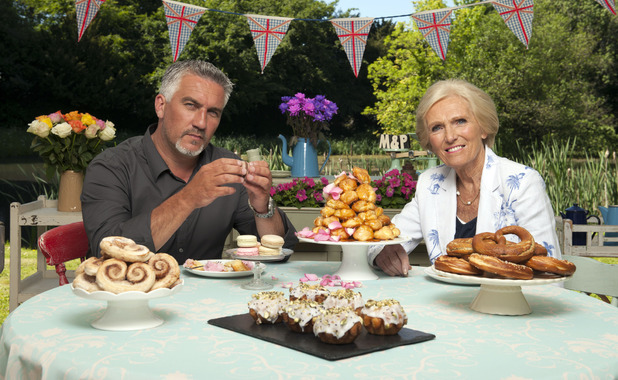 3. Like football, baking has its own special terminology. As a viewer of the Baking Show it's nice to be familiar with the techniques and equipment, but it's not a necessity for enjoying the competition. You may actually find yourself inspired to learn more about proving drawers, Italian meringue and short crust pastry. I mean what's going to serve you better in your daily life after all; understanding fair catch interference or knowing how to avoid a soggy bottom? 
4. What about the Super Bowl food, you say? Granted our contenders aren't preparing wings, pizzas or a multitude of dips made for a variety of chips. However, there is appetizing and lovingly prepared food to look at and isn't that healthier than eating a load of junk food anyway? Sorry, this is surely the weakest pillar in my argument, but I had to try.
5. The final, and most salient, point in my effort to convince you to watch The Great British Baking Show is the bakers themselves. This lovely cross section of ordinary UK citizens is much more diverse and interesting than professional football players. You get to know each baker a bit at the beginning and the longer they're around, the more attached you get to them and their own unique personalities. I'm not ashamed to say I shed a tear upon the elimination of one particular contestant during this series already.
In a year when the NFL was marred by allegations domestic abuse, murder and Deflate Gate, isn't it refreshing that the only kerfuffle associated with The GBBS was Iain's baked Alaska mishap. 
So if I've convinced anyone to abandon their Super Bowl plans or to at least DVR The Great British Baking Show to watch later, please let us know in the comments below. As usual check your local PBS affiliate listings for the actual time and date in your area.
If you've already become a devoted fan of GBBS you know that this Sunday's matchup features Kate, Luis, Nancy, Martha, Richard and Chetna. Who do you reckon needs to go home and who do you think deserves to win the coveted engraved cake plate?   
---
By
for on January 31st, 2015
More to Love from Telly Visions