By
for on March 27th, 2022
Watch Sienna Miller and Michelle Dockery in the Trailer for Netfilx's 'Anatomy of a Scandal'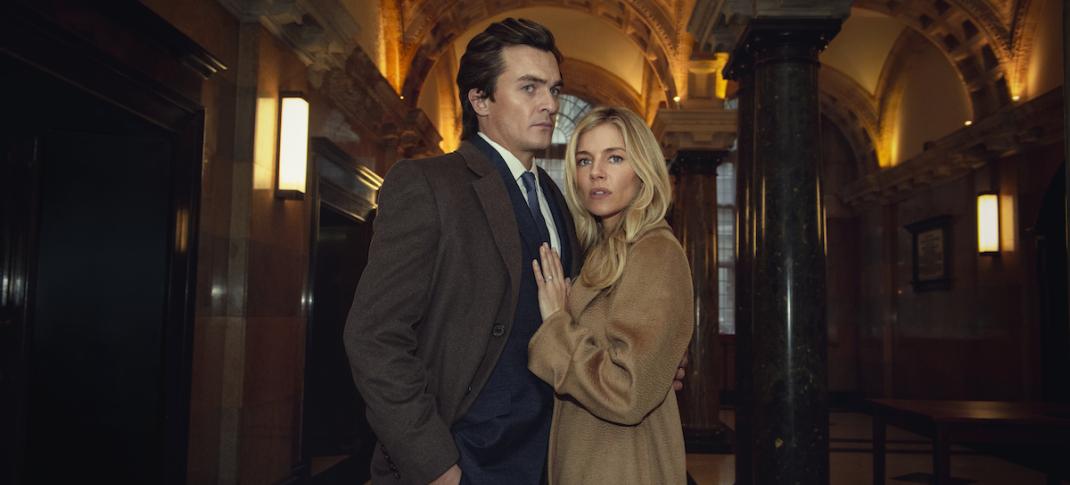 Netflix has released the trailer for its upcoming British courtroom thriller Anatomy of a Scandal, and if the two-plus minute clip is anything to go by, it looks as though the series is going to be a dramatic and tense ride.
The limited series stars Sienna Miller (The Loudest Voice) and Rupert Friend (Homeland) as James and Sophie Whithouse, a privileged, wealthy couple who seem to have it all. As a Minister in Parliament with a perfect family at home, James's career trajectory appears unstoppable—at least until a sex scandal from his past suddenly comes back to haunt him. Though Sophie is struggling to come to terms with her husband's apparent history of affairs, she refuses to believe it when he is accused of rape, a charge putting everything they've worked for at risk. 
Downton Abbey favorite Michelle Dockery plays Kate Woodcroft, the steely criminal barrister who aims to make James pay for his crimes, even if it means tearing Westminster apart to do so—and she's as convinced of his guilt as Sophie is of his innocence.
Developed by David E. Kelley (Big Little Lies ) and Melissa James Gibson (House of Cards), the first season is based on Sarah Vaughan's bestselling novel of the same name, though Netflix reportedly plans to turn the series into an anthology and tell different close-ended stories in future seasons. Vaughn's thrillers are not only known for their focus on privileged elites in places of power but their willingness to explore how the scandals they so often find themselves embroiled in can have unintended consequences for the women in their lives. This could well serve as a natural throughline for the show, even if it moves beyond her works in future seasons.
Watch the trailer below. 
The series synopsis reads as follows. 
A psychological thriller and gripping courtroom drama, the series infiltrates Britain's elite through personal and political scandal, where the truth lies between justice and privilege. James and Sophie Whitehouse live in a blissful and rarified world. A Minister in Parliament, a loving family at home, James' trajectory appears without limits. Until a scandalous secret suddenly comes to light. Barrister Kate Woodcroft has a trajectory of her own, and her prosecution threatens to tear into Westminster, the Whitehouse marriage, and her own personal esteem.
The ensemble cast also includes Naomi Scott (Aladdin), Josette Simon (The Witches), Geoffrey Streatfeild (The Other Boleyn Girl), Ben Radcliffe (Pandora), and Joshua McGuire (Lovesick).
The six-episode series premieres globally on Netflix on Friday, April 15. 
---
By
for on March 27th, 2022
More to Love from Telly Visions