By
for on July 7th, 2014
Watch: Martin Freeman Talks Playing Richard III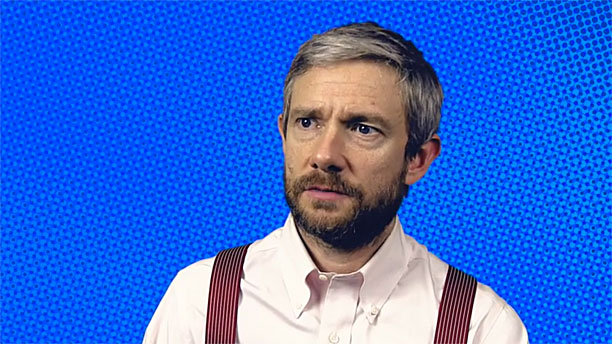 Martin Freeman's performance as Shakespeare's Richard III is currently in previews at the Trafalgar Theatre in London, as part of their "Trafalgar Transformed" series. The stage play officially opens this week, and tickets are still available for anyone who fancies a pop across the pond this summer.
For those of you who are unfamiliar with your Wars of the Roses, here's how the story goes: In the aftermath of civil war, Richard, Duke of Gloucester, makes a hateful resolution to claw his way to political power at any cost. A master of manipulation, subtle wit and beguiling charm, he orchestrates his unlawful ascent by spinning a ruthless web of deceit and betrayal. His staunch ambition soon begins to weigh heavy, as the new ruler finds himself utterly alone and steeped in dread, forced to answer for his bloody deeds and face the horrifying consequences. (Keep this handy synopsis in your mind, too, because Freeman's Sherlock co-star Benedict Cumberbatch will also be playing Richard Crookback in the not-too-distant future.)
But, even though the story is about manipulation and betrayal and murder, it's not completely dark.
"I think it's a very witty play," Freeman said. It's a very funny play as well as it being tragic, and some of it is horrible and some of it is really violent and quite gruesome. There's definitely a lot of humor in there."
Watch Freeman and the Richard III ensemble – which includes Lauren O'Neill, Gabrielle Lloyd, Gina McKee, Vinta Moran, Paul McEwan and more – discuss the ins and outs of the play, and the themes their production focuses on: 
Seriously: Freeman's beard! (That sounds a bit like an expletive from The Hobbit, doesn't it? Still, it's a definite step up from John Watson's Moustache of Mourning.)
Freeman also appeared on the BBC's The Andrew Marr Show recently to talk up his new West End role, and insist that their production ditches the "boring bits" that people always complain about in Shakespeare. (FYI: I am not one of those people and I don't understand them, IMO, there are no boring bits in Shakespeare!) 
[This video is no longer available.]
The bit about the play being set in the 1970s sounds fascinating!
Don't you all wish we could just teleport to London right quick to see this?  
---
By
for on July 7th, 2014