By
for on April 8th, 2022
Watch Colin Firth in the Trailer for True Crime Drama 'The Staircase'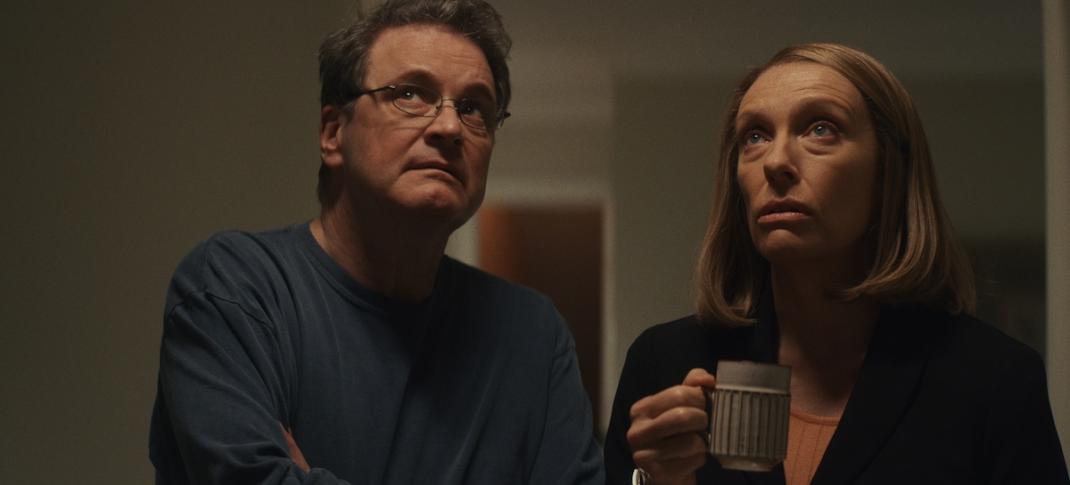 HBO Max has released the first trailer for its upcoming prestige thriller The Staircase, which casts period drama dream boat Colin Firth as a man who may have brutally murdered his wife. (And was at least convicted of the crime, no matter what you might think about all the bizarre information that surrounds the case.)
The limited series adaptation of the French documentary (also known as The Staircase) arrives in May, and stars Firth and Toni Collette as Michael and Kathleen Petersen. Anyone who has found themselves caught up in the true crime craze of the past few years has probably heard of the Petersen case, as well as the wild conspiracy theories that surround it. 
And it looks like the HBO Max series will fully lean into that fact, as the trailer includes several meta moments involving filmmaker Jean-Xavier de Lestrade's documentary crew, as we see them in the Petersen home, interviewing family members and mining acquaintances' memories for clues. 
Watch for yourselves below. 
The real Kathleen Petersen was found dead in her home in December 2001. Her body was discovered by her husband at the foot of the titular staircase in the couple's North Carolina home, lying in a pool of her own blood. Petersen was arrested and charged with her murder. But that's just the beginning of this story. 
Prosecutors claimed Michael bludgeoned his wife to death; he argued she fell after consuming a debilitating mix of alcohol and prescription painkillers. The autopsy revealed Kathleen's death was caused by multiple injuries, including a blow to the back of her head with a blunt object. The theories that resulted from these two conflicting claims essentially gave birth to the true-crime industry as we know it today, with the most outlandish theories gaining traction on the internet as at-home sleuths tried to solve the mystery.
The most famous, known simply as the "owl theory," involves Kathleen being attacked by a Barred Owl prior to her fall and sustaining multiple injuries while the creature was entangled in her hair. The combination of these injuries, the adrenaline following the attack, and a combination of the alcohol, muscle relaxers, and anti-anxiety medication in her system led to her fall. Or so this theory says, anyway.  Surprisingly enough, it's not as crazy as it sounds. Owl attacks are not uncommon, and this type of animal can grow to be quite large. Pine needles and microscopic feathers were also found on Petersen's body.  
(Yes, there's a blink and you'll miss it shot of an owl in the trailer above, just in case you were curious.) 
As for the HBO Max dramatization, Firth and Collette lead an all-star ensemble that includes Michael Stuhlbarg (Dopesick), Juliette Binoche (Chocolat), Dane DeHaan (Lisey's Story), Olivia DeJonge (Will), Rosemarie DeWitt (Rachel Getting Married), Tim Guinee (Inventing Anna), Patrick Schwarzenegger (Moxie), Sophie Turner (Game of Thrones), Vincent Vermignon (Luther), Odessa Young (The Stand), and Parker Posey (Best in Show).
The first three episodes of The Staircase will premiere on HBO Max on May 5, with weekly releases to follow. 
---
By
for on April 8th, 2022
More to Love from Telly Visions