By
for on January 29th, 2023
'Vienna Blood' Serves Surprising Justice in "The God of Shadows"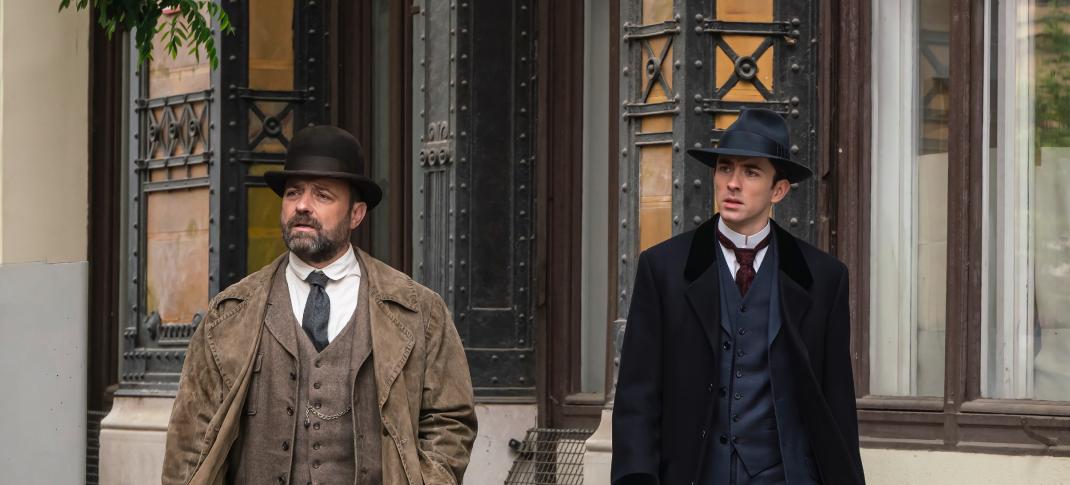 Vienna Blood's cold open chyron "China 1900" presents the Boxer Rebellion; in a lesser series, it might herald a yellow peril episode. However, the second chyron reminds us how far the series still has to go. "Vienna 1908" was Season 1's setting; this is Season 3. Years have passed. Max wrote a book, started a business, and went from being a harried student to applying to be Head of Neurology. Oskar's met a new woman, and though he's still not over his first wife and child, he's making a run at it. Clara has broken two engagements and given up on marriage. It may seem petty, but the inability to recognize it is not perpetually 1908 is one reason this show stays a second-tier PBS mystery.
Max: Welcome to the case, father.... er, that's just something we usually say round about now.
Despite the timeline issues, Fraulien Linder comes to see Max at the hospital while he's putting in hours; he failed to get the Head of Neurology job, which went to Professor Neumann (Michael Kranz), who seems less antagonistic to Max's Freud methods. Linder asks for help for Captain Georg Steiner (Cornelius Obonya) at Kierling House for Aging Soldiers, who rescued her late father during the Boxer rebellion. Max uses his contacts to meet the head of it, Dr. Wiesinger (Thomas Sigwald). He is unimpressed by Max and refuses to release Steiner into his care, despite the man's condition, where he believes he's been cursed and mutters about panthers and bellies full of water.
Wiesinger's refusal ensures the man is dead by the following day. How this connects to Oskar and Hausmann's serial break-ins where someone is destroying small, lacquered cabinets in rich people's homes is not immediately apparent. Max does ask Oskar about Steiner's last campaign in China since he's former military. Oskar says Steiner's troops were attacked by the Militia of Righteous and Harmonious Fists, who blamed the European settlers for the drought and famine that year. But Max has bigger problems since Wiesinger wants to pin the man's death on Liebermann's methods and advice.
Max returns to the hospital, armed with law enforcement, aka Oskar. They question Staff Nurse Aigner (Karola Niederhuber), Nurse Scholz (Miriam Fussenegger), and Orderly Sgt Graf (Philipp Hauß), the latter two of which Oskar spots making out later that evening. They describe a man off his rocker, putting chicken entrails around his room, and stealing plants from the greenhouse for protection. But as Max points out, steaming oneself to death in a boiler room is not a typical method of suicide — especially when one has a rifle hanging on the wall of one's room. However, the cuts on Steiner's feet are conclusive proof something is up, as they weren't self-inflicted.
Oskar begins to interview everyone, including patients like Lt Hammer (Samuel Koch), who won't speak in front of the nurse, but later tells them Steiner and a fellow soldier killed a merchant and smuggled the man's fortune out of China. (That's the Lieutenant the show keeps flashing to in the opium den.) Hammer confirms he came to visit Steiner a month prior. Max and Oskar explore Steiner's room and find a crawlspace with, among other things, a Chinese mask. At the station, Linder identifies it as "the God of Shadows, Yenwang," who the legend says made his victim walk on knives, explaining the feet injuries, and tied them to hot pipes to burn their sins out, which explains Steiner's death.
Someone wanted Steiner to confess the treasure's locale, but Linder finds the "Panther," the ship the treasure was smuggled back on, arrived without Steiner or his accomplice, who were imprisoned. Hausmann goes to find the main hangout for veterans of the China campaign, as Oskar realizes the lacquer cabinet break-ins are targeting ones from China that came over on the Panther, connecting the two cases. Max asks his dad where Chinoiserie pieces are bought and sold; Mendel happily takes him and Oskar to his favorite shop run by Herr Holzinger (Balint Kenyeres). Holzinger did indeed sell these cabinets, but his book with the transactions was stolen a month ago.
Stream Now
Vienna Blood
Dr. Max Liebermann and DI Oskar Rheinhardt team up to solve mysteries in 1900s Vienna.
Image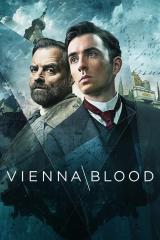 Max asks Holzinger to put up a fake cabinet for auction, hoping to lay a trap. He has a woodworker reconstruct a new cabinet out of the pieces of the two broken ones while Clara writes up a feature about the new Chinoise craze, the beauty of these historical cabinets, which came over from the Boxer Rebellion, and how a "lost" one from that batch has just surfaced. He and Oskar then convince Mendel to bid on it since he's a collector. Mendel is not ok with the idea he's being used as bait, but even Leah sees the value in helping, so he begrudgingly agrees.
Max and Oskar are hoping the suspect will show up at the auction house so Mendel and Rachel aren't put in danger. Clara also turns up, hoping to be on hand for the case's big break. (Mendel and Rachel are concerned Max is leading her on, totally baffled at the idea she's here for her own ambitions.) There's even a suspicious woman in the audience. However, Mendel wins the cabinet easily, with no sign of anyone who might be Steiner's ex-partner in crime. Poor Husmann pretends to be an auction house employee and is tasked with delivering it to the Liebermann house, setting it up, and then hiding in the room to catch the thief. (Rachel tries to offer him supper or at least a cushion.)
It's not long before the tinkle of breaking glass announces our suspect's arrival. He beats up poor Hausmann and makes a break for it but is stabbed before Oskar and Max can catch up to him. Under the street light, it turns out to be Graf, the orderly. Nurse Scholz insists she wasn't involved, tried to stop it, has no idea where the list of buyers is, etc. But Oskar realizes the card Graf had in his possession is probably the bar the accomplice frequented. Of course, when he and Max arrive, it's the opium den, and the proprietor Xiuying (Mi Hae Lee) was the mysterious lady at the auction house the day the cabinet was sold.
Linder has been hard at work when Oskar and Max return from the opium den. She's gone through the 31 men Steiner served beside in his platoon. Twenty-four were KIA, another four passed of natural causes, and two are in Vienna, have been settled here for years, and have alibis. That leaves one unaccounted for, Lt Franz Ebner (Felix Roemer), who supposedly disappeared in a Chinese prison and never made it home. Armed with an identity, Oskar and Max head out, but they're too late. Ebner breaks into Graf's room just as Sholtz is ransacking it, looking for the list of buyers.
Aigner finds Sholtz's body, Ebner having fled the scene, and calls Max and Oskar. The three search the room, but as Aigner knows every space inside and out, she locates it for them. Sholtz already saw the list as an eager accomplice and knew the location of the final cabinet Graf hadn't tried. She gave the info up to Ebner before dying. Oskar and Max follow him to the site, a super fancy residence in Vienna, whose owner comes flying in with a shotgun, causing Ebner, who finally has his treasure, a bag of uncut diamonds, in hand, to run out of the house and into the sewers with shotgun blasts following.
Ebner takes the sewers back to the opium den, grunting and gasping from his gunshot injuries. Xiuying, who has no love for the soldiers who destroyed her homeland, kicks his body into the river, having relieved him of the bag of diamonds. She hides them in her sugar bowl before Max and Oskar get there and slips off as they fish the body out of the river. It's a small measure of justice served. Max gives the story to Clara, turning her into the best crime reporter in the city. She's grateful but not grateful enough to agree to dinner together. As for Oskar, he goes home to Therese and Hannah, ready to face his future.
---
By
for on January 29th, 2023
More to Love from Telly Visions