By
for on January 30th, 2022
'Vienna Blood' Season 2, Episodes 3-4 Recap: "The Devil's Kiss"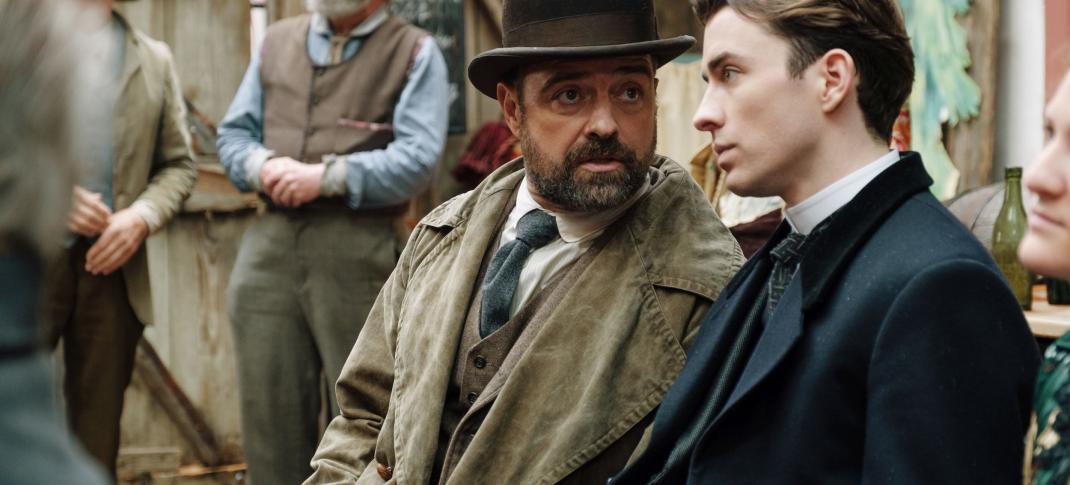 Vienna Blood is set in Vienna in the Edwardian era, but Victorian-style street urchins are universal in mysteries. The episode starts with one who stole a watch (Dajana Rajic). She leads the police on a merry chase through Landstrasse, ending with finding a dismembered body, missing a hand. Reinhardt is called in, accompanied by Sgt Haussmann, and determines the decomposing victim is Emil Schwaiger; he then heads to the archive and Fraulein Lindner, to hunt up any missing persons filed on him. However, when she finds it, the report isn't a couple of days old; but a couple of decades.
Mendel: That's psychology, isn't it?
Reinhardt meets Max at the opera before heading to the lab to check out what Dr. Jager has on the slab. But on arrival, Schwaiger's sister (Brigitte Karner) tells them this isn't Emil. That's odd; the official records Lindner pulled have the victim's photo in the identification papers. Since a traumatized street urchin is the only lead, Max brings the girl to his mother to look after. (Not the anniversary present she wanted.) As Max settles her in, Reinhardt's former boss, Strasser (Simon Hatzl), now Director of Secret Service, pulls him from the case. Oskar returns to his office frustrated, only to find a personal message with the victim's name — Anton Resch — and a corvus feather.
Amelia looks over the letter for clues while Lindner turns up who Resch is: one of Strasser's undercover agents. Reinhardt returns to Strasser, who realizes the personalized nature of the message means it's too late to cut Oskar out completely. Strasser admits they know the sender, Lazar Kiss (Stipe Erceg), known as "Crow," suspected of being part of Serbia's May Coup. For his safety, Reinhardt needs to stay out of this. That's not happening, though to Oskar's credit, he frames filling Max in as a "therapy session" so it can remain strictly confidential before disobeying direct orders.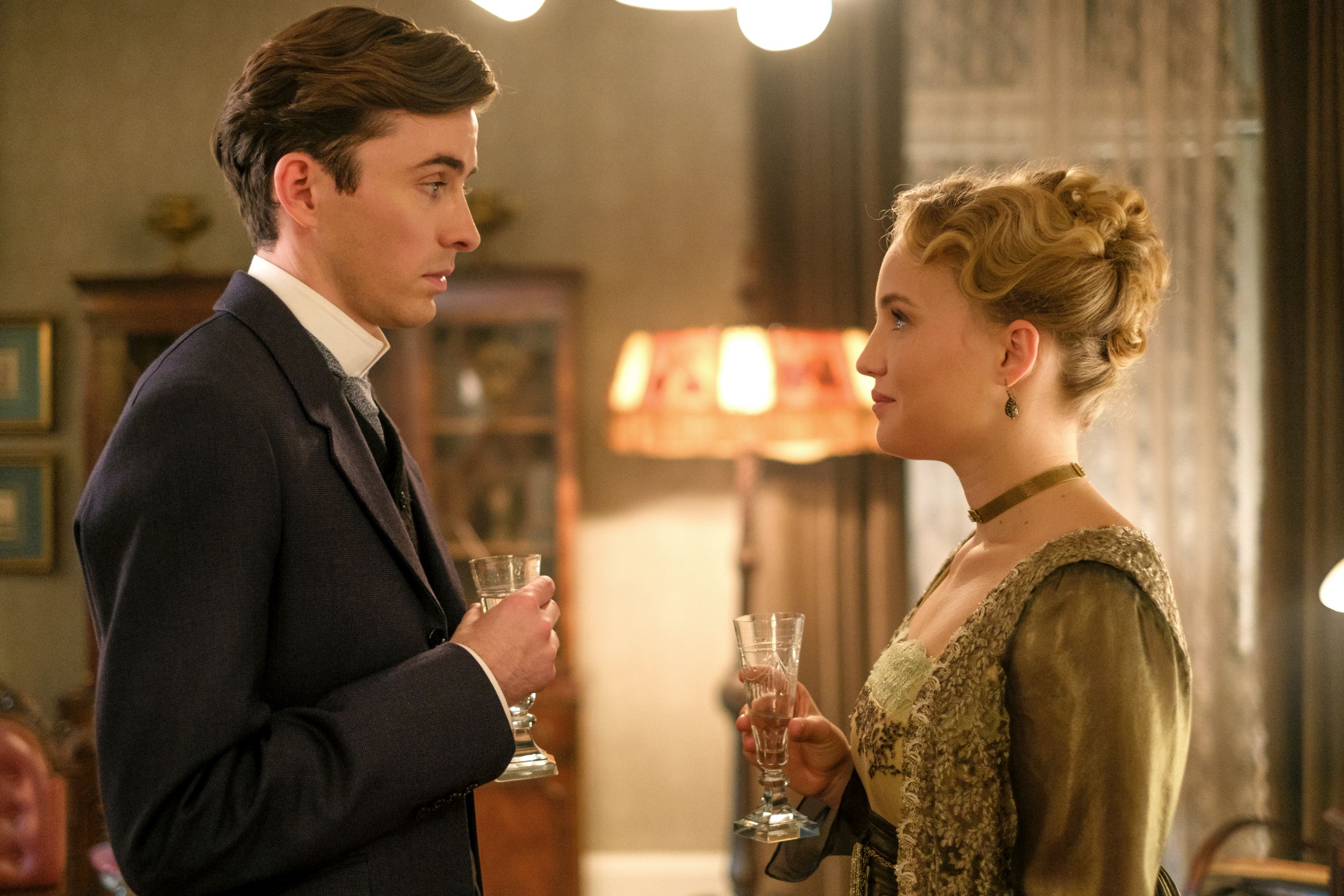 Max notes Resch's murder doesn't fit with Kiss' profile of a man hiding in the shadows, but no one reaches the fairly obvious fact Reinhardt's "informant" is Kiss himself. Instead, Max goes back to his parents for some stuffed bear therapy with his patient, who is unimpressed. (Also unimpressed?  Amelia, who initially turns down Max's second try at asking for a date, inviting her to his parent's anniversary party.) Leah does better with the girl, getting her name: Lily. But Max is not the only one issuing invites. At one of the Laxenburg castles, Resch's severed hand shows up holding an invite for Reinhardt to meet his "informant." Lindner identifies the tarred hand as symbolizing The Black Hand Society, Balkan unification extremists.
The invite leads to a Landstrasse theater where several street urchins run around. The group is led by the masked Dr. Zivko (obviously Kiss), who mentions an extremist student going by Vrana and points them to Hollandstrasser as an address. Vrana means "crow," convincing Oskar they've got their man. The apartment is where viewers saw the letters written, and there are guns and ammo under the floorboards. Reinhardt heads back to Strasser, who initially panics at Oskar's investigation. But the inspector has impressed Aehrenthal (Bernhard Schir), Minister of the Interior, and Strasser's boss. He has Reinhardt watch the apartment to discover Kiss' accomplices.
Reinhardt rounds up Haussmann, cutting von Bulow out in the process. Max heads to his parent's anniversary party as they begin their stakeout,  where Clara has already arrived with the new beau. Clara continues to be the best part of this series, but when Amelia shows up, she gives the girl a run for her money, proving quite a good match for Max's complete inability to function and charming the hell out of Mendel in the process. (Rachel, far less so, but she's not going to accept Max dating a goy quickly.) As for the stakeout, Oskar and Max join Haussmann the next day, and the three are not subtle in following their man, losing him quickly, but not before he makes sure to give Oskar a staredown and a message: "The treaty is imminent."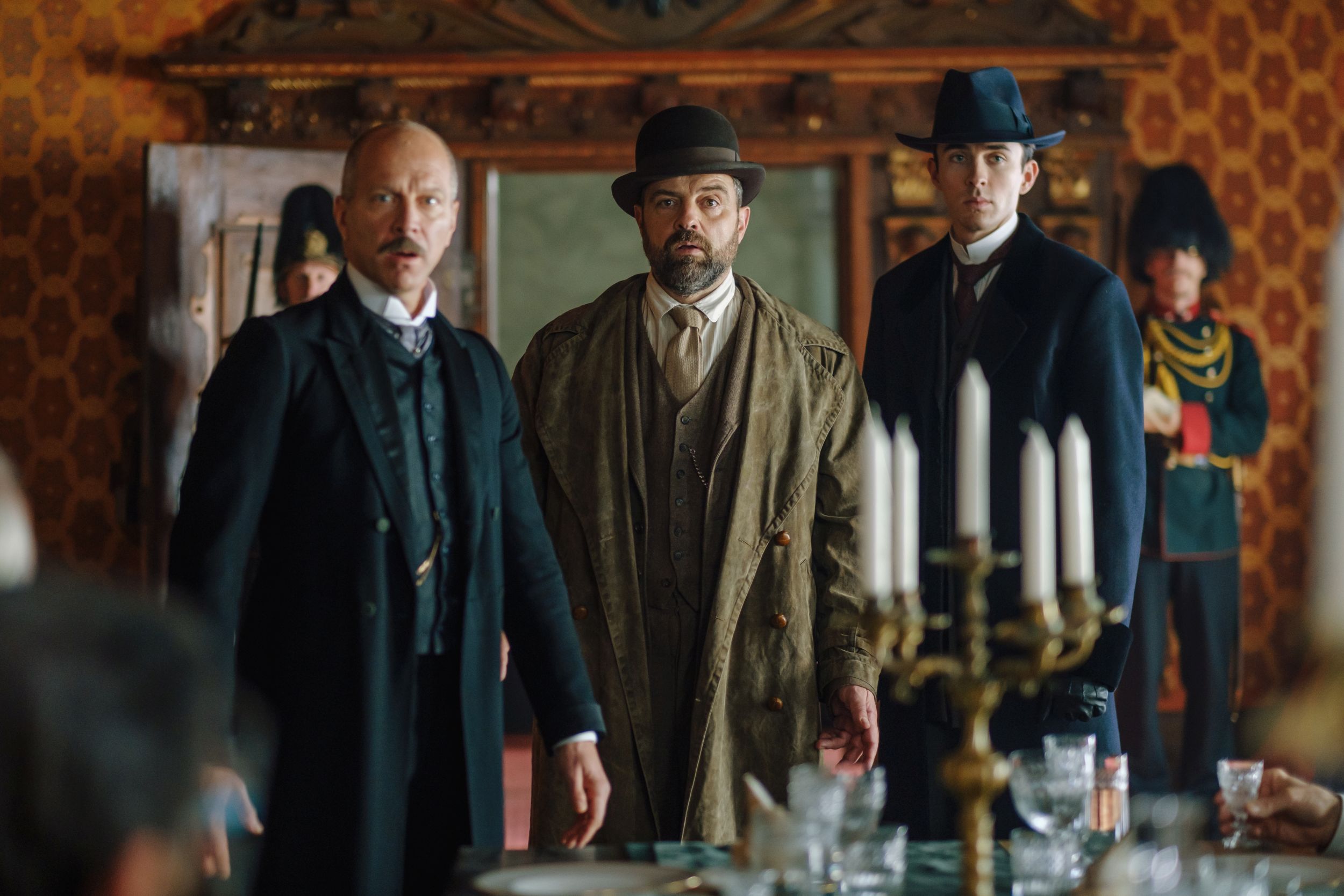 The "treaty" is the 1908 Bosnian Crisis, which occurred when Austria-Hungary announced the annexation of Bosnia and Herzegovina. Russia is secretly signing a pact not to oppose the annexation; Kiss is there to stop them. But keeping a lid on this isn't working. Oskar has taken pity on the abused landlady, Danica (Larissa Fuchs), who lets their stakeout flat, allowing her upstairs with them and giving her his information. Meanwhile, von Bulow has figured our Reinhardt is up to something behind his back and comes charging in, guns blazing, and ruins the operation.  
Oskar and Max head to Franzensburg, another of the Laxenburg castles, where the diplomats are gathering. Oskar is the only one who can identify Kiss, but he's nowhere to be found. However, it isn't until Max remembers Lily's meltdown over the piano playing her watch's song that he puts together what viewers probably figured out already: Lily leading the police to Resch was no accident. Kiss ordered her to do it. It was all a long con to get an outside officer brought in so he and his wife could follow them to the treaty signing. The wife, naturally, was the "abused" landlady who got Oskar's information. Oskar is the unwitting Trojan horse: Kiss was the helmeted driver, and the bomb arrived inside their carriage. 
 Naturally, the bomb is already in the treaty room when Oskar and Max figure this all out. They clear the room and  find it under the table. Realizing they have no idea how to dismantle it, the two   race outside and dump it in the river, where it takes just long enough to explode that everyone questions if they were right. Unfortunately, they are too late to take down Kiss. Lily returned home, and the three packed up, leaving Max's stuffed bear behind. As the episode ends, the three are on the road out of Austria.   
---
By
for on January 30th, 2022
More to Love from Telly Visions