By
for on February 13th, 2022
'Vienna Blood' Season 2, Episode 5-6 Recap: "Darkness Rising"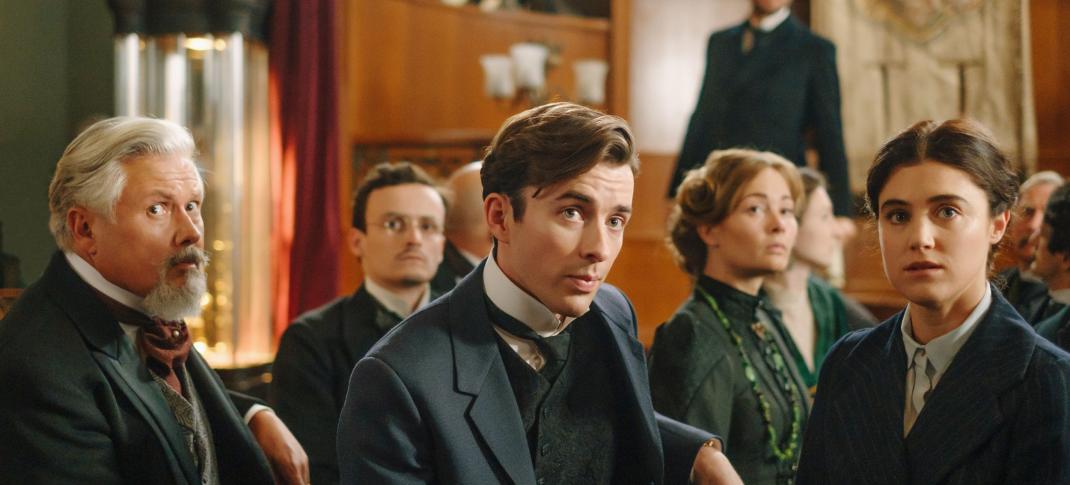 Vienna Blood has leaned heavily into the Liebermans' Jewishness, so opening with Catholic iconography and Gregorian chant is a choice. It's due to a lecture organized by Herr Strobl (Serge Falck), and Professor Priel (David Oberkogler) attended by Mendel, Max, and Amelia, featuring Brother Stanislav (Lukas Watzl). Perhaps they should have researched before attending. A protestor interrupts, Isaak Korngold (Alexander Absenger), the brother of Jonas, Clara's new fiance. He denounces the monk for anti-semitism and calling Jews demons, stirring up bigotry. Brother Stanislav doubles down, driving Isaak to throw a rock at him. Mendel and Max say nothing, but Max seems to wish he'd had the stones to stand up with Isaak.
Amelia: "I assume this is just a hobby? Otherwise, you and I won't have much of a future."
Since Brother Stanislav is dead a week later, it was probably better not to. He's found by the chamberlain, Brother Killian (Florian Stetter), forcing the Abbot (Erwin Steinhauer) to call in Reinhardt. But he won't let the body leave the monastery, forcing Dr. Jager to make a house call to confirm the monk was stoned to death. Stanislav's friend, Brother David (Nicolas Matthews), looks down when asked if Stanislav had enemies. The Abbot admits the priest's bigotry was controversial but brings up Isaak's threat of stoning. Oskar arrests the alibi-less Isaak and tells Jonas and Clara they can't see him.  
Clara asks Max for help, which Reinhardt realizes when his friend calls the station. Max says all he wants is to talk to Isaak, and though Oskar knows it will upend his "straightforward" murder case, it's innocuous enough that he cannot refuse. Max comes out convinced Isaak is innocent and begs Oskar to investigate. But the Abbot stonewalls and von Bulow is pushing for charges. However, Killian shows up at the station, telling Oskar he must keep digging, even though he can't get Reinhardt into the monastery. However, Max's family pressures him to act, and Jonas' business is going under, so he volunteers to go undercover. Reinhardt reluctantly agrees.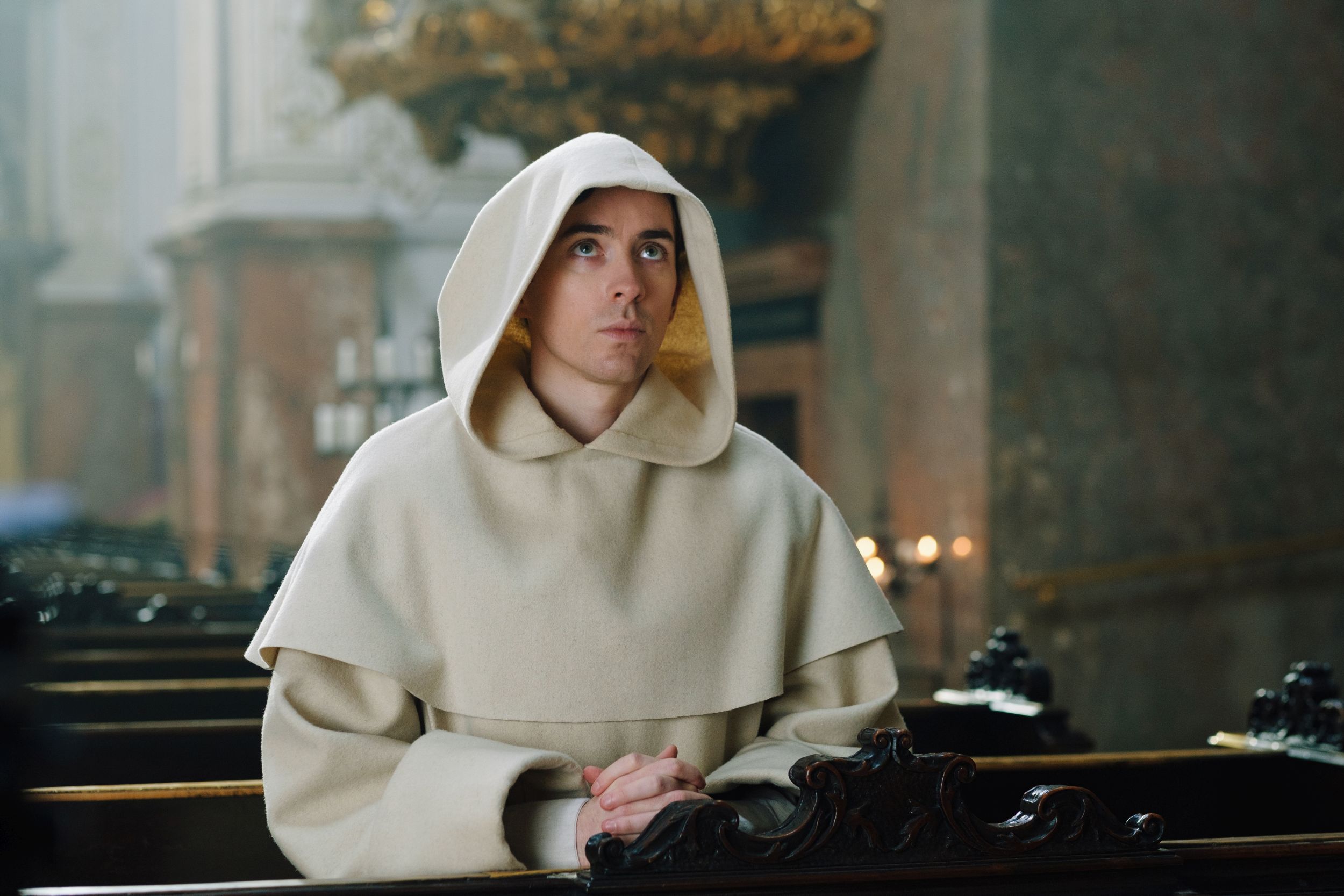 Upon arrival, Killian slips Max the key to Stanislav's room and lets him inspect the sacristy. Max realizes Stanislav died elsewhere from the lack of blood. He targets David to get information by asking if he can say a prayer over this brother he never met. David admits he grew fond of Stanislav while helping him through a severe illness, but Max notices how scratched up the monk's feet are. He was stoned to death in the parkland after being lured outside by someone he trusted, and then smuggled back in. 
David is hiding something, but he evidently believes Stanislav was touched by a miracle, cured of his illness by the magic of the sacristy. Trying to figure out how the body got back in, Oskar heads to the museum to see if the monastery's plans show hidden tunnels. Priel insists there aren't, but Amelia uncovers possible secret rooms, sending Max to hunt for them. Said room does exist and leads to a tunnel with a direct line to the murder scene. There's also a burnt letter in Stanislav's stove, sending Frau Lindner to identify the gilded bit of crest that's left.
But things still point to Isaak; there's a rock with "Enemy" scratched in Hebrew by the murder scene. Worse, when Herr Strobl buys the Korngold's majority shares since his business is collapsing,  he finds papers in a safe containing a Hebrew curse aimed at Stanislav. He sends it to the police; Von Bulow is ready to charge Isaak. However, Reinhardt refuses, stating Max is working undercover and thinks he has proof of the murderer. Unfortunately, his proof was asking David if he dragged the body back inside to the sacristy, hoping for another miracle. But when he arrives, David is dead. It gets Oskar back inside since there's a new body, and they realize David must have seen the murderer, a "well-dressed devil."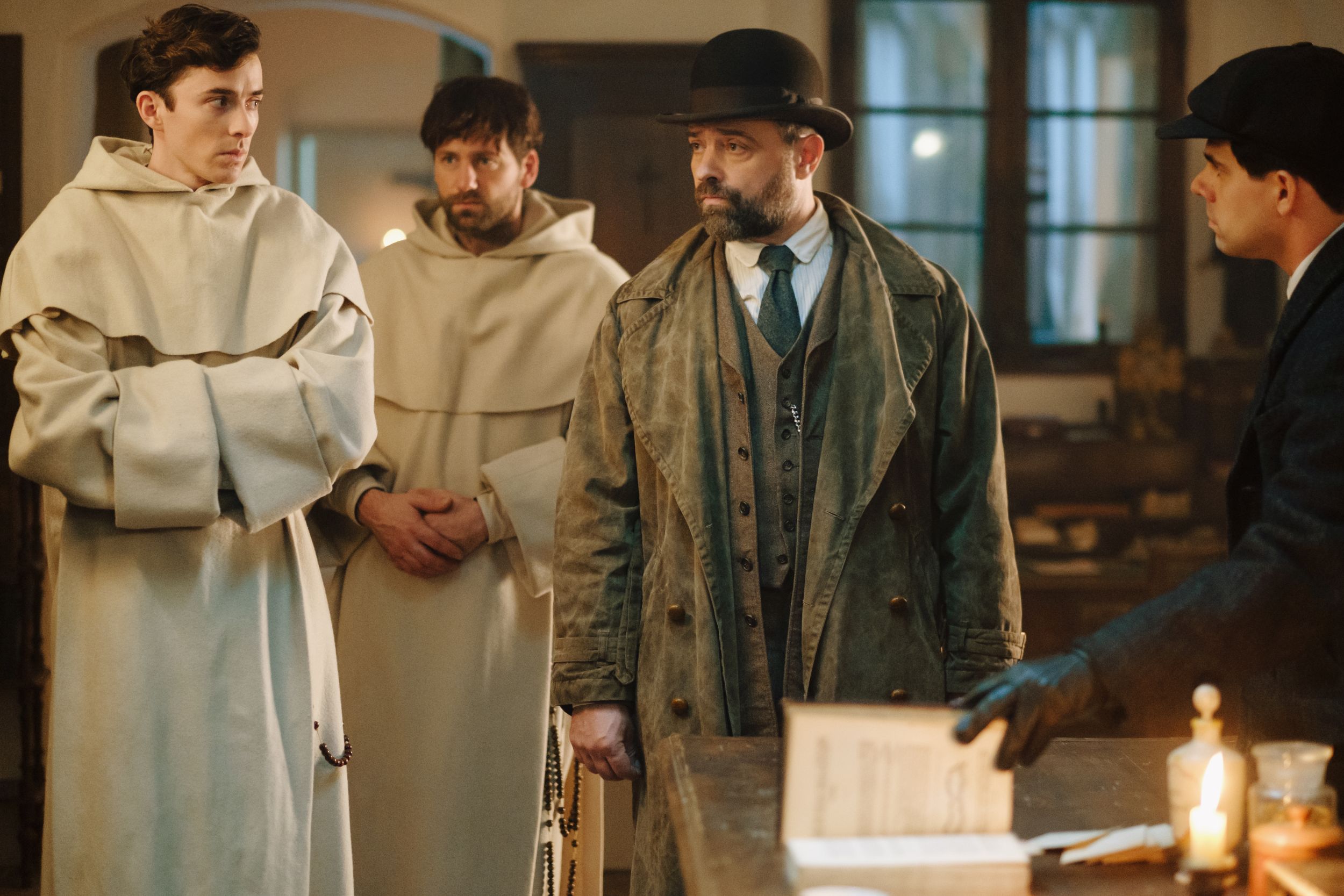 But von Bulow doesn't care that Isaak behind bars means he could not murder David. After all, Max could be his accomplice since Jews all work together. But Oskar knows how to play von Bulow, warning him he'll look like a fool if something was stolen from the monastery. So he's allowed to go in with Priel and Amelia in tow.  Whoever this rich man was, he must have wanted inside the sacristy to take something; why else write to the sacrist? Priel seems anxious to declare everything in its place, but Reinhardt finds an empty case that wasn't on the inventory. Max realizes from Stanaslav's research the priest believed it was the Holy Lance.
Priel insists it couldn't be the real thing; Max counters it doesn't matter, only the belief. Surprisingly, the Abbot agrees. He thought it was bunk. But Stanislav told anyone who would listen about this magical relic that healed him when he was sick. When Oskar gets back to the office, Lindner is waiting, and she's been hard at work. It turns out the Hebrew markings at the crime scenes and the curse aren't real. They're ancient blood libel. Someone rounded them up from medieval times, probably a historian. Since it's obviously not Amelia, that leaves Priel, who turns out to have the lance in his possession.
Amelia finds it and winds up tied to a staircase for Max to rescue. Before conveniently falling to his death, Priel confesses Stanislav's death was an accident, and he had an accomplice who helped cover it up: Strobl. Herr Strobl saw the opportunity to steal the Korngold business, so he set up Isaak, including finishing off Stanislav when he discovered Priel hadn't killed him and sneaking into the monastery to kill David. Isaak is freed, and Clara is so thankful for her future BIL's release she rolls up on Max's office to say goodbye. Unsurprisingly, they fall into each other's arms just as Amelia arrives to see it. But I suppose that will be left for another season...
---
By
for on February 13th, 2022
More to Love from Telly Visions