By
for on November 11th, 2014
The Tower of London Poppies Installation is Completed on Remembrance Day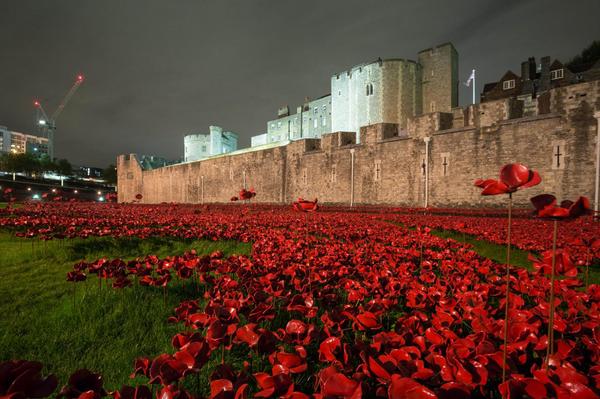 On November 11, the multi-month effort
to plant a ceramic poppy within the moat of the Tower of London
in honor of the hundreds of thousands of lives lost during World War I was completed.
Officially titled Blood Swept Lands and Seas of Red, the installation features hundreds of thousands of ceramic poppies – the ceremonial flower traditionally used to remember war veterans in Britain – arranged in and around the Tower moat. Known colloquially as the "Tower Poppies" this exhibit has been drawing crowds for weeks, as visitors came to admire the impressive artwork and pay their respects to those who lost their lives in combat.  Each poppy – planted by veterans, celebrities, public figures and volunteers – represents a British military fatality in World War I. 
Many gorgeous and touching photos were shared of the exhibit over the Rembrance Sunday weekend. 
From a single flower to a stunning sea of red - how the #TowerPoppies grew and grew http://t.co/Xkbpz0Njlv pic.twitter.com/qnO7m9zWdv

— The Telegraph (@Telegraph) November 11, 2014
An aerial video tour of the Tower of London poppies - filmed by drone http://t.co/IiYJGLygEr pic.twitter.com/k1KChNrTyC

— BBC News (UK) (@BBCNews) November 11, 2014
Lest we forget. pic.twitter.com/r9oibyI4WC

— The Independent (@Independent) November 9, 2014
Volunteers serenaded by military wives on another emotional day http://t.co/YwIncZCdsY (Pic: Richard Pohle) pic.twitter.com/e6y6xcemU7

— The Times of London (@thetimes) November 8, 2014
Take a moment to browse the #TowerPoppies hashtag on Twitter for a real-time look from visitors over the past week. 
Amazing image of visitors at the @TowerPoppies...like silhouettes of fallen heroes of #WW1. (Pic by @Johnny_coolcat) pic.twitter.com/Cync0UsOJ8

— H4H 4x4 EURO RALLY (@h4hrally) November 10, 2014
Wow, silence, roll of honour & last post, applause, crowd quietly melts away. Well done @HRP_palaces #TowerPoppies pic.twitter.com/FirC8iiksm

— James Rudoni (@RudoniDOG) October 29, 2014
The official Historic Royal Palaces Twitter account - the charity that oversees locations such as the Tower, Hampton Court, Kensington Palace and others – has also been tweeting many photos and behind-the-scenes tidbits as the exhibit neared completion.
The final poppy – that is, poppy number 888, 246 – was planted Cadet Harry Alexander Hayes as part of the Armistice Day ceremonies.
Today we'll be commemorating #ArmisticeDay with the planting of the last poppy #TowerPoppies pic.twitter.com/ox8l8RLTLC

— HistoricRoyalPalaces (@HRP_palaces) November 11, 2014
Cadet Hayes, who is only 13 years of age, was handed the last poppy by artist Paul Cummins.  
Cadet Harry Alexander Hayes plants the last of the 888,246 poppies in the moat #TowerPoppies pic.twitter.com/VaRvoho9g1

— HistoricRoyalPalaces (@HRP_palaces) November 11, 2014
All sorts of famous people have visited the exhibit during its three month creation, including Prime Minister David Cameron, the Duke and Duchess of Cambridge, Prince Harry and many more. Even Joan Collins tweeted a photo of herself at the exhibit.
The Tower Poppies have quite captured the public's imagination, which you can tell because someone's even recreated one of the installation's more dramatic sections in LEGO form: 
Take a look at this wonderful #Lego representation of the #TowerPoppies by @nicksweetman - a fantastic effort! pic.twitter.com/dnDsVCj9jO

— HistoricRoyalPalaces (@HRP_palaces) November 10, 2014
For those who are interested, this official video provides an overhead look at the scale of the Tower Poppies installation. It's quite breathtaking. 
Many of the Tower Poppies were sold to raise money for charity, but two key pieces of the installation – the Weeping Window an the Wave -  will be going on a national tour in the UK before being permanently installed at the Imperial War Museum. 
We're pleased to confirm that these two major features of the #TowerPoppies will be going on national tour until 2018 pic.twitter.com/QL9rLMDX1P

— HistoricRoyalPalaces (@HRP_palaces) November 8, 2014
So, maybe those of us who don't live in the UK will get the chance to see some of the Tower Poppies someday. What a gorgeous installation, indeed. 
---
By
for on November 11th, 2014
More to Love from Telly Visions