By
for on January 26th, 2019
'Tea with the Dames' Features No Tea But Offers Some Priceless Insights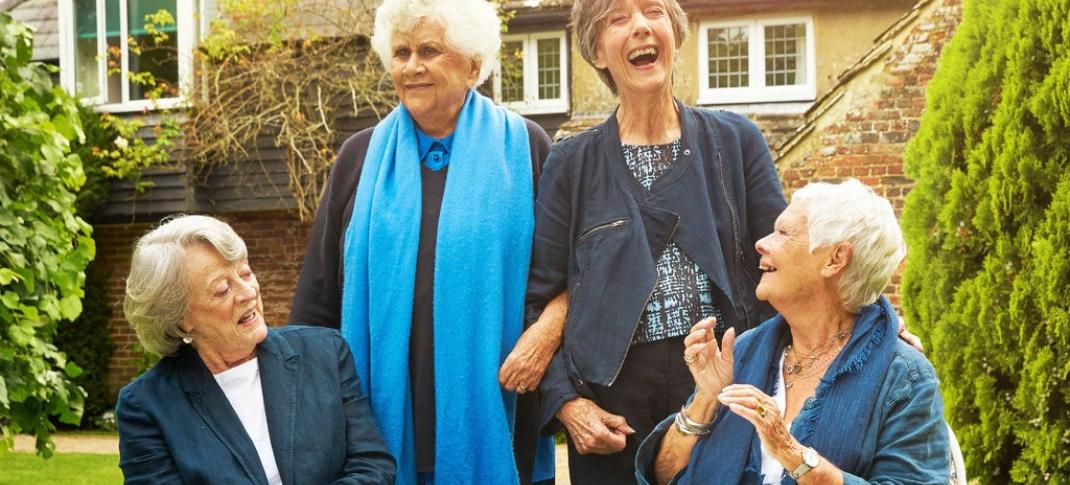 If you've ever daydreamed about sitting down for a heartfelt chat and a cup of tea with a few of Britain's most legendary living actresses, Tea with the Dames is your dream come true. Well almost,  since they never actually drink tea in this documentary (it was titled Nothing Like a Dame in the U.K.) and of course you have to imagine you're at the table. Oh, the magic of the movies!
I got on a wait list for the DVD from my library a few months before its release. So when it finally arrived last week, my anticipation got the best of me and I watched it immediately. The film opens with some amusing vocal warm up exercises and these words:
"From time to time four old friends, all extraordinary actresses, meet up in the English countryside to gossip, to remember and to laugh. This time they let the cameras in."
Dames Eileen Atkins, Judi Dench, Joan Plowright and Maggie Smith make up this quartet of revered and talented women. All smartly dressed in navy, these octogenarians gather at the country home that Dame Joan shared with her husband Sir Laurence Oliver. Prompted by questions asked off-screen by director Roger Michell, the dames talk straightforwardly and sometimes irreverently about their professional experiences as well as their more personal thoughts on aging and family. What stands out most is the genuine affection and friendship between these women who have shared stages, sets and the unusual experience of living most of their lives in the spotlight.
When asked to reflect on receiving their DBE's (Dame Commander of the Most Excellent Order of the British Empire) they each seemed pleased to have been so honored. Dame Maggie, in particular, mentioned being happy her father was alive to see her receive her title since it recognizes those who helped you along the way as much as the individual receiving the medal.
The discussion is interspersed and illustrated with stills and footage from the many plays, television programs and films the women have appeared in over the past fifty plus years. There are also rare glimpses into each actress's private life through home movies and photos. For example, there are images of a young Eileen Atkins dancing before she discovered the theatre at the age of ten and a number of shots of the women with their young families in the 60's and 70's.
Fear is an important theme throughout the documentary and the dames make it very clear that, in their line of work, fear is a constant companion. Fear of directors, certain iconic roles, even just performing itself are all seen as "the petrol" that can be transformed into energy if channeled properly. Facing up to death, however, is another matter.
With three 84-year-old women and one approaching her ninth decade gathered together, the topic of aging is the elephant in the room.  When the director dares ask how they feel about getting old, Dame Judi has a sassy F-bomb retort for him. But it cannot be denied that physical decline visits us all. Dame Joan is completely blind. Dame Judi has macular degeneration. Both Atkins and Smith reportedly have been treated for breast cancer in the past, though it was not brought up in the documentary. Apparently, three out of the four ladies wear hearing aids and, according to "Mags," "Jude" could likely do with some hearing assistance as well.
Physical issues aside, these gals are sharp as tacks and still have much to give to the world. Unfortunately, roles for ladies of a certain age are scarce and some contend the line starts behind Ms. Dench.
This is just a taste of a sometimes bawdy, sometimes poignant documentary. If you are a fan of one or more of these inspirational ladies, consider tracking this one down. It's available not only on DVD, but can also be rented through many streaming sites including Amazon Prime, iTunes and Google Play. You may also find it as a On Demand selection through your cable provider. If you're like me, this candid peek at the lives of these legendary personalites might well have you seeing them the way they see themselves - as working actresses, mothers and friends.
And you won't want to miss the montage of red carpet appearances and award ceremony acceptances set to 'Honkey Tonk Women' by The Rolling Stones!
Does Tea with the Dames look like a delightful way to pass an hour or two? If you've already seen it, what did you think? Do you have a favorite dame? Let's discuss!
---
By
for on January 26th, 2019
More to Love from Telly Visions