By
for on September 21st, 2023
Apple TV's Charming Late Night Rom-Com 'Still Up' Is a Love Story About Conversation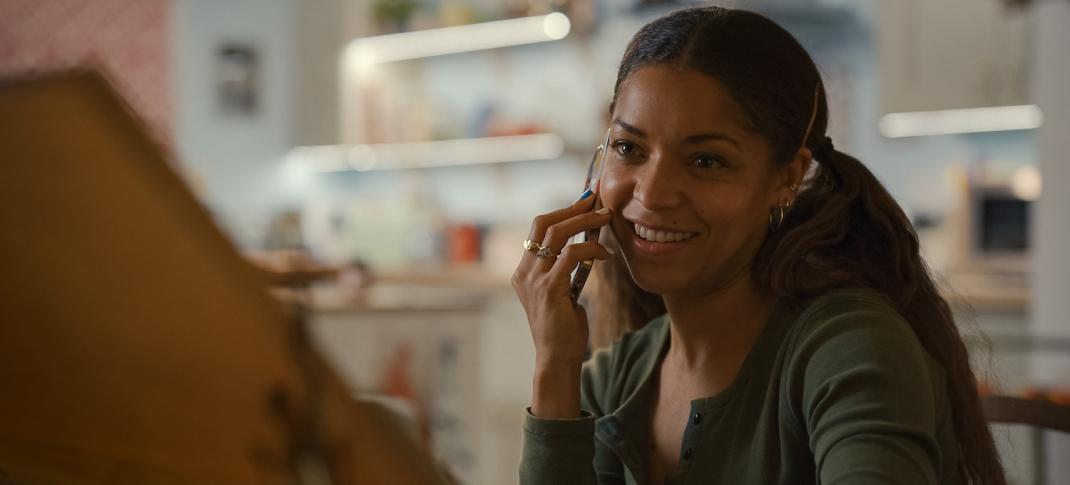 Once upon a time, the romantic comedy was all the rage in our entertainment landscape. Anyone who spent any time at their local multiplex back in the 1990s undoubtedly remembers the golden age of these sorts of stories, often led by major A-list actors like Julia Roberts, Jennifer Lopez, Hugh Grant, and more. Titles like Four Weddings and a Funeral, My Best Friend's Wedding, and Love Actually were formative films for many of us, and the fact that the genre has basically disappeared in the decades since, vanishing in favor of superhero films and other action-based blockbusters. 
But thanks to gems like Starstruck, Lovestruck, and Heartstopper, the genre is currently experiencing something of a renaissance on the small screen. And though Apple TV+'s newest comedy, a friends to maybe something more insomniac romance called Still Up, is the latest series to follow a well-worn (and, long-loved) path, it does so by carving out its own unique niche. 
A rom-com that's really a story about conversation, almost every episode of Still Up revolves around talking --- whether that means an accidental confession, a drunken request for directions, or a fun diversion of the "if you had to lose one body part forever what would it be" variety. It actually all makes for a nice change --- real, ongoing dialogue between characters is still an almost shockingly rare thing on television, and we're rarely allowed to see the level of vulnerability and interiority that constant conversation requires. Still Up is a talky show, but it's also a show about talking, and the things we inevitably reveal about ourselves long before we ever run out of things to say. 
The story follows Lisa (Antonia Thomas) and Danny (Craig Roberts), two Londoners who have become best friends thanks to their shared insomnia. The two pass the time together every night with the help of long, meandering video calls about both nothing and everything, and their bond has deepened to a ridiculous degree. Also, they're clearly in love with each other, despite the fact that neither of them appears to have realized it yet.
The best part of Still Up is that, although the show is not subtle about the fact that Lisa and Danny are obviously soulmates, it also takes the time to do right by the friendship that serves as the show's central conceit. Their bond is deep and honest, full of stupid in-jokes, gentle mocking, deep loyalty, and heartfelt cheerleading. Neither party is accepting scraps of affection while pining after the other, and if the show had, for whatever reason, decided never to act on their obvious feelings, Still Up would still have been a pretty solid comedy about an offbeat pair of besties. 
The format of the show is fairly simple: Danny and Lisa video call one another each night, often multiple times. They tell each other about their days and their relationships --- Lisa with boyfriend Veggie (Blake Harrison) and largely unseen daughter Poppy, Danny with his weird assortment of building neighbors, including charming across-the-hall hottie Adam (Luke Fetherston), and the weirdo unnamed Cat Man (Rich Fulcher) who throws parties for his feline friends. Lisa often finds herself on some late-night adventure --- a visit to a pharmacy, a bus ride, a stay at a sleep clinic---chattering away to on Facetime all the while. Because Danny has become quietly agoraphobic in the years since a particularly humiliating public breakup, his side of the pair's late-night activities is (usually) a bit tamer as he job hunts, dog sits, and tries to avoid having to attend a cat birthday party. (An isolation that makes the rare occasion he does leave the flat toward the end of the season all the more impactful.)
Granted, the show isn't perfect, and it has its share of typical first season problems. There are moments toward the middle of the season where it feels as though the show's spinning its wheels trying to avoid the elephant in the room that is Danny and Lisa's obvious feelings for one another. The installment in which Lisa goes off on a horrible camping trip with Veggie and his parents,  the group plays a dreadful made-up family game together that involves throwing lunch meat at each other is a particular low point.
Veggie in particular is something of a problem for the show on the whole. While Harrison is certainly charming and the show certainly treats Veggie's relationship with Lisa more than fairly, rooting for her and Danny does sort of require viewers to want the two of them to break up.
But given how sweet and understanding he is --- not to mention that fact that, at times, he's more of an involved parent to Lisa's daughter than she herself is --- it's also hard not to feel really bad about it. How the show will ultimately resolve that emotional quandary in the future is anyone's guess, but Veggie certainly deserves a happy ending of his own, even if it doesn't involve Lisa.
All that said, however, when Still Up works, it really works. Thomas and Roberts generate rather remarkable chemistry for performers who almost never actually share a scene together, and the fact that their relationship feels so layered and lived in even though it's something we see almost entirely conducted through screens is wildly impressive.
Nothing about this show works if you don't believe in the relationship at the center of it, and Still Up is clearly well aware of this fact, leaning into the predictable and familiar at every turn. This is not a subtle series, but in all honesty, that's a big part of its charm. Part of the appeal of the rom-com genre, after all, is the familiar nature of the tropes within it, the comforting beats of a story we know will somehow come out all right in the end. 
Still Up isn't exactly breaking any new ground, but you'll still swoon at the exact moments you're supposed to. And that's no small thing. 
Still Up premieres Friday, September 22 on Apple TV+. 
---
By
for on September 21st, 2023
More to Love from Telly Visions