By
for on August 15th, 2014
The State of 'Poirot' for American Viewers: When Will We See the Final Episodes?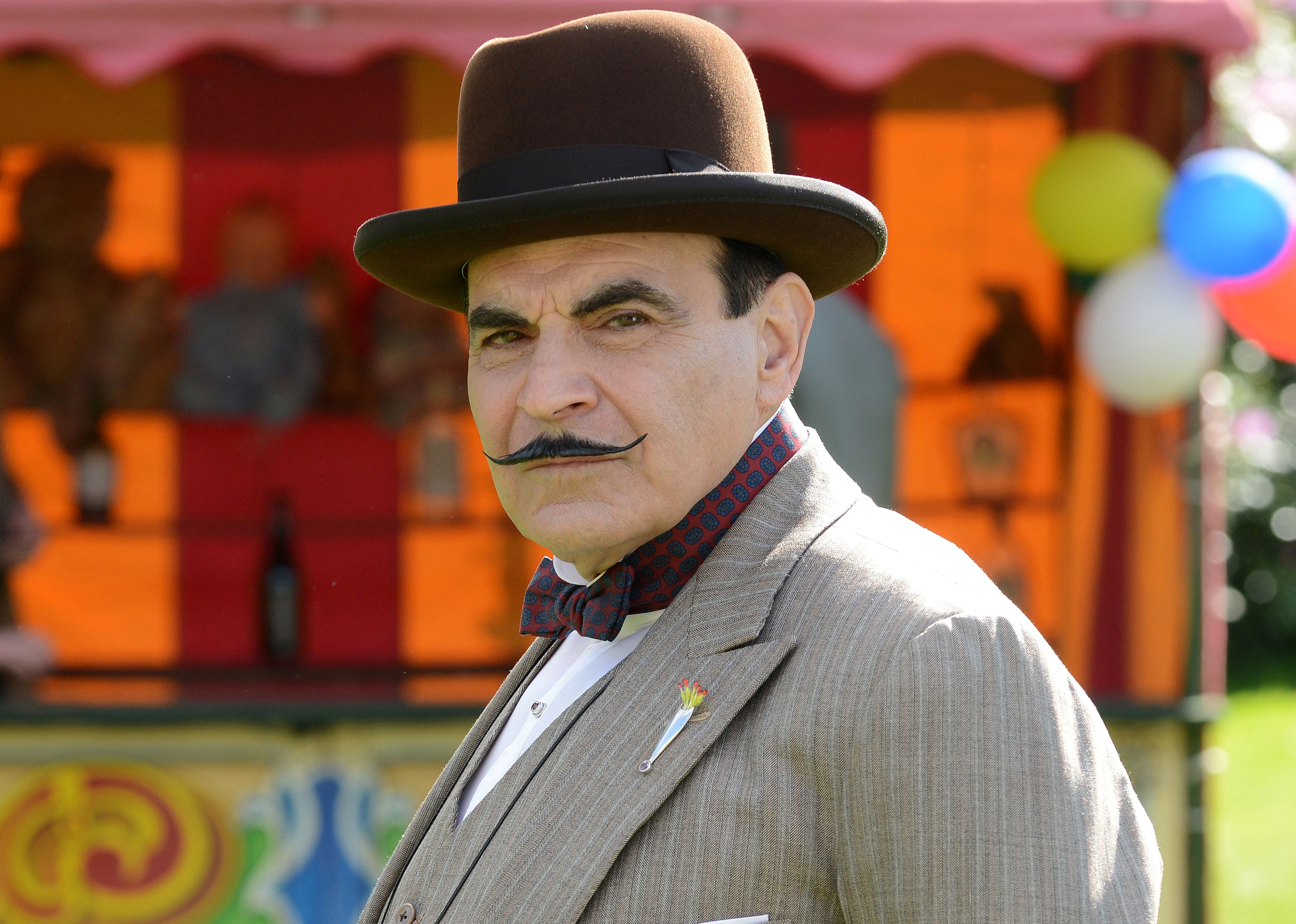 As many of you are almost certainly aware, actor
David Suchet
recently wrapped up his role as the titular Belgian supersleuth in
Agatha Christie's Poirot
, having successfully filmed every Hercule Poirot story that Christie ever wrote over the course of his twenty-five year run in the role.
These final five episodes originally aired over the course of 2013 in the UK, with the last installment, titled simply Curtain, transmitting late last year. Ever since, American fans have anxiously awaited their chance to watch Suchet's last bow as the character. However, we're all going to get to see all of these episodes, we just have to be patient a bit longer.
As most (all?) of you already know, two of these episodes – Dead Man's Folly and The Big Four – aired as part of this summer's run of mysteries on PBS's Mastrerpiece. But what of the other three? In short: Don't worry, they're coming.
No, really, they are.  Have a gander at my Burning Questions Poirot Fans Need to Know primer below.
What happened to those other Poirot episodes, particularly the very last one? Due to rights issues the three episodes of Poirot that still haven't screened on American television are exclusively premiering via on-demand streaming service Acorn TV. If you're a member of this particular site, you can log in and view these new episodes (one per week) starting on August 11 for Elephants Can Remember, August 18 for Labours of Hercules and August 25 for Curtain: Poirot's Last Case.
Why is this happening? To put it simply – and uninterestingly I realize – rights issues. Acorn Media happens to own a share in Agatha Christie, Ltd, the company that manages the rights to Christie's literary catalogue, which includes characters like Hercule Poirot and Miss Marple.
If you're lucky enough to already use Acorn's streaming service, you can start watching Elephants Can Remember right now!
Can I see them if I don't have an Acorn TV membership? Yes, you're just going to have to wait a couple extra months, when they're not "exclusive" to Acorn anymore and will be made available to other outlets.
Where Can I See Them? The final three Poirot episodes will be available to PBS stations nationwide around the country beginning this November.
So They'll Air on My Local PBS Station? Most likely, yes. This is ultimately up to the particular local station that you have where you live, but the whole PBS system is incredibly aware of how popular Poirot has always been among our audience, and will probably look into acquiring the rights to air the episodes that finish out the famous supersleuth's story. I'd personally be fairly shocked if these didn't screen system-wide by the end of the year. But, of course, and as always, check your local listings and/or contact your local station to find out more about schedule plans for your particular area.
For you local DC area folks, I can confirm that WETA will be airing the final three episodes this November, although I haven't heard a hard date yet. Will let you know once that's confirmed.
In the meantime, console yourselves with the ITV trailer for the end of Poirot's run, which actually includes some footage from several of the episodes we've seen so far this summer.  
Are you excited to see the end of Poirot? On a scale of 1 to "Incredibly Amazing", how impressive is Suchet's achievement? Tip of the hat, sir. You're awesome. 
---
By
for on August 15th, 2014
More to Love from Telly Visions