By
for on November 8th, 2022
Starz's 'Dangerous Liaisons' TV Series is Full of Secrets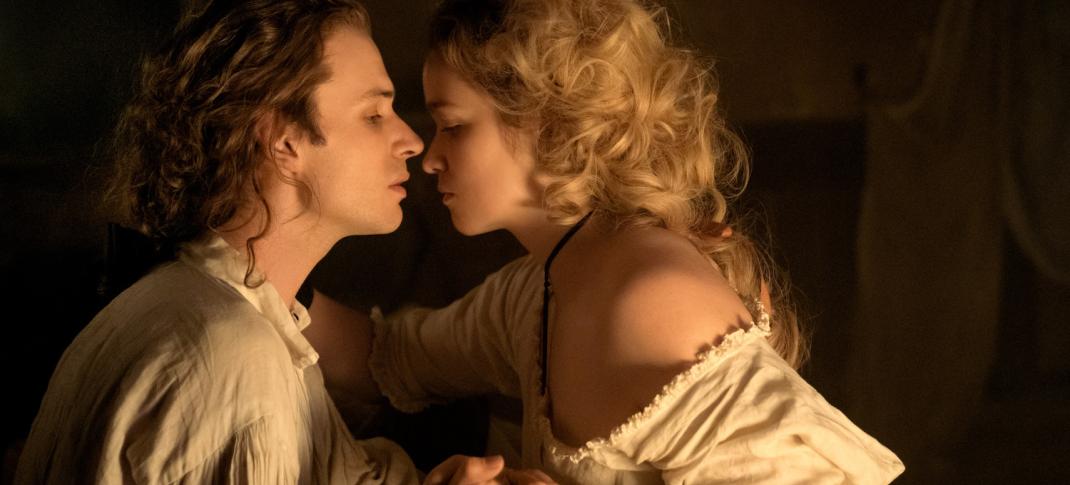 Starz is on a bit of a French history bender following The Serpent Queen, going from the Tudor and Elizabeathan era to its version of pre-revolutionary France in Dangerous Liaisons. Despite sharing a name with the famous 1988 film adaptation, Starz's new eight-part series is actually a prequel to Pierre Choderlos de Laclos's 1782's epistolary novel Les Liaisons Dangereuses. An international production filmed on location in Prague with a diverse and accomplished cast, the new show is directed by Leonora Lonsdale and Olly Blackburn, with scripts is written by Harriet Warner (Call the Midwife). It also stars two outstanding young Australian newcomers, Alice Englert as Camille, and Nicholas Denton as Pascal.
Laclos's scandalous novel told the story of jaded bored aristocrats who set about seducing an innocent young woman. The Oscar winning 1988 film starred Glenn Close and John Malkovich. There was also ther lesser known 1989 movie Valmont, starring Annette Bening and Colin Firth. Both are tough acts to follow, so Starz's version explores why Vicomte de Valmont and the Marquise de Merteuil do what they do so well, and who they really are. Were they born corrupt, and heartless? Well, they are French aristocrats. What would you expect? But when we meet the couple, they are young, pretty, and in love, and they're far from being aristocrats.
But first, let's go to the theater! In a riot of silk, satin, lace, rouge, powder, and gossip, the fashionable audience talks over the music of the revolutionary composer Mozart. One woman, the current Marquise Genevieve de Merteuil (Lesley Manville, in the middle of the Manvillaissance with Sherwood, Magpie Murders, and The Crown), seems to be listening. Still, she's fantasizing about sex with her young lover Pascal de Valmont. (I'm sure Mozart would approve.)
Almost certainly, she'll be compelled to put her words to paper in an ongoing exchange of letters that could ruin her. It might destroy him too, but he has the advantage of gender. This is a society where inevitably, women come off the worst, and Genevieve, despite wealth and privilege, has suffered at the hands of men. It's great to see an older woman portrayed as a sexual being, and Manville is amazing.
As for Pascal and Camille, they are young but not innocent. There's a vital element of trickle-down corruption here, despite trauma early in their lives. Camille, who will one day come to claim the title Genevieve de Merteuil holds, has been forced into the streets to survive or die and currently works as a prostitute for Madame Jericho (Clare Higgins), to whom she's in debt, trapped in indentured servitude.
Pascal comes from an aristocratic family, but he's been disowned and disinherited. He's in love with Camille, but they are stuck for life in the significant underclass of the Third Estate, the vast proportion of the French population who are not royalty, aristocracy, or church officials. We meet them gatecrashing an exciting event of 1783, the launch of the first hot air balloon over Paris.
Pascal works for the government office rebuilding medieval Paris and shows Camille a colossal map, big enough to make love on later that night. He wants to marry her, pay off her debts to the brothel owner, and be able to support them. His plan B is to get a settlement from his stepmother Ondine de Valmont (Colette Dala Tchantcho), to buy land and settle with Camille in the country far from Paris. Ondine, immune to his charms, is having none of it. Her son will inherit.
Pascal's Plan A, however, is to use Genevieve's influence to restore his title and income, and only then will he return her letters. Understandably, Camille is angry;  she doesn't yet know the extent of his affairs with wealthy women. It's a turning point for Camille leading her to ally with Genevieve, who understands very well the relationship between power and corruption. Camille is also helped by her friend Victoire (Kosar Ali), a brothel servant who discovers Pascal's cache of letters (hidden in his workplace).
As a woman of color, Victoire does not have much agency, and one troubling aspect of her role is that she seems to be the heroine's best black friend at first. She has warned Camille about Pascal from the start, but as a simple measure of survival stays with her. She discovers Pascal's motherlode of love letters, but why she is loyal to Camille is a mystery. Pascal's relationship with his young servant boy is far more straightforward and equitable. But then, we don't know –– yet –– whose side either servant is on.
(Note: if you're going to blackmail someone with their letters and change your mind, do not delegate the burning of said letters to a servant.)
The issue of racial and social inequality is addressed far more emphatically by the relationship between Genevieve and her manservant, who is addressed only by his title, Majordome (Hakeen Kae-Kazin, Hotel Rwanda). He has power and standing within her household and Genevieve's respect. He may be the closest she has to a friend. Genevieve's husband is on his way back from the French sugar colony of St. Domingue, and his Black servants and vast wealth originate from that island. Time may be running out for Pascal, and we know it's running out for France.
Visually, the series is stunning, with opulent interiors and skillful indoor lighting contrasting vividly with gray street scenes that show the wretched brutality of life in Paris. Costume designer Andrea Flesch (Midsommar, Colette) has done extraordinary work, using many historically correct details, including white linen shifts and shirts as underwear and nightwear, which is overlooked or substituted so many times in historical drama. The clothes make bold statements, from the simplicity of Victoire's buttoned-up modesty to lavish silk and satin gowns. Pascal dresses for the office during the day and for party times at night (wig, powder, rouge? You bet).
Sadly, what doesn't work is the characters. We know what Pascal and Camille will become, and it's debatable whether the tension of the love-hate relationship can last the whole season, even if they steam up the camera lens together. Their on-off affair hinges on the fact that Pascal may know all about seduction, but he doesn't know about love or women, and he will have to prove his devotion to Camille through a series of seduction challenges.
Essentially, he can't win, and neither can she. There's also the complication of a subplot featuring intense and slightly weird Daniel Carré (Hilton Pelser), an officer of the Unit of Moral Discipline (yes, really) who develops an obsession with Camille and what with impending revolution and so on I don't know if this is necessary. But we'll find out.
On the other hand, Dangerous Liaisons has a lot going for it –– great acting, a creditable attempt to portray a turbulent time in history, excellent costumes, and, we hope, the potential to surprise us as the secrets and deceptions are unraveled.
Dangerous Liaisons premieres new episodes weekly every Sunday from now through Dec. 18, 2022, at 9 p.m. on linear cable and streaming the same day on Starz's app.
---
By
for on November 8th, 2022
More to Love from Telly Visions