By
for on May 31st, 2022
Rowan Atkinson Goes to War with an Insect in Trailer for 'Man vs. Bee'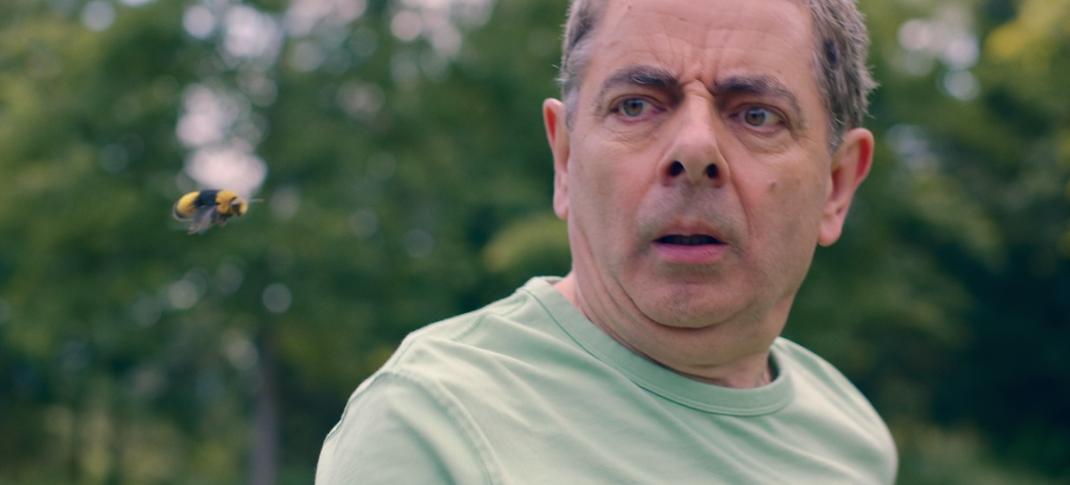 Netflix has released the trailer for the new Rowan Atkinson comedy Man vs. Bee and...it's pretty much exactly what you'd expect from the title.
This isn't necessarily a bad thing, by the way. Atkinson rose to global fame starring in shows that helped define the idea of British comedy for a generation―think Mr. Bean and Blackadder―and is famous for a particular brand of broad, slapstick humor. At this point in his career, when he's involved in pretty much anything, you kind of know what you're going to get. (Where is his shocking turn in a serious drama like Robin Williams did in One Hour Photo, is what I'm saying.) So if the idea of Atkinson literally fighting a bee is something that makes you giggle, read on. If not...this is probably not going to be the show for you.
The series follows a man named Trevor, who is hoping that a lucrative house-sitting job will allow him to take his family on vacation. Instead, he winds up in court, facing charges that include dangerous driving, arson, and the destruction of priceless artwork. Why? Enter the titular bee. 
Why this fuzzy insect so clearly has it out for Trevor is unclear, but wacky hijinks ensue, all laced with plenty of Atkinson's trademark physical comedy. (The trailer alone sees him hit himself with a crowbar and get the bee stuck inside his pants.) 
Watch for yourselves below:
The official synopsis describes the series as follows. 
Renowned actor and comedian Rowan Atkinson plays a new character in this riotous comedy. When lovable, but bumbling, dad Trevor lands a new job as a housesitter, his first assignment is a luxurious mansion filled with priceless artwork, classic cars and an adorable dog called Cupcake. But when a bee lands on the scene, can Trevor keep everything under control, or will their raucous rivalry just lead to increasingly disastrous consequences? And what irreparable damage will be done in the process? See the chaos unfold in this watch-together zippy comedy series of short-sized episodes.
The series will arrive on Netflix on June 24 and will consist of nine "short-sized episodes." (What that means, exactly, is unclear at the moment, but the fact that the folks in charge know this is likely a gag with a very limited shelf life is a relief.)
Despite what the title would have you believe, the series' ensemble is made up of more than just Atkinson and the titular bee, including  Jing Lusi (Crazy Rich Asians), Claudie Blakley (Flesh and Blood), Tom Basden (After Life), Julian Rhind-Tutt (Harlots), Greg McHugh (A Discovery of Witches), and India Fowler (White Lines).
Man vs. Bee also reunites Atkinson with writer William Davies and producer Chris Clark, who both worked on the James Bond spoof Johnny English. 
The series streams on Netflix beginning June 24. 
---
By
for on May 31st, 2022