By
for on October 19th, 2012
Returning Cast Members, Storylines Revealed for Final Series of Skins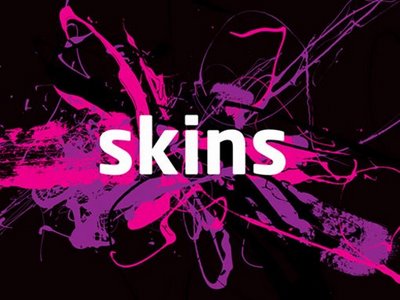 E4 has confirmed which cast members will return for the final series of its groundbreaking teen drama
Skins
. The show
will bow out with three two-part specials
, each focused on a different character and their journey into adulthood.
The finale specials will primarily feature Kaya Scodelario's Effy, Jack O'Connell's Cook and Hannah Murray's Cassie, though it's looking likely that several of the other regular Skins cast members will make appearances in each of these episodes. For example, Lily Loveless and Kat Prescott are set to appear as fan favorites Naomi and Emily, though none of the specials will technically be centered on their characters.
The episodes – titled Skins Pure, Skins Rise and Skins Fire - will be written by series creators Brian Elsley and Jamie Brittain, with some help from Jess Brittain. Series 7 is described by producers as being "more adult" and "more uncompromising" than previous installments, since the teens are now young adults facing real-world problems. Well, well, well, huh? Click through some for some plot details about each of these new episodes and my thoughts on all this madness. (Spoiler: It's a mixed bag.)
First off, let's cover the details about the plots of these three specials, shall we?
Skins Pure is the Cassie episode and will be written by Elsley. Plot summary: Cassie is adrift, alone and invisible in London, trying to make sense of her life. Slowly she realizes that someone is following her. Cassie turns towards the unknown. A strange and poignant friendship is carved out of mutual loneliness, but can it survive exposure to the real world?
Skins Rise is the Cook episode and will be written by Jamie Brittain. Plot Summary: Cook has a job delivering drugs to Manchester Revellers. When he is asked to help his employer's girlfriend find a house and finds that he is irresistibly attracted to her, he sets off a train of events which will lead him into a world of savage revenge and a confrontation with his own violent past.
Skins Fire is the Effy episode (and just of course we have to end with Effy, right?) and will be penned by Jess Brittain. Plot Summary: Effy has a dead end job as a receptionist for a leading London Hedge Fund. But as she stumbles across crucial financial information relating to a troubled deal and embarks on an affair with her wealthy boss, she finds out that she has bitten off more than she can chew. Her flatmate Naomi tries to stop Effy from ruining her life, but Effy cannot be reached; until tragedy strikes.
Intial verdict: This is not entirely what I expected, though I think on the whole I'm happy with the three choices. Well, happy may be a strong word, but I'm okay with it, even if I'm a bit conflicted on some of these initial plot hints.
Things That Are Good:
The Third Generation Gets Left Out! As I'm of the opinion that Skins almost completely lost its way in Series 5 and 6, I'm over the moon that it looks like there's basically going to be no representation of the third generation in this farewell. For all its other faults, the Series 6 finale provided a good amount of closure for those characters and there's not a tremendous amount of story left to tell there. Plus, I know that if they picked anyone from that generation it would of course be Dakota Blue Fanning's Frankie and I simply cannot handle another two hours of her being the most irritating and ungrateful person on earth. The absensce of the third gen is a huge win in my book.
Cassie! Cassie! Cassie! Cassie is my personal favorite Skins character of any generation, so while I'd hoped that she might show up again for the show's swan song, I wasn't really expecting it. (Hannah Murray's on Game of Thrones now and doing who even knows what else.)  While I don't necessarily think this plot for her makes sense (see below), I think it's wonderful to have the character back at all, because she's fantastic.
Effy Needs Some Closure. While the occasionally overboard focus on Effy in the second generation – particularly in Series 4 – got tiresome, thanks to the completely ridiculous nature of the final episode featuring those characters, we have almost no idea what happened to them once their time on the show ended. And, for better or for worse, that generation is symbolized by Effy and everything her character went through, and there are plenty of loose ends that need tending to. How did she ever find out about Freddie dying? Did she have another breakdown? How on earth does she end up living with Naomi? While this character wasn't always my favorite, Effy was certainly compelling and it seems fitting that her story be part of things in this finale.
Things That Are Middle of the Road:
Cook, Really?? While I think Jack O'Donnell is a fine actor, Cook's story was never that interesting to me and he always seemed so second string in the drama of Effy and Freddie. However, I also think including episodes about both Effy and Cook is overkill and there are other characters (Tony, Katie Fitch, even Naomi and Emily, though they will apparently make some sort of reappearance in Effy's episode) that would be much more interesting to revisit in-depth. That said, I have always wondered what happened to Cook after he went to confront Freddie's murderer and there is something intriguing about the prospect of finally getting to see how that all played out. So, this could probably go either way.  
Things That Are Bad:
The Plot of Cassie's Episode Sounds Horrible. One of my absolute favorite moments in Skins is the Series 2 finale when Sid goes off to New York City to find Cassie, who's working in a diner and we see Sid walk right by it and then boom, the show's over. Despite never seeing any onscreen confirmation of this fact, I have always been convinced that Sid did find Cassie in New York somehow and told her that he loved her and that they basically lived happily ever after. (Or as close as the kids on this show get to that.) Their relationship was my favorite Skins storyline and – despite all the Freddie/Effy/Cook triangle hype – probably the best romantic pairing that the show ever managed to pull off. The fact that the description for Skins Pure has Cassie lonely, broken and back in London seems to undo so much about what going to New York in the first place meant for her character – and indicates that Sid either never found her at all, or they never worked things out. Disaster!
I'm super, super excited to see Cassie again, but I'm afraid I'm going to end up eating my words about hoping that they bring her back because this looks as though it has potential to ruin my favorite thing about the show! If they don't somehow manage to get Mick Bailey back too, just to give us some sort of closure for Cassie and Sid, I'm going to be so distressed!
Anyone have any thoughts on this? Does the Skins finale sound exciting or disappointing? I'm looking forward to it (with some misgivings) and am hoping that once we hear more about what other former cast members might show up again that I'll feel more confident in the direction it's heading. I know that Skins as a franchise prides itself on both its realism and its unpredictability, but I hope a few happy endings for these characters we loved for years wouldn't be too much of a stretch.
Source: Cultbox TV
---
By
for on October 19th, 2012
More to Love from Telly Visions