By
for on July 8th, 2013
This is a Real Thing: Giant Colin Firth Currently Hanging Out in Hyde Park's Serpentine Lake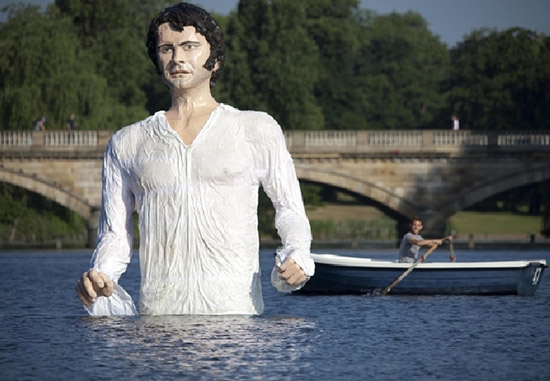 This is one of those things that feels like it ought to be too incredible – or just flat out too weird – to be true. And yet, it actually exists, in a perfect storm of awesomeness with just a dash of crazy mixed in. In short: There's a giant sculpture of Colin Firth coming out of Hyde Park's Serpentine Lake in London, basically like Godzilla, except considerably more attractive.
The twelve foot sculpture has been created to mark the launch of new UKTV channel Drama and recreates the famous scene from the 1995 BBC adaptation in which Firth's Mr. Darcy emerges from a lake, clad in a white shirt and breeches, to meet Elizabeth Bennett and made women across the globe swoon. It was voted the most memorable moment in British TV drama, hence the creation of the sculpture, which is the height of a double decker bus. Click through for more details.
The Guardian has the full story of the idea behind this event: 
The giant Darcy will be in residence in London temporarily and then will travel about the UK, including a trip to Scarborough, where the statue really will emerge from the sea like Godzilla, before arriving at his final home in Lyme Park, Cheshire, which was used as the setting for Pemberley in the BBC series and, of course, contains the original infamous lake. 
And, in case you've never seen the real thing, the Pride and Prejudice lake scene that started all this: 
As far as real-life depictions of fictional characters go, this definitely seems a bit stranger than that statue of Paddington Bear at Paddington Station, doesn't it?
---
By
for on July 8th, 2013