By
for on December 21st, 2017
Preview the 'Call the Midwife' 2017 Holiday Special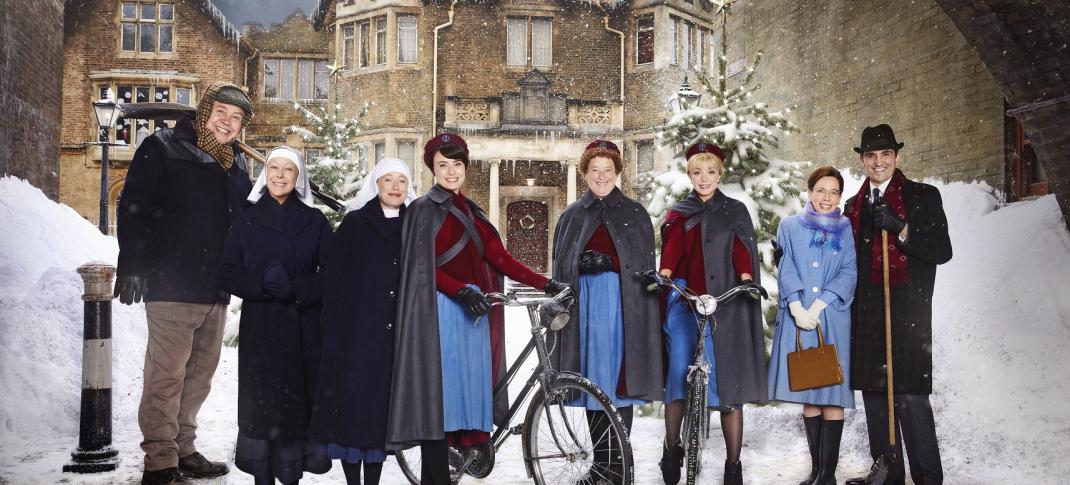 Christmas is almost here, and for Call the Midwife fans that means exactly one thing: It's time for the series' annual holiday special!
This year's festive episode takes place in the winter of 1963, during what was popularly dubbed the Big Freeze. This was the coldest winter the nation had seen in 300 years – one which still registers today as one of the coldest on record in the United Kingdom. UK temperatures plunged, bringing the country to a standstill as lakes and rivers froze, and snow fell constantly.
These blizzard-like conditions will form the backbone of this year's holiday story, as the midwives must struggle to care for their patients while facing ice, snow, frozen pipes and downed power.
Most of Call the Midwife holiday episodes tend to skew a bit on the emotional side, and this year's effort sounds no different.
Join the midwives as they battle snow, ice, power cuts and frozen pipes to provide patient care during the coldest winter in 300 years. Valerie helps a young couple who experience a traumatic birth and Sister Julienne tries to reunite a family.
Perhaps it's the especially frosty setting but this seems as though it may be the most Christmassy holiday installment yet. There's snow and festive treats and presents and all manner of heartwarming cheer.
Watch the trailer for yourself below: 
The BBC – who is also airing the Call the Midwife special on Christmas Day – released a sneak peek clip featuring several scenes from the episode during its annual Children in Need special earlier this year. (Side note: This means we're getting this on the same day as our U.K. friends, America! Rejoice!)
The feature-length episode will air on Christmas night at 9pm on PBS stations nationwide. Season 7, which wrapped filming back in November, will follow in 2018.
Are you looking forward to more Call the Midwife? Let us know in the comments! 
---
By
for on December 21st, 2017