By
for on December 7th, 2011
Preview Absolutely Fabulous' Long-Awaited Return!
It's been a long six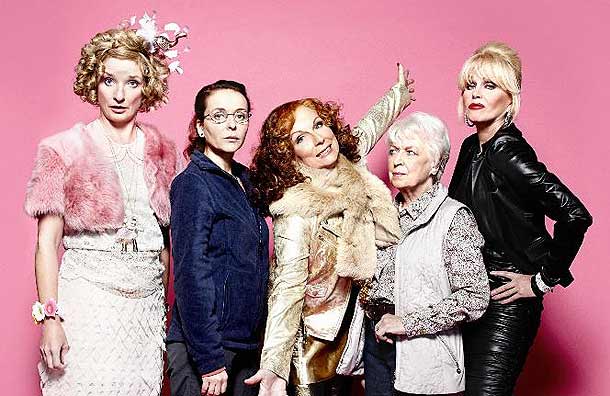 years – but break out the bolly and Pop Specs, because Absolutely Fabulous is finally coming back!  The beloved cult series has had an exceptionally erratic history – it  ran for three seasons on the BBC between 1992 and 1995, had a two-part "finale" television film in 1996, was resurrected for two more seasons from 2001-2003, then had a few one-off specials until it finally (we thought) ended for good in 2005.  Absolutely Fabulous (or "AbFab" to those of us who love it) is ranked the 17th greatest British Show of All Time by the BFI, and features Jennifer Saunders as alcoholic, desperate to be hip PR agent Edina Monsoon and her chain-smoking, hard-partying best friend Patsy Stone (played by the always amazing Joanna Lumley).  And it is hilarious.
Now, six years after that last appearance, AbFab is returning with a two-part holiday special (as well as additional episodes next year) and though it's been (gulp!) twenty years since this show first appeared on our screens, almost everyone looks basically like they've lived in a cryogenic chamber for the past half-decade, because they don't appear to have aged a day (see photo). Looking fabulous, indeed, ladies! Click through for some details on the Christmas episodes, as well as a look at the first video clip.
The first preview for the Christmas special was just released last week, and while there is a heartbreaking lack of Patsy in this clip, it's nice to see that Eddie is still in typical Eddie form, only now she's talking about blogging and tweeting and Bubble has an iPad. (I can't even talk about the all denim outfit, other than to say that Eddie's ridiculous sartorial choices make my heart happy.  This is basically the show that hooked me on British TV in the first place – my first car was named Eddie, after all – so I'm just over the moon about everything here.) 
[This video is no longer available.]
As for when the new AbFab episodes are coming to America? Well, TV Guide just announced today that something called the Absolutely Fabulous 20th Anniversary Special is set to air on January 8th on both BBC America and Logo. Given that the episode description there sounds quite like the BBC's verbiage surrounding the Christmas special, I imagine this is simply both parts put together and repackaged as a 20th Anniversary event, given that it will air after the holidays have ended. No word on the rest of the planned AbFab specials, in terms of airdates, but, then again, we don't know when the UK is getting them either, so that's probably to be expected.
Source: AOL TV,  Oh No They Didn't and TV Guide
---
By
for on December 7th, 2011
More to Love from Telly Visions