By
for on October 8th, 2019
'Press' Episode 1 Recap: "Death Knock"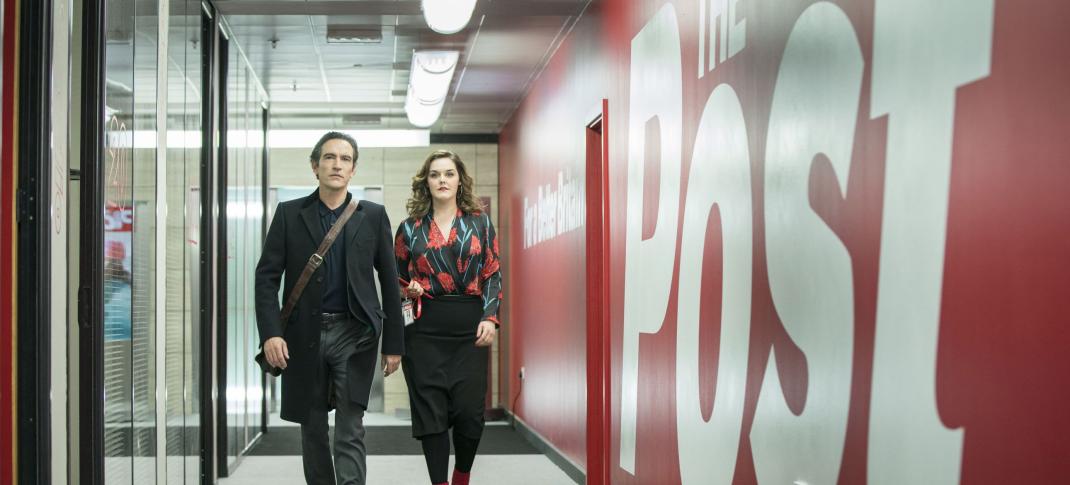 There is a phenomenon in Hollywood known as "twin films." This is when two movies (or TV series) with extraordinarily similar plots are released in the same year, by two different producers. It's not a new or surprising thing, as Hollywood is a small town. Either one person hears that a studio across the way is doing "X" project, or it's two writers inspired by the same recent events.
Press is one of these twin projects, which got underway at the BBC around the same time Succession did at HBO. Both shows were inspired by the same set of events, the Murdoch family's News International phone-hacking scandal. Both patriarch Rupert Murdoch and his son James wound up testifying in front of the Leveson Inquiry. It shone a spotlight on how U.K. papers function, as well as the internal war within the family as to who would inherit everything when Rupert retired.
Both shows premiered within weeks of each other, Succession arrived in the summer of 2018 on HBO. Press followed in the fall on BBC One.  Succession focused directly on the family drama, leaving the papers and media holdings of the "Roy" family as an "Iron Throne" to be fought over. It has become a slow-burning hit in its second season, the finale of which airs on Sunday, Oct. 13. Meanwhile, Press, which does not have a second season coming, has only finally reached American shores.
Being the U.K. based show, Press focuses on the paper itself, and the struggle of print papers to make money in this day and age. This is understandable, as Murdoch's tabloids like The Sun and his ownership of The Times are omnipresent across the country. His U.S. tabloids, on the other hand, not so much. The New York Post barely penetrates into New Jersey, let alone the rest of the country, and no one outside of the east coast cares a fig for The Wall Street Journal. 
The series tells the story of two competing papers: The Post and The Herald. Amina Chaudury (Priyanga Burford) runs The Herald as upright as she can in this day and age. Across the way is The Post, run by Duncan Allen (Ben Chaplin). Both spend their days looking at the latest scandalous pictures of politicians, the bleeds that lead, the celebrities with their stuff to hide. The difference between the two papers lies in how they treat them.
The Herald strives for decency. For instance, in this first episode, thirty-year-old pictures of cabinet minister Carla Mason (Lorna Brown) come to light of her wild times at university. The Herald runs a piece online with the story front and center for all of an hour, only linking to the photos. They then proceed to bury the story on Page 4 of the print edition with a high-minded angle about misogyny against women in power. The Post, in comparison, not only runs the photos on Page One of the print edition, and all over their website, but hounds Mason in an attempt to blackmail her into cheerleading their lowbrow efforts at a pinkwashing breast-cancer-awareness campaign. When they turn up more photos, this time of drug use, she resigns rather than give in.
In case it isn't clear from that description, The Post is the Murdoch-esque paper in this story, owned by George Emmerson (David Suchet), chairman and CEO of Worldwide News. Allen, as his attack dog, chases every story in hopes of bringing in the eyeballs and the dollars. When cub reporter Ed Washburn (Paapa Essiedu) scores an interview with the parents of a footballer who took his own life, Allen sends him back to inform the parents that their late son was closeted. The hope is to turn out a far juicier story. Washburn would prefer a more sympathetic angle, but there's decency, and there's getting ahead at The Post, and the two don't go together.
But as Emmerson points out to Allen, The Post loses money, and always will. Worldwide News does not lose money so this paper can print mucky-muck, and drive out "a minister I rather liked." By the end of the hour, Allen is charged to find, or better yet poach, a reporter with a talent for real news.
The Herald has several options in that category, including Holly Evans (Charlotte Riley) and James Edwards (Al Weaver). Edwards has a nose for political conspiracies. Before long, is attempting to chase a slim hint from a supposed MI-5 source, who gives him only a code word "Resonance." Edwards might have walked away from it, except MI-5 themselves tip him off by calling up the paper to make threatening noises, proving this could be a rabbit hole worth jumping into. 
Meanwhile, Evans is tracking a hit and run case, which it turns out killed her roommate.  Unfortunately, The Post got their hands of the CCTV camera footage from the local shop before she did. She's forced to ask Allen if he will share, or at least make a deal. Reports are the car was a police vehicle, and the cops are covering it up.
Allen doesn't see this as a big story and refuses to give Evans the footage out of spite, because she once called him terrible names in an article. But once he realizes she needs this footage, and he needs to poach someone worthwhile, he hands it over, no strings attached, to see what she turns up. Evans could be a long game catch if he plays his cards right.
---
By
for on October 8th, 2019