By
for on December 24th, 2011
Our Countdown to Downton Abbey Series 2 Starts Tomorrow!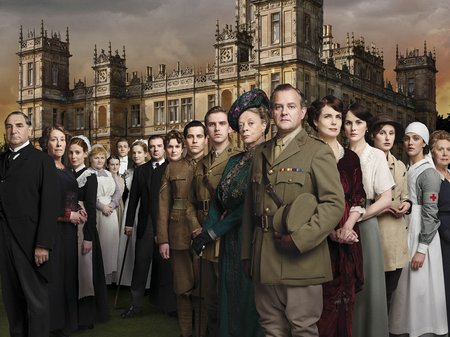 Tomorrow is fabulous, not only because it's Christmas for those that celebrate, but because it officially marks two weeks until the premiere of Downton Abbey Series 2 in the U.S.  Hurrah! (I'm almost as excited for the Dowager Countess' return as I am for Santa; just saying…)
To really get in the spirit for our return to Downton, we're planning a slew of features and fun things here at Telly Visions, as well on our official WETA website.  Things are kicking off tomorrow afternoon with a marathon rebroadcast of Series 1, starting at 5pm on TV 26 and WETA HD. We'll air the entire first season back-to-back-to-back-to-back, so this is a perfect time to refresh your memory about the Crawley family drama or perhaps finally see what all the buzz is about for yourself. 
Here on the blog we plan to cover all the reasons you should watch this amazing show in the first place, dish about previews and cast Q&As, share some new photos, talk fashion, look at some history, and celebrate some of the amazing actors that bring the series to life.
However, I thought it might be fun to ask you, the readers – what about Downton fascinates you? It's been ages since I've seen a series like this sort of capture such a large piece of the public imagination, and I think that's awesome.  So, what would you like to talk about over the next couple of weeks? And what do you think would be fun for those of us who are (I assume) all such huge fans of this drama? More history? Trivia? Character studies (from the in-depth motivational analysis to the more basic "Who are all these people?" variety)? Something silly? Open to any and all suggestions – and would appreciate it!
---
By
for on December 24th, 2011