By
for on November 5th, 2021
Olivia Colman Returns To Netflix In The Intense 'The Lost Daughter' Trailer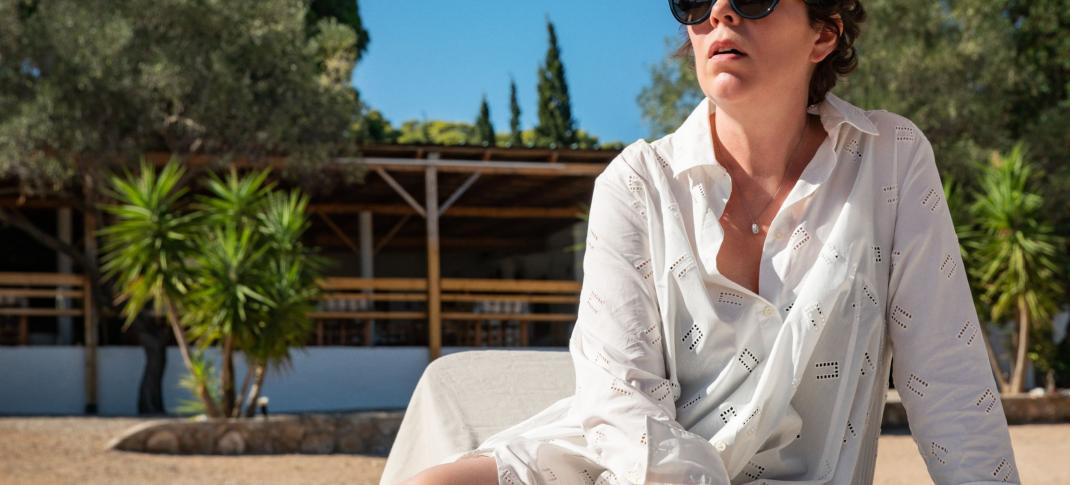 Olivia Colman may have completed her time as Queen Elizabeth II on Netflix's The Crown, but she's not yet done with the streaming service. Her latest film, The Lost Daughter, which has been making the rounds of film festivals in preparation for a run at awards season, was picked up by the streamer back in August 2021, just ahead of a rapturous debut at the Venice International Film Festival. The movie also stars fellow British favorite Jessie Buckley alongside Dakota Johnson in a script based on the 2006 novel by Elena Ferrante of the same name.
Colman plays Leda, a college professor on holiday alone at a seaside summer resort. Her lonely trip is interrupted when she meets an extended family who camps out next to her on the beach, including Nina (Johnson), whose relationship with her young and needy daughter, Elena, becomes a focal point of Leda's thoughts, raising memories of attempting to raise her own children, and what seem like choices that she may have spent her life regretting. Moreover, she seems to see the same in Nina, and when Elena disappears, Leda becomes determined to find her.
As is Netflix's strategy with all its awards-bait films, The Lost Daughter will have a premiere exclusively in theaters with a move to streaming a couple of weeks following. Both release dates will be before the end of 2021, ensuring the film will be eligible for everything. Check out Netflix's trailer:
The film's official synopsis is as follows:
Leda, an elegant college professor, is on a seaside summer vacation, who becomes consumed by Nina and her young daughter, as she watches them on the beach. Unnerved by their compelling relationship and their raucous and menacing extended family, she becomes overwhelmed by her own memories of the terror, confusion, and intensity of early motherhood. Forced to consider the unconventional choices she made as a young mother and the consequences they had for her family, she begins to unravel. Lost in ways she can't explain, she finds herself caught in the strange and ominous world of her own mind.
The book was adapted by Maggie Gyllenhaal and marks the actor's directorial debut. Colman, Johnson, and Buckley are joined by co-stars Ed Harris (Westworld), Peter Sarsgaard (The Killing), Dagmara Dominczyk (Succession), Paul Mescal (Normal People), Alba Rohrwacher (My Brilliant Friend), Jack Farthing (Poldark), Oliver Jackson-Cohen (The Haunting of Hill House), and Panos Koronis (The Durrells In Corfu), plus newcomers Robyn Elwell, Ellie Blake, and Athena Martin. The film was shot in Greece in late 2020. 
The Lost Daughter will premiere in theaters on Friday, Dec. 17, and follow to streaming on Netflix on New Year's Eve, Friday, Dec. 31, 2021.
---
By
for on November 5th, 2021