By
for on September 14th, 2022
The New 'Great British Baking Show' Trailer is Fresh from the Oven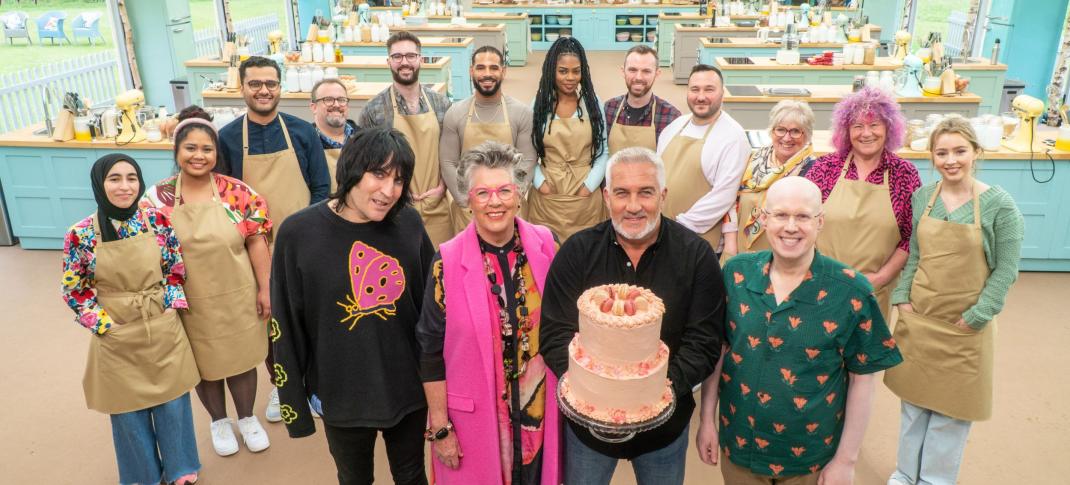 This week is a heavy one in the U.K. as the mourning period for Queen Elizabeth II extends until her funeral on Monday. But though much of U.K. television is being either canceled or delayed (sorry, Strictly Come Dancing fans!), one show has risen and delivered out of the oven right on time. The Great British Baking Show's new season (Season 13 over there, Collection 10 over here) premiered on Channel 4 on Tuesday at 8 p.m. BT. That means in less than 60 hours, the debut of the super-sized 90-minute premiere will arrive on Netflix, right when we need it the most. 
The Great British Baking Show got lucky in its timing and relationship with Netflix. While just about everyone else in the universe has been bumped for the Queen, on both sides of the pond, the combination of there being no actual Queen-centric event on Tuesday evening and the need to premiere before Netflix's debut kept GBBO on the schedule. Though some might consider that to be a bit disrespectful of HRH, after days of watching her coffin travel around the country and mourners flocking the streets, people on Twitter seemed to appreciate the momentary break.
For those of us on this side of the pond, the debut comes right in the middle of the Queen's lying in state in Westminister Hall, and its Friday debut means everyone will have a chance to take a break from their schedule from Queen Elizabeth coverage to enjoy meeting our new bakers in the tent. This season didn't know when it was filmed it was going to be called upon to comfort an entire nation in grief. However, from the looks of the official Netflix trailer, this season is ready to be the comfort TV everyone is craving, arriving freshly baked from the oven right when we need it the most. 
The judges, as always, are Paul Hollywood and Prue Leith, with Matt Lucas and Noel Fielding as hosts this season. Matt returns to the hosting position after stepping into the contestant's shows during the show's celebrity edition (which doesn't stream over here). According to Paul and Prue, the experience has changed his perspective. "As soon as he got behind the bench and we approached him, he was nervous and knew us as friends. I found that bizarre. That shows the power of the tent," said Paul Hollywood. "The pressure bakers are under cannot be underestimated. People make silly mistakes they'd never do normally. I've seen that every year. It's because of the time, cameras, lights and you're in the tent. Everyone's fallible."
This year's crop of bakers includes Abdul, Carole, Dawn, James, Janusz, Kevin, Maisam, Maxy, Rebs, Sandro, Syabira, and Will, and Rebs already won my heart for comparing Paul Hollywood to a White Walker. Now to see if everyone's baking can measure up to their personalities.
The Great British Baking Show Collection 10 (aka Season 13) premieres on Netflix on Friday, Sept. 16, 2022, at 3 a.m. ET. It will run on a weekly release schedule with new episodes arriving from across the pond every Friday after they air on Channel 4 on the Tuesday of that week.
---
By
for on September 14th, 2022
More to Love from Telly Visions