By
for on February 25th, 2017
A New Detective for 'Death in Paradise'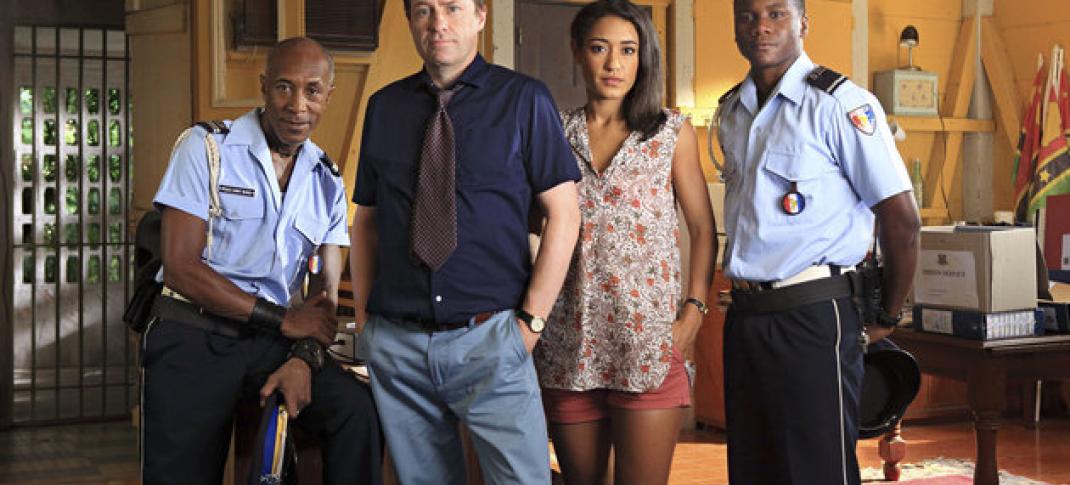 No doubt many PBS viewers are familiar with the charming BBC mystery/dramedy Death in Paradise. Every episode provides a not-so-gruesome murder or two, a display board full of suspects, a few red herrings and a conundrum. Our hero suddenly has a eureka moment – and gathers everybody together to explain exactly how the murder went down, Agatha Christie style. And all this in a breathtaking island setting no less.
But now the popular series seems to be taking a page from The Doctor Who playbook. After a few seasons of six month location shoots and time away from family, the lead actors have made the difficult but necessary decision to move on to other pastures only to be replaced by another Brit with a comedy background. And it would appear the DI torch has been passed yet again and right in the middle of Season 6 which just finished airing on BBC1 last week. More on that in a moment, but let's just take a moment to review.
The original chief, you'll recall, was DI Richard Poole (Ben Miller). Well, to be entirely accurate, Poole was there to investigate the murder of and then replace DI Charlie Hulme played briefly by Hugo Speer.
Then came DI Humphrey Goodman (Kris Marshall) to investigate the homicide of his predecessor as well.
Ardal O'Hanlon is the third actor to step into the role of the semi-permanent Metropolitan Police Detective Inspector on the fictional Caribbean island of Saint Marie. He plays widowed father DI Jack Mooney. And SPOILER ALERT: Fans of DI Goodman rest easy. This new cast change is not played out by dear Humphrey being murdered.
Doctor Who fans will know this actor as Thomas Brannigan, a Cat from New New York in the 'Gridlock' episode. Others may recognize Ardal from his work on sitcoms such as London Irish, My Hero and of course as the childlike, slow-witted Father Dougal McGuire from Father Ted.
What will Death in Paradise's DI Mooney bring to the table, character-wise, when viewers in the US eventually get to meet him? In a Radio Times interview O'Hanlon said, "I suppose, with me, they're going for something a little bit quirky on the island. I've tried to bring a certain kind of a warmth to it. Mooney is quite friendly, quite genial and slightly underestimated because of it. Maybe there's some of the naivety that I've brought to other characters before."
A seventh series featuring DI Mooney as head honcho at the Honore Police Station has already been commissioned for 2018. How do you feel about the departure of Kris Marshall and the arrival of Mr. O'Hanlon? Will you watch the new series or has this habit of lead actor replacement left you cold? Please share your thoughts in the comments section.
---
By
for on February 25th, 2017