By
for on February 17th, 2023
Britbox's 'Make It At Market' Leads Off a Fantastic Food & Home Line Up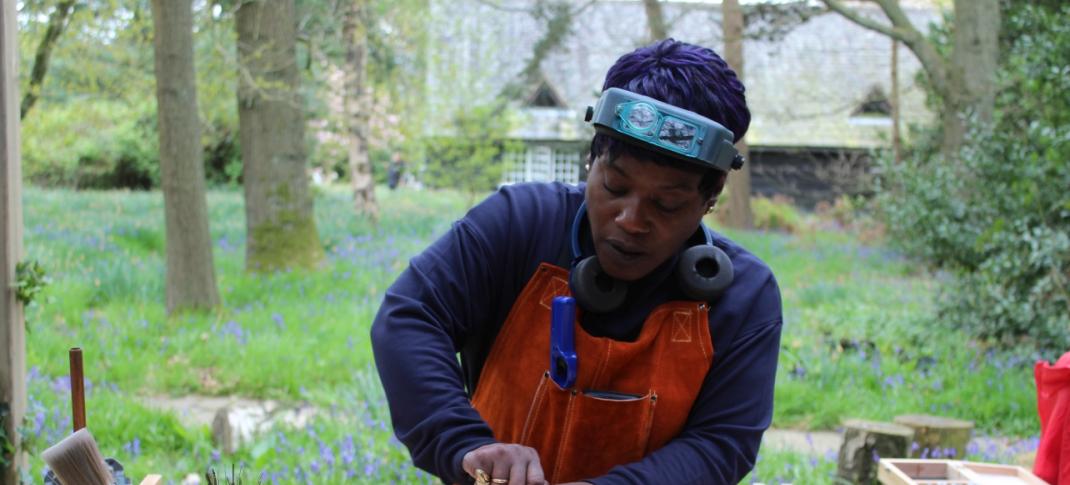 Food and Home shows are some of the most-watched programs on television, no matter what side of the pond you are on, bringing viewers comfort TV in the form of talented people doing their best work. BritBox, which has been making a play for a growing audience, has trebled down recently on the genre, leading off with its own original series, Make It At Market. Combining the warmth of The Great British Baking Show, with the joy of watching artists at work, Make It At Market is thoroughly enjoyable. It's hosted by the genial Dominic Chinea (from the hit BBC series The Repair Shop, streaming in the U.S. on HBO Max/Discovery), who is joined by a team of professional artists/entrepreneurs to act as mentors and advisors.
The location, the Stonewall National Trust Property, is a late nineteenth-century estate in Leicestershire associated with the British Arts and Crafts movement (1880–1920), and the artists' workshops are mostly tents in the grounds. Azaleas and rhododendrons bloom amidst gorgeous foliage, and there are plenty of shots of birds and bees and flowers. The participants –– potters, jewelers, woodworkers, upcyclers, stoneworkers, textile artists, glassblowers and more –– have all arrived at the point where they are ready to start a business doing what they love.
For some, it's a profound personal journey to arrive at the point where they are ready to take this important next step. Morgan, a former cabinetmaker and now a woodworker, came to the realization that he should do what he loves after a potentially serious medical diagnosis. Belinda, a glassblower who has autism, finds her art healing and calming, concentrating her thoughts on one thing. Dea, a basketmaker and former circus gymnastic teacher, has ADHD, autism, and chronic fatigue syndrome and realized after her diagnosis why her life had been so difficult and how significant basket weaving is for her. She needs to be able to work from home.
For others, it is economic survival, having sunk their money into starting a business or needing to support their family. Glassblower Mark has acquired his own studio. He hadn't practiced his craft since 1984 after he left art college with lead poisoning. It was like riding a bike, he says, being able to pick up his skills again, but he's exhausted his financial resources and must make a living.
The format is simple. Each artist is paired with a mentor who is already successful in their field to give advice on all aspects of their business and occasionally provide technical improvements. The first challenge the artists are given is to create a high-volume piece that can be turned out quickly to provide a regular income for the business. Izzy, a potter who took the risk of leaving a successful advertising career, chooses candlesticks that she can knock out on the wheel in about ten minutes. Basketmaker Dea decides to produce laundry baskets, which she describes as bringing "...a little bit of beauty into a mundane part of life."
Secondly, they must make a high-end piece, possibly larger or using more expensive materials, and be able to put a price on it. Most people just don't know. Willow weaver Cath, who started her work relatively late in life, and is a prolific producer of hares, fairies, and other fanciful willow pieces, makes a unicorn. It's quite big, and she's priced it at 250. When she's advised to add two more zeros, she describes it as her Antiques Roadshow moment. She's sold a little but mostly gives her pieces away, delighting her grandchildren immensely. Dominic's first piece of advice is, "Giving away is not helpful."
They are also asked to share their favorite piece, something they love to make, giving their mentor insight into their creativity.
Technical advice is a less significant part of the program, given that the artists already do outstanding work. Cath is advised to skip the fairy stuff and go big and learn to weld so she can make frames to support larger pieces. Spoonmaker Shannon, who uses traditional wood-turning techniques with a foot-powered lathe, learns how to use an electrical lathe to speed up the production of her high-volume pieces without losing her adherence to her tradition.
The artists are given an action plan to work on for two months. Very few have websites or use social media, a topic that appears on almost everyone's list. Some, like furniture maker Morgan, lack confidence in their work or are held back by perfectionism. They are given ideas to promote their business, such as events or teaching workshops and classes, and then return to the site. They share their successes and are given a major, surprise opportunity to promote their business and share their art –– the chance to sell at a high-end craft fair or art gallery or display their work in a museum.
After seven weeks, there's a follow-up. Some have made relatively large sums of money; if they haven't, we're reasonably sure they will. Overall they are thriving and happy, and it's great to see. What a great show! All fifteen episodes are available on BritBox.
Whack it in a tray … smash it out … everything here is like best mates … crispy and gnarly … gorgeous oils just kind of cooking out of there... it's fast, it's furious, it smells incredible… happy days. - Jamie Oliver
Chef, restauranteur, and author Jamie Oliver's mission is for ordinary people to have abundant good food. He started the Feed Me Better program to make British school lunches more healthy in 2005 and won the 2010 Ted Prize. He's currently rebuilding his restaurant empire (which crashed during Covid) with a takeout venture. His casual approach (his five children wander in and out of the kitchen and sometimes help) is charming, and his enthusiasm and sheer pleasure in what he does is just, well, delicious.  
Jamie's One-Pan Wonders (2022) 
Headlining Britbox's new cooking collection, Jamie explores the possibilities of "deliciously easy, gnarly meals cooked in just one pan, pot, or dish." It's particularly timely since U.K. energy prices have dramatically increased. As he told USA Today about the book that accompanies the series, "I came up with this genius revelation that people hate washing up ... I thought that having one vessel, one tray, one pan was the way to go keeping the ingredients minimal." Most of the recipes include eight or fewer ingredients. Season 2, Jamie's One Pan Wonders Christmas Specials, presents two episodes following the same rules.
Jamie Oliver: Together (2021) 
Including both a celebration and a thank you meal, just as the country was emerging from the pandemic, Jamie rethinks the traditional picnic, throws a taco party, and serves up a vegetarian feast and a steak dinner.
Jamie's Quick & Easy Food (2017–2020) 
Seasons 1 and 2 (each eight episodes) include some odd pairings –– lamb and spaghetti? Tuna and meatballs? Scallops and black pudding? The emphasis is on easy shopping for five main ingredients and simple recipes. Season 3, Jamie's Quick & Easy Christmas Special, sticks to the five-ingredient rule with spectacular results.
Jamie's Festive Feast (2013) 
This standalone features comfort food for the time between the last of the Christmas turkey sandwiches and New Year's Eve excess.
Jamie and Jimmy's Food Fight Club (2012) 
Two Essex boys, Jamie and his longtime friend, TV presenter Jimmy Doherty, invite celebrity guests to cook their favorite foods at a pop-up cafe, including Patrick Stewart (burger), David Tennant (Croatian cuttlefish risotto), Martin Clunes (paella), and Mary Berry (seafood). Jamie and Jimmie also issue a British sausage challenge to Germany (well, why not).
I'm never going to say I put boundaries on myself ever again. I'm never going to say I can't do it. I'm never going to say "maybe." I'm never going to say, "I don't think I can." I can and I will ... - Nadiya
Nadiya's recipes, flavors, and techniques wowed the judges, but her heartfelt speech as winner of the 2015 Great British Baking Show (Season 3, available on Roku) moved us all to tears. Since then, her multiple careers as a chef, author, entrepreneur, and TV star have taken off.
Nadiya's Family Favourites (2018) 
This series shows Nadiya's genius for making food that is as much about the people eating it as it is about bold flavors, beautiful presentation, and great taste.
Nadiya's Party Feasts (2018) 
In this one-episode Christmas special, Nadiya cooks up a feast and goes out into the community to lend a hand with others' special cooking projects –– schoolchildren cooking for a beloved 95-year-old volunteer and a cake for a surprise birthday party.
Swearing is industry language. For as long as we're alive, it's not going to change. You've got to be boisterous to get results. -Gordon Ramsay
Multi-Michelin-starred chef Gordon Ramsay owns successful restaurants worldwide, from the U.K. and France to Singapore and the United States. His cooking has championed simplicity, flavor, and freshness and promoted local sourcing. A star of the small screen both in the UK and internationally, with shows such as Kitchen Nightmares, Hell's Kitchen, Hotel Hell, and MasterChef US, he is particularly infamous for his fierce competitiveness, shouting, and uninhibited swearing while on camera. No wonder TV loves him.
Culinary Genius (2017) 
This incisive series concentrates on food prep, beginning with knife work. Amateur cooks slice and dice fruit and vegetables, debone and fillet meat and fish, and then create and presents a main course using those and other ingredients. In each of the six episodes, five new contestants compete for a grand prize of £1,000 in front of a live audience. Apparently, the contestants were not allowed to keep their snazzy aprons.
Gordon Ramsay's Home Cooking: Festive Specials (2013)
Three episodes feature Gordon Ramsay cooking at home with his children, wife, and mum. The family-orientated nature of this and similar shows means that notoriously potty-mouthed Chef Ramsay was either heavily edited or threatened with a bar of soap and a Christmas stocking full of coal.
Gordon Ramsay's Home Cookery Course (2012)
In nine episodes, you can cook like Gordon Ramsay! Bear with the fancy camera silliness and hype, and take notes. Gordon knows what he's doing, and there is a lot to learn here, from advice from food vendors to what equipment you really, really need (three knives. Yes, three). Two episodes are on cooking on a budget.
Gordon's Ultimate Home Cooking (2012)
Demonstrating budget-friendly recipes for breakfast, lunch, and dinner over twenty episodes, Gordon cooks at home, recruiting his children to help cook their favorite dishes. All recipes from traditional British (butty sandwich, shepherd's pie, sticky toffee pudding) to French, Chinese, American, vegetarian, Italian, and Southeast Asia cuisine adhere to his mantra of fast, easy, and delicious.
Ramsay's Kitchen Nightmares (2004–2009)
Before the show crossed the Atlantic to become a manic shouty swear-fest, the slightly kinder and gentler British original, which ran for six seasons, always left the viewer hopeful that the restaurants Gordon visited would survive and thrive.
Gordon Ramsay: Cookalong Live (2008)
Each week, Gordon prepares a themed menu ranging from curry night to a 1970s theme and participates in a challenge with that episode's celebrity guest to cook a dish chosen by the celebrity. (Don't get too excited. Remember, these are 2008 celebrities. Very few are still in the news.)
Ramsay's Boiling Point (1999) 
Chef Ramsay is closely followed during eight of the most intense months of his life as he opens his first (and now flagship) restaurant, Restaurant Gordon Ramsay, in September 1998. Documenting the volatile, precarious world of restauranteurs as well as that of its star chefs, Gordon's strong personality and presence in this five-episode documentary series shaped his TV career.
More than just a mantra, cook, eat, repeat is the story of my life. -Nigella
Nigella Lawson doesn't consider herself a chef but someone who loves to cook and eat, bringing a dreamy sensuality to the screen. Famous for her avid enjoyment of what she cooks, her tactile handling of ingredients, and her celebration of rich, luxurious foodstuffs, Nigella Lawson slinks around the equally gorgeous kitchen of her London home like a hungry panther who can cook.
Nigella's Cook, Eat, Repeat (2022) 
The show's seven episodes conclude with, you guessed it, a Christmas special. She also demonstrates her adventurous adaptations, for example, adding the beloved and very English fish fingers to bhotra, a vegetarian dish from the Indian subcontinent.
Simply Nigella (2015) 
In six episodes and a Christmas special, Nigella presents cooking and food as calming and cheering activities. We see Nigella wander into shops for ingredients, eat at restaurants for inspiration, and dip into favorite cookbooks from her comfy chair at home. Vibrant cityscapes and footage of London scenes are interspersed with cooking and eating with friends.
Sometimes friend and rival of former trainee Gordon Ramsay and trying to outdo him in kitchen shenanigans, Chef Marco has crazy hair and a reputation to match as an early enfant terrible of the British restaurant scene.
Marco Pierre White's The Chopping Block (2009) 
In this reality-competition series hosted by Marco Pierre White, chefs are tested in a series of challenges for a shot at the grand prize: opening their very own Manhattan restaurant. The Chopping Block challenges its 16 contestants to cook with aphrodisiacs, re-invent Marco's signature dishes, and serve Italian food to Italian celebrities. Based on an Australian series of the same name but featuring American contestants and created by NBC, its ratings were so abysmally low it was axed after three episodes before a later resurrection of the entire series. You have to wonder why Britbox chose it.
Marco's Kitchen Burnout (2010) 
The Guardian's synopsis of the series speaks for itself: "[A] handful of barely-recognisable celebrities have to cook restaurant-quality meals in a professional kitchen while Marco Pierre White spectacularly misappropriates quotes from Sun Tzu's The Art Of War." Why, BritBox? Why?
Cooking Up a Fortune (2019) 
The series features a diverse cast of ordinary people who want to transform their family recipes into a business, but not in a traditional restaurant setting. In twenty episodes, we visually sample food from Bangladesh, regional Britain, the Caribbean, and the Mediterranean. Each pair of contestants sells and serves their food at a large global indoor food market in London, meeting various challenges along the way. It's hosted by entrepreneur Dominic Cools-Lartigue, the founder of Street Feast, which has pioneered night market culture in London.
Rachel Allen's Dinner Parties (2010)
Dealing with dinner party nerves and inadequate cooking skills, hosts become sous-chefs to Rachel Allen and learn new skills in this feel-good series from Ireland. Better yet, if you make it to the last (tenth) episode, you will learn how to make baked beetroot risotto.
Best of Come Dine with Me (2010) 
This entertaining, snarky, and frequently raunchy series bring together groups of people who take turns hosting a dinner party. On their way home, the guests judge the efforts of that night's host, actually holding up scorecards in the taxi, with the highest score winning a £1,000 prize. 
Bon Appetit. 
---
By
for on February 17th, 2023
More to Love from Telly Visions