By
for on April 27th, 2023
Netflix's First Images of 'The Crown' Season 6 Skip to The Next Generation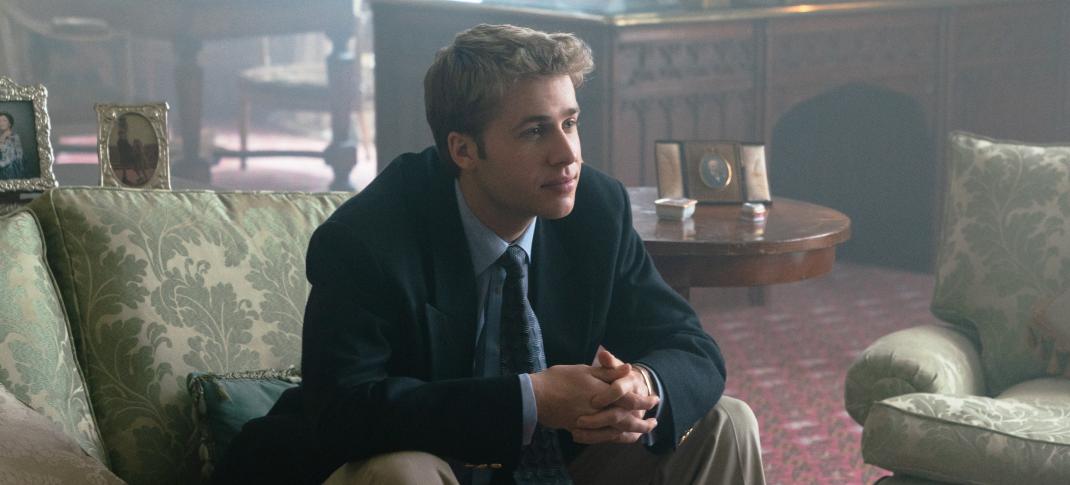 The Crown's final two seasons landed at an awkward time for the Royal Family, though some might argue there would never be an ideal one. However, there's little argument the early seasons coincided with the Windsors on an upswing. With Prince Harry engaged to Meghan Markle — a divorced Catholic woman five years his senior — it looked like the family was correcting past mistakes and giving the new generation the happy ending denied to those who came before. And had the show been able to stick to its original release schedule of a season a year, it would have cleared the Princess Diana divorce hurdle in 2020 before all that came crashing down.
However, no one told Netflix that recasting a show nose to tail would lose the production an entire year, and with the plan to do it twice in place, the series' original plan to conclude Season 6 in 2021, ending with Queen Elizabeth II's 60th year on the throne and the Diamond Jubilee did not come to pass instead, by the time Season 4 concluded in 2020. Prince Andrew's scandals busting out all over, series creator Peter Morgan was already backing away from doing the 2000s at all since Andrew's alleged behaviors dated back to the early aughts, first trying to cancel Season 6 entirely before deciding to have Seasons 5 and 6 each cover half of the 1990s.
Then the worst happened, as Elizabeth passed two months before Season 5's scheduled arrival, rehashing now-King Charles' divorce from Diana and his affair with Camilla, about to be crowned Queen instead. Morgan's decision to extend the 1990s to two seasons rather than do Diana's later life in one go also backfired, as now the show will be recounting Diana's tragic death and the modern monarchy's darkest period in the eyes of the public all of six months after Charles has been coronated. With First Look images dropping only days before the historical coronation, the production is doing its best to mitigate the damage and keep the Palace happy the only way it can.
By skipping over that part of the story entirely to focus on the next generation of royals and moving directly to When Wills Met Kate, with images of newcomers Ed McVey and Meg Bellamy as the royal couple in their school years. 
Not that this solves things entirely. Bill and Cathy Cambridge have done their best at keeping up appearances and have made a firm go of staying married no matter what. The now-Prince and Princess of Wales are officially next in line, with no signs of publicly cracking. Unfortunately, that hasn't kept their private behaviors out of the tabloids, with Will's mistress not-so-quietly spotted at royal events, a few of his proclivities leaking in an embarrassing fashion, and Charles not helping matters by referencing things that he would be better served left uncommented upon.
However, on screen, they do look adorable.
The Crown Season 6's synopsis has also gained a disclaimer for the first time. It reads as follows:
Inspired by real events, The Crown is a fictional dramatization of the story of Queen Elizabeth II and the political and personal events that shaped her reignAs The Crown enters a new decade, Prince William starts at University in St Andrew's, determined to lead as normal a life as possible while he still can. Also beginning life as a University student, is Kate Middleton from Berkshire. As the pair meet for the first time on campus, a new romance and a new future for The Crown begins.
The sixth season of The Crown sees the return of the final cast, with Imelda Staunton as Queen Elizabeth II, Jonathan Pryce as Prince Philip, Lesley Manville as Princess Margaret, Dominic West as Prince Charles, Elizabeth Debicki as Princess Diana, Claudia Harrison as Princess Anne, Theo Fraser Steele as Timothy Laurence, James Murray as Prince Andrew, Sam Woolf as Prince Edward, Marcia Warren as The Queen Mother and Olivia Williams as Camilla Parker Bowles. 
The final season also brings back Khalid Abdalla as Dodi Fayed, Salim Daw as Mohamed Al-Fayed, Bertie Carvel as Prime Minister Tony Blair, Lydia Leonard as Cherie Blair, and Andrew Havill as Robert Fellowes. Bellamy is not the only newcomer to the series; Rufus Kampa splits the role of Prince William with McVey; Flynn Edwards and Luther Ford will do the same with Prince Harry. Timothy Dutton plays Michael Middleton, and Richard Rycroft is the Archbishop of Canterbury.
The Crown's final season is expected to debut on Netflix with ten episodes in November 2023.
---
By
for on April 27th, 2023
More to Love from Telly Visions