By
for on February 28th, 2021
'Nadiya Bakes' Is 'The Great British Baking Show's' Best Unofficial Spinoff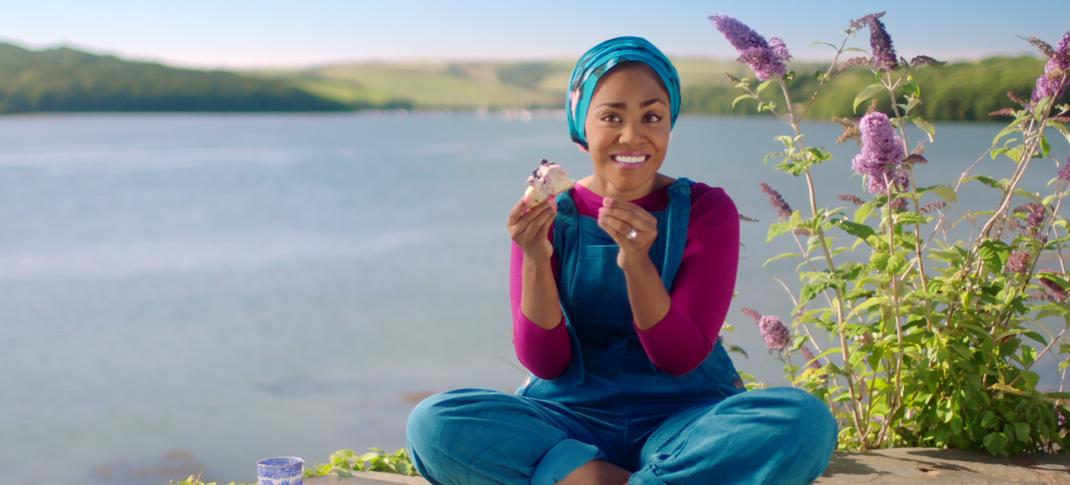 Netflix's latest reality show series from the U.K., Nadiya Bakes, is not technically a direct spinoff of The Great British Baking Show. Love Productions does not produce it; neither Paul Hollywood nor any other bakers from Season 3 (U.K. Series 6) show up. But from the opening shot of a butterfly in a garden alighting on a flower and soothing cheery music kicking off, the calls back to what was once the BBC's flagship reality series is evident. Produced by BBC Studios, the eight-part series is the spiritual successor to GBBO, with the knowledge that its job is to be all the soothing comfort one would expect from one of the biggest stars it's ever produced.
Not every reality show can make stars, no matter what it promises. The Kelly Clarksons, the One Directions, the Guy Fieris are few and far between, the success that provides the dream of everyone who competes. Out of all the winners of GBBO, Nadiya Hussain, who arrived on the show a shy underdog, seemed an unlikely breakout star. But she has eclipsed everyone, even Nancy Birtwhistle (winner of Season 1/U.K. Series 5), who at the time seemed the candidate to beat for GBBO household name recognition. Instead, it's Nadiya who went on to bake for Queen Elizabeth II's 90th birthday and become one of British TV's most recognizable faces in cookery. 
But winning Bake Off seemed to have stirred her to new heights. When Nadiya said in the finale she believed now she could do anything; it turns out she meant it. Best of all, she's proved a sharp businesswoman with savvy acumen. Nadiya has, since her win, hosted shows ranging from The Chronicles of Nadiya, Nadiya's British Food Adventure, and Nadiya's Family Favourites, which came with a tie-in cookbook. She co-hosted The Big Family Cooking Showdown, which ran on Netflix. She's a regular contributor on The One Show and a significant presence in Good Food magazine. She's authored multiple cookbooks and even published midgrade fiction, including The Secret Lives of the Amir Sisters, billed as a British Muslim take on Little Women.


Nadiya Bakes is the second BBC Studios production to come to Netflix after Nadiya's Time To Eat (renamed from Nadiya's Family Favourites, the series' original title when it ran on BBC Two). Like that earlier series, Nadiya Bakes plays up the GBBO connection both visually and aurally. The opening promises us "a soothing slice of cake" and "the comforting crunch of a biscuit." The series initially aired in the U.K. in September, just as the second lockdown was in full swing, and the show is edited for maximum reassurance as if it knows why we're tuning in.
Like Time To Eat, most of Nadiya's baking is thoroughly British, with scones, pavlovas, and madeleines on the menu. It also features guest stars, some who will be familiar to American foodies, like Dan Nemeth, and some who will be new faces, like Aneesh Popat. But that's the fun of all these imports from BBC Two, the chance to see what HGTV and Food Network might look like when filtered through other cultures. But where some dishes might have felt foreign under another chef, Nadiya knows she's appealing to a broader audience. She's also teaching those in her home country about the South Asian cuisine she loves, making this a project where we all learn together.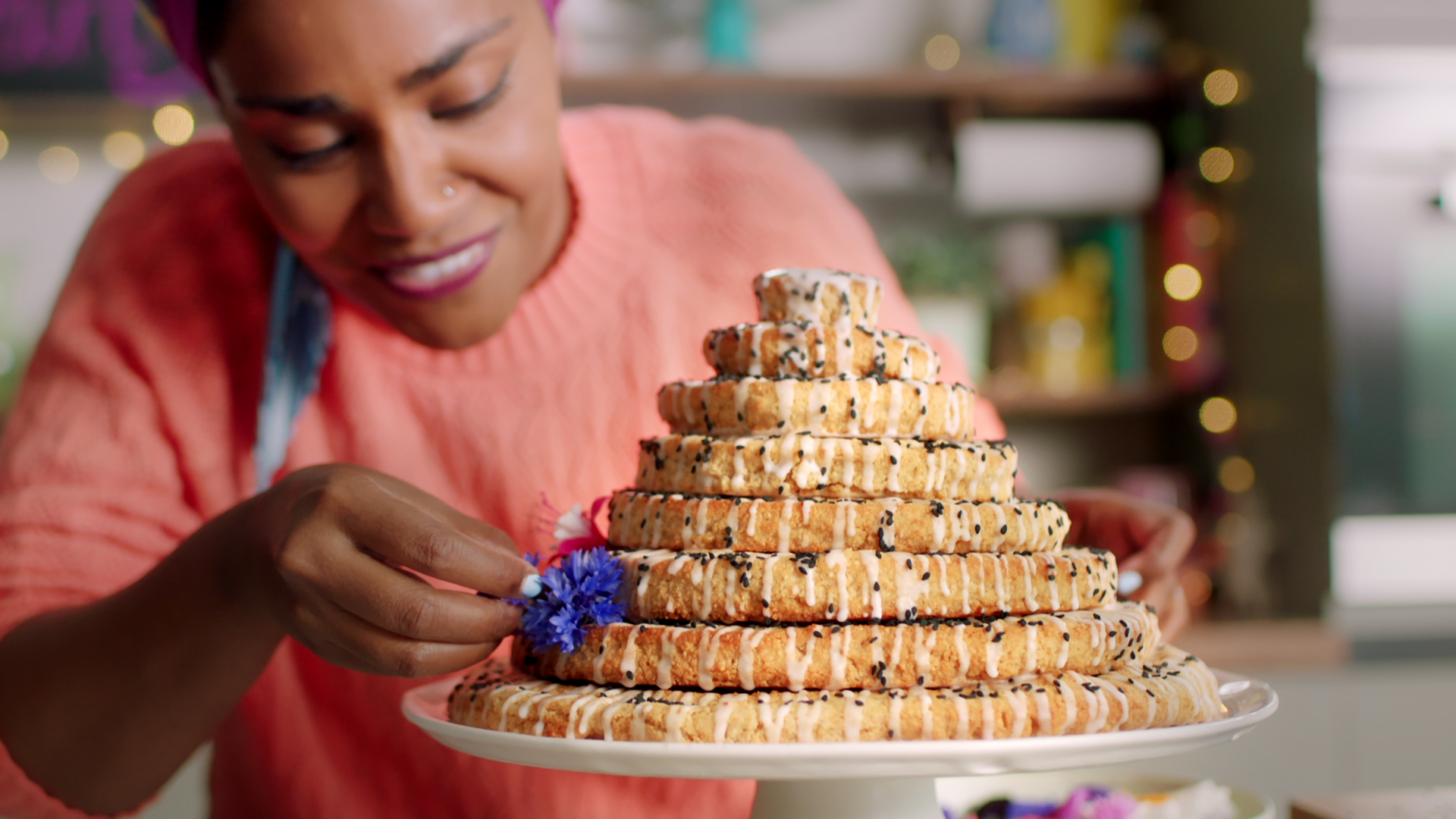 This last season of The Great British Baking Show wasn't the best. The Bake Off Bubble, the new hosts, and the growing Paul Hollywood Problem all conspired to make it less than its usual comforting presence. Nadiya Bakes, on the other hand, comes from a time when GBBO was at its peak. She's taken all the goodness that made it a hit and claimed it as her own.
Those who are sad that Netflix continues to refuse to bring over the Bake Off celebrity editions and miss not getting to see James McAvoy and Daisy Ridley try their hand at baking in the tent, this is an improved substitute. (It's understandable the streamer doesn't, as they are charity events for organizations in the U.K., which would be awkward and weird.) But if you, like me, need some comfort to get through the end of winter and want to dwell in the joy of baking, Nadiya Bakes is here for all of us.
---
By
for on February 28th, 2021
More to Love from Telly Visions