By
for on July 30th, 2022
'Mrs. Harris Goes To Paris' Is a Frothy, Gorgeous Fairy Tale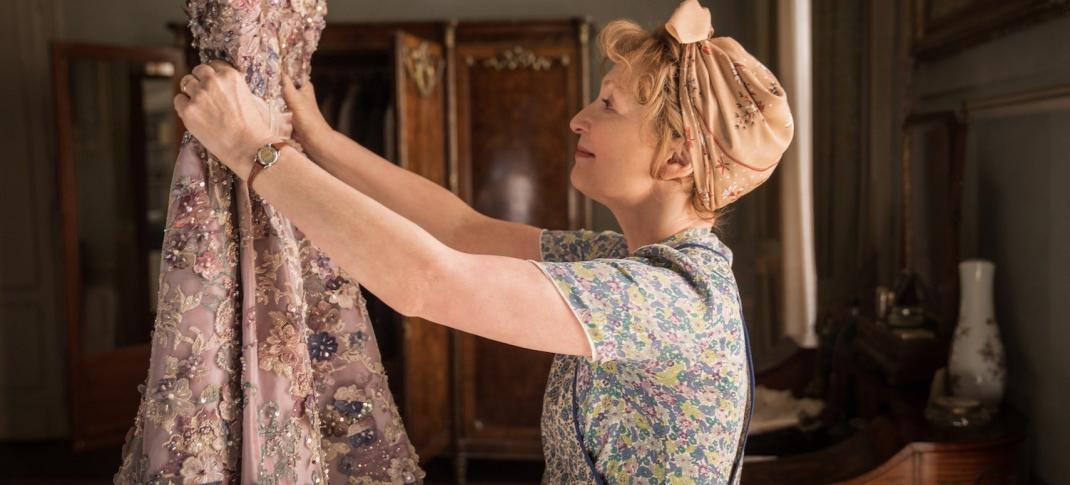 Mrs. Harris Goes to Paris is a wonderful, feel-good movie, blessed with a strong British and French cast and careful direction by Tony Fabian, who wrote the script with Carroll Cartwright, Keith Thompson, and Olivia Hetreed. It's based on the novel by Paul Gallico. Costume design is by Jenny Beavan, responsible for her work in many of our favorite historical dramas and to whom Dior gave access to their archives to create the amazing gowns that play leading roles in this movie. However, Lesley Manville is the star of this lovely film.
If you weren't convinced before by Manville's previous performances (Mum, World on Fire, Phantom Thread), this film might do it. She plays Mrs. Harris, a middle-aged, working-class woman who meets life's challenges in post-war London with courage, tenacity, and smarts. She's kind but not a pushover and possessed of a sharp tongue. For over a decade, she's waited for her beloved husband Eddie to come home from war, knowing deep down that he won't. She's a cleaning lady whose clients include a bowler-hatted gent she meets on the stairs to his apartment, with a different "niece" on his arm every morning.
From ditsy actor Pamela Penrose (Rose Williams) to Lady Dant, played by Anna Chancellor (Lady Latchmere in Hotel Portofino) in the sort of role she can do standing on her head, the women parade by. Lady Dant, wealthy and privileged, somehow never has the correct change to pay her cleaner. In her wardrobe is a glorious, sparkly Dior gown. "When I put it on, nothing else matters," Lady Dant tells Mrs. Harris and then mentions the price. "Five hundred pounds for a frock!" Mrs. Harris responds, her voice rising in a shocked squeak. But she's in love. She wants that glamour, unattainable beauty, as strongly as she believes that Eddie will come home one day.
Her friends, Vi (Ellen Thomas) and Archie (Jason Isaacs), clearly think she's crazy, but as good friends will, they offer their support and encouragement. Mrs. Harris works out the costs of a Paris visit, plans to use her savings and her wins on football pools and takes in additional seamstress work. Archie works at the local greyhound races and is quite often accompanied by a couple of dogs in the pub. But when the trio goes to the races, there is a dog named Haute Couture running, and surely it's a sign.
Archie, who knows a few things about greyhounds, warns her not to bet on the dog, but she ignores him and places a bet of £100 at 6:1. As is evident before the race began, Haute Couture loses, coming in last. It's a devastating loss, but Mrs. Harris' luck is not about to run out. Archie admits he put aside £10 of her stake and placed it on the winning greyhound, making good on her loss. A surprise visit from an RAF Officer breaks the news that she is owed additional pension money, and the funds are set.
Arriving in Paris after her first airplane flight, Mrs. Harris discovers that the City of Lights is nothing like she imagined; it is piled high with trash. (The result of industrial action, aka striking workers.) She slips unobserved into the House of Dior, having a fashion show that day attended by aristocrats and the wealthy. She's quietly enjoying herself in the corner, not hurting anyone, when Director Claudine Colbert (Isabelle Huppert) intercepts her. This is not the place for a dowdy, poor woman, even if she does have the money for a dress.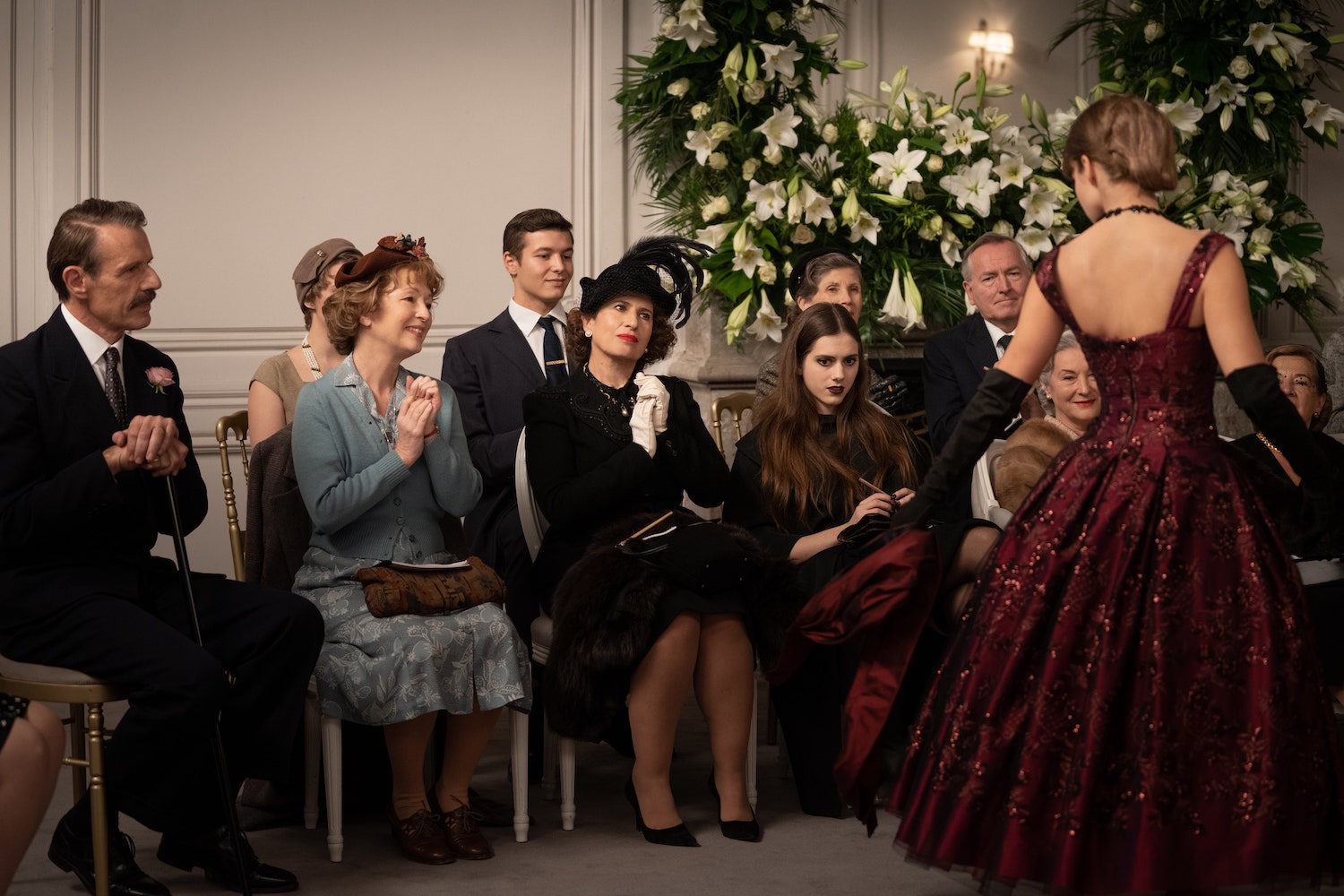 Prince Charming, in the form of the Marquis de Chassagne (Lambert Willis), who has watched the exchange, gallantly invites her to be his guest, and she is admitted to the salon, where a succession of gorgeous gowns are modeled. Mrs. Harris is enchanted, so is the Marquis, and she is able to order her dress. In all good fairy tales, things fall into place; when she finds she must stay in Paris for fittings, the ridiculously handsome accountant, André Fauel (Lucas Bravo), offers her a room in his apartment as the loan of his sister's clothes.
She also befriends lovely model Natasha (Alba Batista), who is working on a philosophy degree and talks existential nonsense with André. Natasha and Andre are besotted with each other; Mrs. Harris offers to clean André's apartment (of course), and she cooks a traditional English dinner for the two sophisticated Parisians, who love it. (High fantasy, indeed.) As she visits the Dior studio for her fittings, she befriends the workers and is even lending a hand with the sewing before she leaves.
But every fairytale has a dark side. Mrs. Harris is told she has the figure of a model, and while she makes a joke about it, it's the result of a lifetime of hard work and years of hardship and rationing. André tells her all is not well with Dior, and no one is interested in changing how they do business. Their aristocratic clients do not pay on time, which is why they are delighted that Mrs. Harris is paying cash upfront. How long can the fashion house last? And where on earth will Mrs. Harris wear a floor-length haute couture gown?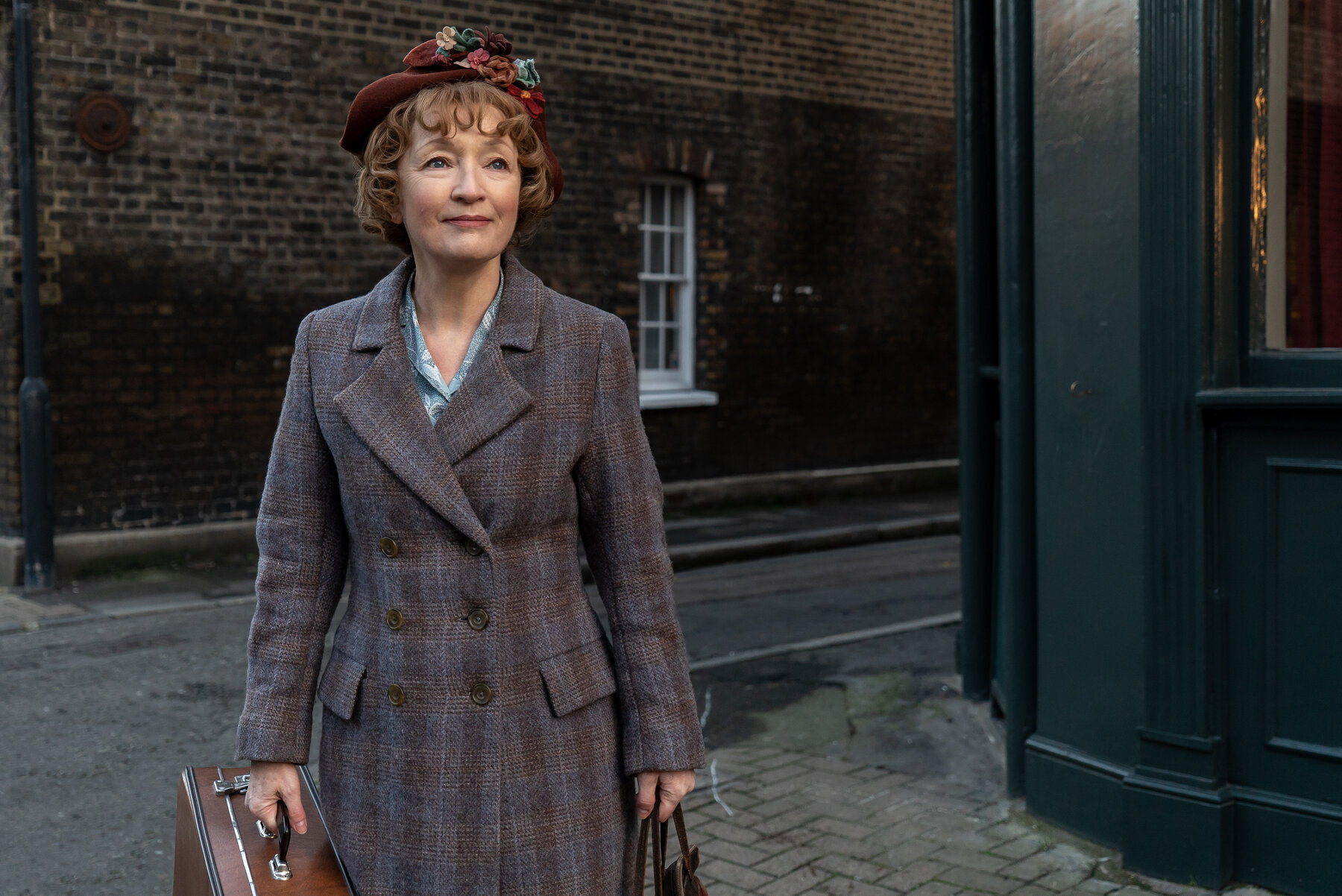 Mrs. Harris's romance with the Marquis loses its luster when he invites her to tea the next day after an evening in a nightclub with champagne and a sexy floorshow. He is drawn to her, he explains, because he was sent to an English boarding school when he was very young, where one woman sympathized with his loneliness. The Marquis shows her the school photograph and points out himself first, then to the woman. She is a cleaner. Mrs. Harris leaves immediately. She's also seen Natasha in her role as a Dior diplomat, accompanying business contacts on evenings out, which seems a situation ripe for exploitation.
When Dior's inevitable financial collapse happens, Mrs. Harris, in addition to her role as a fairy godmother to André and Natasha, becomes leader and savior, taking the staff back into the studio and declaring they are on strike. Invading M. Dior's office She's not intimidated by M. Dior, whose office she invades; he reminds her of her milkman. She pushes André forward to propose the creation of a pret-a-porter line in addition to couture (and we hope that includes hefty upfront fees). Even Wicked Witch Claudine reveals her gentler side.
So, the happy ending? Not quite, not yet. Back in London, Mrs. Harris carefully unpacks her floor-length gorgeous green sparkly gown and receives a visit from actress Pamela. She's in a panic because she's on her way to an important industry event, and her evening gown is damaged. With her characteristic kindness and generosity, Mrs. Harris offers her the Dior gown, and Pamela accepts. It's no surprise to us that Pamela, not so great with clothes, ruins the dress. She stands too close to a fire and sets it alight.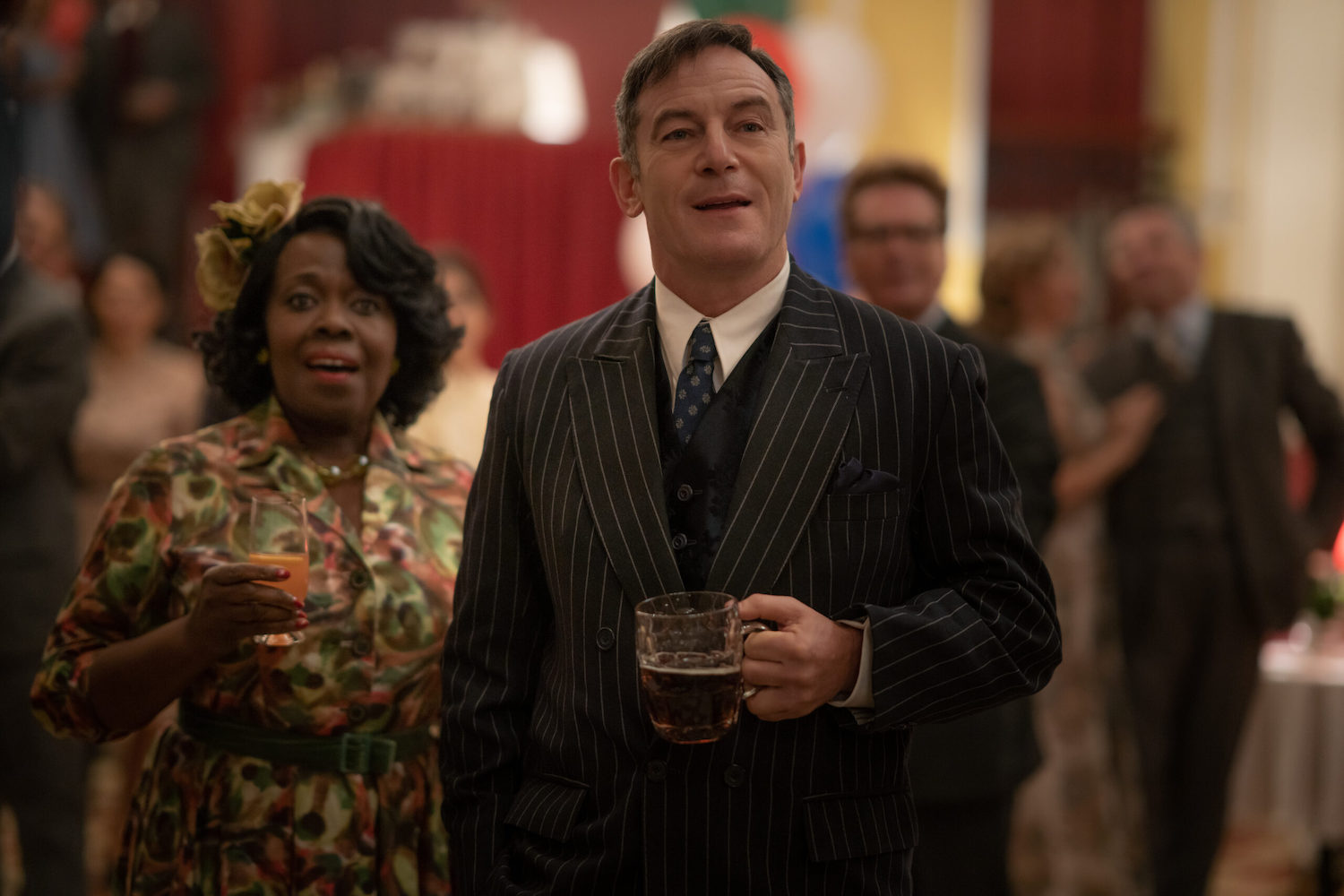 Used to making do, Mrs. Harris examines the ruined gown upon its return, and the audience is reasonably sure that she will do some cutting and sewing and resurrect it. But her friends at Dior still have her toiles (mockups), and like all pleased endings, they come to her rescue with a luxurious gown that is not out of place for the British Legion Dance. She shows up wearing it to find a jaw-dropped Archie staring at her as if a princess has arrived, proving that there was never any need for Eddie to come back.
Mrs. Harris' happy ending is all right here at home. Pure escapism in the great clothes in movies category, but with a grounding in reality and genuine emotions, will make you root for Mrs. Harris on her absurd quest. Enjoy.
Mrs. Harris Goes To Paris is currently playing exclusively in theaters. It is expected to begin streaming on Peacock before the end of the year.
---
By
for on July 30th, 2022
More to Love from Telly Visions