By
for on May 9th, 2015
This Mother's Day Let's Talk British Movie Matriarchs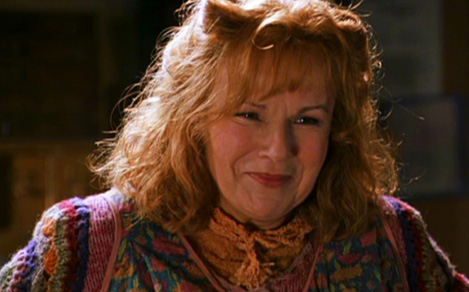 As we celebrate Mother's Day this weekend, it's only fitting to honor the qualities that make the moms in our lives so special to us. I have selected some maternal British film characters to illustrate these nurturing attributes. Though flawed and sometimes infuriating, you're sure to recognize your own loving mother (or even yourself) somewhere in this list.
Molly Weasley  – The Firm but Kind Mum. Mrs. Weasley (Julie Walters) has her hands full with seven children – eight, if you count her Muggle infatuated husband, Arthur (Mark Williams). With a brood that size, you can't let any one of them get out of line or chaos will surely ensue. Mischievous twins, George and Fred (James and Oliver Phelps) would be too much for most mothers, but a disapproving look and a raised voice usually brings Molly's children to heel.
Mother Weasley scolds because she cares. Remarkably, she has room in her heart for any child who needs her, including the orphaned Boy Who Lived. 
Philomena Lee – The Steadfast Mum. Philomena (Judi Dench) was a pregnant teenager when she was disowned by her family and sent to an Irish convent to have the baby and work off her sins. After her son is adopted without warning by an American couple, a broken-hearted Philomena keeps the secret of her past from her family. But she never stops thinking about her Anthony. She has loved him as only a mother can every single day for the past fifty years.
Fiona Brewer – The Fierce Single Mum. Sure, Fiona (Toni Collette) has her blind spots. She and her son Marcus (Nicholas Hoult) have been on their own so long she's failed to notice that not only is he growing up and becoming his own person but, of more immediate concern, he's getting bullied at his new school. To be fair she has had a serious mental health crisis lately so some things are bound to fall through the cracks.
However, when she discovers Marcus has been spending his after school hours with confirmed bachelor Will (Hugh Grant), she jumps into proper protective mother mode, confronting her son's new friend in a very public manner. To Fiona's credit, she can also admit when she's wrong and proceeds to guilt Will into staying in her son's life.
Pamela Jones (Bridget's mother) – The Interfering but Well-Meaning Mum. Much like her literary inspiration, Mrs. Bennet from Pride and Prejudice, Pamela (Gemma Jones) is a somewhat heavy-handed matchmaker. Considering Bridget (Renee Zellweger) is approaching full blown spinsterhood, what's a mother to do but throw her thirty-something daughter at every available man in the Home Counties.
Later we learn that Pam is having something of a mid-life crisis herself. I think that's what you call it when a wife leaves her boring yet reliable husband (Jim Broadbent) for a ridiculous shopping channel presenter (Patrick Barlow). Anyhow upon her return home, Mrs. Jones has a better appreciation for her family and what it's really like for her daughter out in the world of Singletons. 
Barbara (Shaun's mother) – The Never Make a Fuss Mum. Barbara (Penelope Wilton) is a gentle soul and is much loved by her son Shaun (Simon Pegg) and her second husband Phillip (Bill Nighy). Her son's best friend Ed (Nick Frost) is fond of her as well…
Barbara is a very British mother, one who shuns attention and tries to avoid a kerfuffle whenever possible.  This is not an easy task when your grown son is still resentful of his step-father, but still she tries to keep both of the men in her life happy. Alas, her attention avoiding behavior leads to a tragic end for Barbara and a sad day for all who cared for her. She definitely was a Super Mum! 
Feel free to add to this list in the comments section. There are many other movie and even TV mums out there to admire or at least identify with. Who are your favorites?
---
By
for on May 9th, 2015
More to Love from Telly Visions