By
for on January 10th, 2023
MGM+ Announces 'A Spy Among Friends' Release Date & More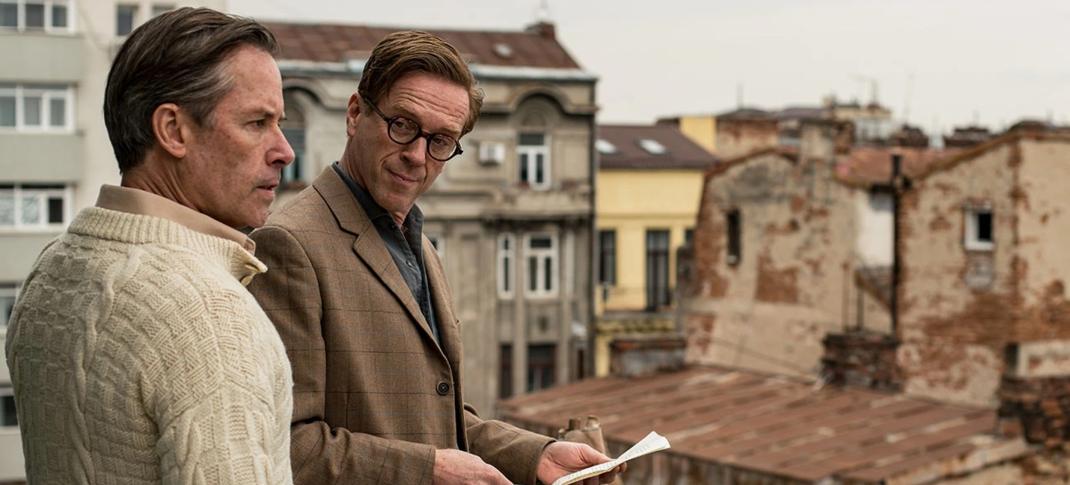 Ever since Amazon Studios announced it would be rechristening the newly acquired Epix streaming service as MGM+ in December 2022, there have been multiple announcements heralding what's to come. From the surprise revival of Belgravia for Season 2 to overhauls of Domina, Epix's older stuff is getting a facelift to match the newer programs arriving on the service. The service also got lucky, landing SAS Rogue Heroes (which it simplified to Rogue Heroes), which promptly turned out to be the BBC's most-watched series of 2022. At the Television Critics Association Winter 2023 press tour, it rolled out what else to expect, including a release date for A Spy Among Friends. 
Like with Rogue Heroes, MGM+ lucked into A Spy Among Friends, which was left completed but without a home after Spectrum canceled its original programming in August 2022. Based on the novel of the same name, the spy series fit the brand well, as MGM's more well-known franchise is a British spy thriller, the long-running James Bond films. With many of its newest shows in production based on hit MGM films, but James Bond not available for creating a television spinoff, A Spy Among Friends was the perfect compromise. The series will arrive in March 2023 as one of MGM+'s first significant debuts.
But that's not all MGM has in its roster of announcements. While most of the new series will trend American -- the DC set The Emperor of Ocean Park, Earth Abides based on the American novel of the same name, and the West coast-set sci-fi series Ark are three that look promising -- MGM+ is hanging onto Rogue Heroes in hopes Amazon's marketing can turn the series into a global hit. The series was initially renewed by the BBC literally minutes after Season 1's conclusion, and MGM+ has ensured that the new season will stream exclusively on its service.
For those who haven't gotten on the Rogue Heroes train yet, the series centers around the formation of the British Army's Special Air Service (SAS) unit, which came out of the U.K.'s darkest days of World War II. Loosely based on the non-fiction book by Ben Macintyre, SAS: Rogue Heroes, the series dramatizes the men of the Western Desert Campaign, starring Connor Swindells (Sex Education) as Sir Archibald David Stirling, Jack O'Connell (Lady Chatterley's Lover) as Lt Col Robert Blair "Paddy" Mayne and Alfie Allen (Game of Thrones) as Lt John Steel "Jock" Lewes, the real-life trio who launched the unit.
The series co-stars Dominic West (The Crown) as the real-life Brigadier Dudley Wrangel Clarke, who is a pioneer of military deception operations, along with Sofia Boutella (Fahrenheit 451), Tom Glynn-Carney (House of the Dragon), and Theo Barklem-Biggs (Silk) as fictionalized soldiers. The second season will pick up right after the first season's massive cliffhanger ending, so don't worry when you reach it. There's no release date, but Season 1 streamed directly following the Season 1 finale on the BBC in November, and Season 2 is expecting to follow suit.
A Spy Among Friends stars Damian Lewis (Wolf Hall) as John Nicholas Rede Elliott and Guy Pearce (Jack Irish) as Harold Adrian Russell "Kim" Philby. Elliot was the real-life MI6 agent who discovered his friend Philby was a Soviet double agent and Cambridge Five member. The cast also includes Anna Maxwell Martin (Line of Duty), Adrian Edmondson (War & Peace), Stephen Kunken (Bridge of Spies), Anastasia Hille (The Missing), and Radoslaw Kaim (Spies of Warsaw), plus Nicholas Rowe (Operation Mincemeat) as the real-life art historian spy Anthony Blunt and Edward Baker-Duly (Billions) as the future James Bond author Ian Fleming.
A Spy Among Friends premieres Sunday, March 12, 2023, and will run six episodes on a weekly release schedule.
---
By
for on January 10th, 2023
More to Love from Telly Visions